JAN, 2013 "In The Crosshairs"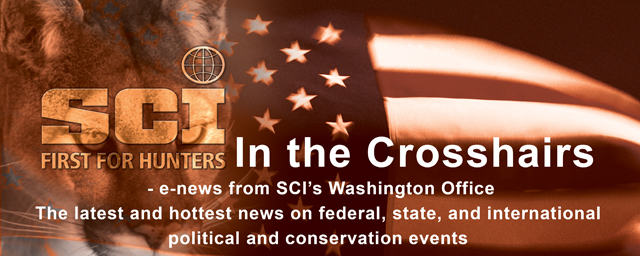 January 9, 2013
Safari Club International News

Safari Club International's 41st Annual Hunters' Convention is right around the corner! We can't wait to see you all there. Follow @SafariClubIntl on twitter using #SCI2013 to stay up to date on seminar information, auction times, and other opportunities during the show! If you still haven't registered, time is running out. Visit www.showsci.org for more information. Don't forget to register a twitter account and follow @SafariClubIntl today!

SCI Hunter Defense Fund Working To Keep Hunters Afield: Ammoland "recently had the opportunity to interview Nelson Freeman of Safari Club International (SCI) about the organizations dedication to protecting the freedom to hunt, lobbying and advocacy work, and the new Super-PAC, Hunter Defense Fund (HDF). He was kind enough to answer questions on the subject. Question: With hunting increasingly under attack, what is Safari Club International doing to help keep hunters in the field? Answer: Safari Club is the only pro-hunting organization with an office in Washington, D.C. On a day to day basis, we speak with members of Congress and their staff to outline the threats we see to hunting in North America and internationally." (Source: AmmoLand.com) To read the full interview, please visit http://bit.ly/VQ0XH4

SCI Foundation Honored to Benefit from Media Event: Tucson, Ariz. – Safari Club International Foundation (SCI Foundation) is grateful to once again be the benefactor of the Shooting, Hunting, and Outdoor Trade (SHOT) Show Media Day at the Range™. (www.media-day.com) Media Day at the Range™ takes place Monday, January 14, 2013 at the Boulder Pistol & Rifle Range in Boulder City, Nevada with over one thousand members of the outdoor and hunting media in attendance. To read more about SHOT Show Media Day at the Range™ and Safari Club International Foundation, please visit http://wp.me/p2AKuX-69

SCI's Kim Rhode Honored As Top Athlete: SCI Life Member and Olympic Gold Medalist Kim Rhode is among six athletes USA Shooting is recognizing as Athlete Of The Year for 2012. Recipients are recognized not only for their shooting ability, but also for how they conduct themselves and represent the shooting sports industry. SCI sponsors five-time Olympian Rhode who this year set a U.S. Olympic record of five medals in five consecutive Olympic Games. To read more, please visit SCI HuntForever Blog at http://wp.me/p2zaih-V1

SCI Enjoys Victory in Rocky Mountain National Park Elk Case: On January 9, the Tenth Circuit Court of Appeals issued a ruling highly favorable to SCI's interests. The Court affirmed the legality of the National Park Service's use of "qualified volunteers," as agents for culling the elk overpopulation on Rocky Mountain National Park. These volunteers often include members of the hunting community who are willing to offer their expertise and time to assist in wildlife management. WildEarth Guardians went to federal court in Colorado to challenge this approach, insisting that the NPS instead should have introduced a population of wolves to the park to manage the elk overpopulation. SCI joined the case as an intervenor defendant to support the volunteer program. After the Colorado District Court ruled in SCI's and the NPS's favor, WildEarth appealed. The victory in the Tenth Circuit will hopefully encourage the NPS to enlist the aid of volunteers from the hunting community in the management of wildlife overpopulations that have become a problem at many of our nation's National Parks. Currently, the NPS is running a very successful volunteers program on Theodore Roosevelt National Park to reduce that park's elk overpopulation. SCI will continue to recommend the use of volunteers for wildlife management to assist in future NPS management planning.

SCI Helps Secure Partial Victory in Wisconsin Wolf Hunt Litigation: On Friday, January 4, 2012, a Wisconsin Dane County Circuit Court ruled that hunting wolves with hounds may proceed in the state and lifted an injunction he had previously imposed to stop the use of dogs to hunt wolves. SCI, who intervened in defense of the Wisconsin DNR's authorization of wolf hunting with hounds, helped achieve that victory. SCI participated in the oral argument held in court in Madison, Wisconsin on January 4th. Although this year's wolf season has closed, the judge's ruling will benefit efforts to hold future wolf hunts in the state. Despite finding hunting with hounds legal, the court rejected state emergency regulations pertaining to the training of dogs for wolf hunting. SCI is participating in the case in collaboration with the Wisconsin Bear Hunters, United Sportsmen of Wisconsin and USSAF. The DNR and Wisconsin Board of Natural Resources are currently in the process of developing a permanent set of regulations pertaining to training. Crosshairs will provide you with news of future developments. To read more on Judge Anderson's ruling, please visit http://bit.ly/WpYqlk

Despite Setback, SCI Seeks Ways to Continue Efforts to Object to ESA Settlements : On January 4, 2013, the D.C. Circuit upheld a lower court's ruling denying SCI's attempt to intervene in a case involving two massive ESA settlements. SCI is exploring its legal options to continue to challenge these settlements. The settlements, between the U.S. Fish and Wildlife Service and two anti-hunting groups – the Center for Biological Diversity and WildEarth Guardians – restructure the Service's entire listing program for the next four years. SCI opposes the settlements because they illegally eliminate the Service's authority to continue to make warranted-but-precluded (candidate species) findings under the ESA for 260 species, including three game species (greater sage grouse, lesser prairie-chicken, and New England cottontail). Because of these settlements, the Service has proposed a rule to list the lesser prairie-chicken as a threatened species and must make a final decision by May 2013. Such a listing would end state-regulated hunting and undermine current conservation efforts. Stay tuned to future Crosshairs for developments on this litigation.
Affiliate Spotlight

Texas Wildlife Association: "The Texas Wildlife Association (TWA) is a statewide membership organization that serves Texas wildlife and its habitat, while protecting property rights, hunting heritage, and the conservation efforts of those who value and steward wildlife resources. The Texas Wildlife Association was formed in 1985 by a group of ranchers, wildlife managers and hunters dedicated to the conservation, management, and enhancement of wildlife and wildlife habitat on private lands. Texas is 95 percent private land, and over two-thirds of the United States is privately owned. Texas hunters, anglers, wildlife watchers and conservationists recognized the necessity of working cooperatively with private landowners on wildlife, habitat and conservation issues. TWA is pleased to provide an electronic copy of the cover article from the January 2013 issue of its feature publication, Texas Wildlife. Click here to download "The Quest for Quail" by Eileen Mattei." (Source: Texas Wildlife Association) To visit TWA's homepage, please visit bit.ly/WoWwBP
U.S. News

Bank Of America Freezes Gun Manufacturer's Account, Company Owner Claims: "Bank of America has reportedly frozen the account of gun manufacturer American Spirit Arms, according to its owner, Joe Sirochman. In a Facebook post dated December 29, Sirochman wrote the following: 'My name is Joe Sirochman owner of American Spirit Arms...our Web site orders have jumped 500 percent causing our Web site e-commerce processing larger deposits to Bank of America. So they decided to hold the deposits for further review. 'After countless hours on the phone with Bank of America, I finally got a manager in the right department that told me the reason that the deposits were on hold for further review -- her exact words were – 'We believe you should not be selling guns and parts on the Internet.''(emphasis added) Sirochman also wrote that he told the bank manager that 'they have no right to make up their own new rules and regs' and that '[American Spirit is a] firearms manufacturer with all the proper licensing.' He also noted that he has been doing business with Bank of America for over 10 years, but will now be looking for a new bank." (Source: CNSNews.com) To read more, please visit http://bit.ly/VyZKEl

ASPCA Pays $9.3 Million in Landmark Ringling Bros. and Barnum & Bailey Circus Settlement: "VIENNA, VA - Dec. 28, 2012 – Feld Entertainment, Inc., the producer of Ringling Bros. and Barnum & Bailey® Circus, announced today that the company has reached a legal settlement with the American Society for the Prevention of Cruelty to Animals (ASPCA) in connection with two federal court cases. Under the settlement, ASPCA has paid Feld Entertainment $9.3 million to settle all claims related to its part in more than a decade of manufactured litigation that attempted to outlaw elephants in the company's Ringling Bros. ® Circus. This settlement applies only to the ASPCA. Feld Entertainment's legal proceedings, including its claims for litigation abuse and racketeering, will continue against the remaining defendants, Humane Society of the United States, the Fund for Animals, Animal Welfare Institute, Animal Protection Institute United with Born Free USA, Tom Rider and the attorneys involved." (Source: RinglingBrosTrialInfo.com) To read more, please visit http://bit.ly/11gQR8u

Field Reports: DNR Officials Say Wolf Hunt Went Well: "Minnesota's inaugural wolf season ended Thursday when the late-season hunting and trapping seasons closed. Minnesota Department of Natural Resources officials closed the season because the harvest was nearing the overall harvest target of 400. Hunters and trappers had until 5 p.m. Friday to register wolves taken the last day; as of midday Friday the harvest had exceeded the target, with 411 wolves registered. Hunters had taken 147 wolves during the early wolf season, which opened Nov. 3 and ran concurrently with the firearms deer season. In the late hunting and trapping season, which opened Nov. 24, hunters and trappers took 264 wolves as of midday Friday." (Source: DuluthNewsTribune.com) To read more about Minnesota's inaugural wolf hunt, please visit http://bit.ly/VL8YNx
African News

Hong Kong Seizes $1.4 Million In Illegal Ivory In Third Big Seizure Since October: "HONG KONG — Hong Kong authorities have made their third big seizure of illegal ivory in three months, confiscating more than a ton of elephant tusks worth $1.4 million, customs officials said Friday. Customs officers seized 779 pieces of ivory weighing 1,323 kilograms (2,916 pounds) in a shipping container that arrived at Hong Kong's port from Kenya after passing through Malaysia. The officers discovered the ivory after X-raying the container, which was declared to be carrying architectural stones. Forty sacks holding the ivory were found inside five wooden crates, hidden under rocks. The investigation is still continuing. No one has been arrested." (Source: WashingtonPost.com) To read more about the seizure, please visit http://wapo.st/VGxaDc

Namibia: Rare Rhino Poaching a Concern: "A Namibian man, Tjetuura Tjiumbua (42), is alleged to have killed a black rhino in the Kunene region close to Khorixas, confirmed deputy commissioner, Edwin Kanguatjivi, head of Nampol's public relations division in Windhoek. Tjiumbua is suspected to have shot and killed the animal before removing the horns valued at N$500 000. The calf which was with the dead rhino was also found dead at the scene. If found guilty, Tjiumbua could face up to 20 years in prison or be fined N$200 000." (Source:AllAfrica.com) To read more, please visit http://bit.ly/WF4RSr

Zimbabwe: Nation Warned Over Rhino Poaching: "Zimbabwe could face a future without any more rhino, if urgent measures to tackle poaching are not implemented. This was the warning of a leading conservationist on Friday, who was reacting to news that four white rhino had been killed by suspected poachers on New Years Day this week. Johnny Rodrigues, the chairman of the Zimbabwe Conservation Task Force, told SW Radio Africa on Friday that the poaching situation is 'disgusting,' and one that is likely to get worse. 'Our (poaching) figures aren't at the stage where anyone is actively trying to protect the animals. And the syndicates are in high gear,' Rodrigues warned." (Source: AllAfrica.com) To read more, please visit http://bit.ly/XfpMh9