FEB, 2013 "In The Crosshairs"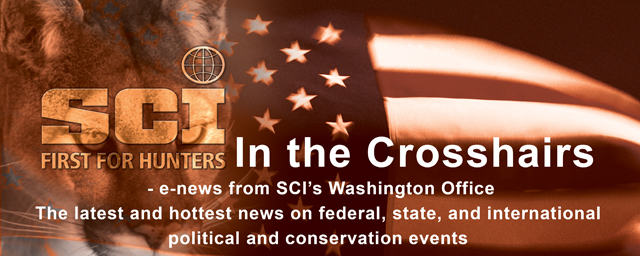 February 22, 2013

NBC/Comcast Adopts Anti-Hunting, Anti-Second Amendment Policy
Safari Club International members need to reconsider local cable options in the wake of anti-Second Amendment policies that NBC/Comcast has adopted. SCI has learned that local businesses that conduct either firearms sales or support hunting will no longer be able to pay for advertising on NBC/Comcast. This is a blatant attack on small businesses that support hunters and the Second Amendment around this country. Even during a time of economic recession, sportsmen and women spend an incredible about of money pursuing their sports around this country. The $90 billion spent by hunters, anglers, and sport shooters in 2011 is the same as the combined revenues for the United States' TV broadcast and cable network industry – that includes NBC, FOX, ESPN, etc. In fact, America's hunters spent $38.3 billion in 2011 on equipment and travel in local economies; in total more than the entire revenues for Comcast that year. The decision by NBC/Comcast to prohibit advertising of hunting and firearms related businesses on their network is not only an attack on the Second Amendment, but a deliberate attempt to further stall out the American economy. http://www.outdoorhub.com/news/comcast-pulls-all-gun-ads/; http://www.theblaze.com/stories/2013/02/19/nbc-parent-company-comcast-now-quietly-rejecting-ads-promoting-firearms-or-weapons
All economic facts can be found at http://www.sportsmenslink.org/uploads/page/EIR%20final%20low-res.pdf.

Fighting For Lions – Enabling Conservation of the African Lion
Safari Club International (SCI) Foundation would like to express extreme gratitude to the SCI Staff, SCI Members, Chapters, the Hunters Legacy Fund, SCI Foundation Board of Directors and the hunting community who demonstrated their commitment to science-based wildlife management around the world. Once again, sportsmen and women have shown leadership in generosity, in excess of $1.3 million, to solve complex natural resource management issues. Plans are underway to use these funds to leverage additional support from partners in the conservation community which will increase the impact of the contributions, and enhance the overall scope of our lion research initiative, Fighting For Lions. The SCI Foundation Staff and Conservation Committee met on the Monday after the Convention's Saturday night fundraiser to begin developing a comprehensive strategy to collect the necessary data and educate decision makers about the real threats to the sustainability of the species. Read more at http://firstforwildlife.wordpress.com/2013/02/21/the-african-lion-initiative/.
If you would like to help SCI Foundation save lions please contribute at https://member.scifirstforhunters.org/static/donate/lion/.

All Hunters Advised to Boycott Comair Limited Flights in South Africa
Safari Club International members and all international hunters are advised to avoid Comair Limited, an airline operating in South Africa. Comair Limited will no longer accept firearms, including sporting firearms. This blatantly anti-hunting policy will affect flights on both its British Airways and Kulula flights effective 01 March 2013. This policy only applies to Kulula and British Airways operated by Comair Limited. However the policy does not include British Airways' international flights. Read more about this at http://firstforhunters.wordpress.com/2013/02/22/all-hunters-advised-to-boycott-comair-limited-flights-in-south-africa/.

Big Cypress National Preserve ORV Use and Hunting Take Steps Forward
ORV/Wilderness: SCI received favorable news in the litigation over use of the "Addition," lands added to the original Big Cypress National Preserve ("BCNP") in Florida. A magistrate judge has recommended that the National Park Service's ("NPS") plan for off-road vehicle ("ORV") use and Wilderness designation in the Addition be upheld. The recommendation is now being considered by the U.S. District Court Judge who will issue the final decision in the case. SCI is participating in the case as a defendant-intervenor to defend the NPS plan and, in this capacity, SCI will have an opportunity to submit a brief supporting the magistrate's recommendation. The District Court judge may adopt the magistrate's recommendation or may reach a different conclusion.
Hunting Plan: SCI recently submitted comments in support of the NPS's hunting plan for the BCNP, which would open the Addition back up to hunting for the first time since Federal acquisition almost 20 years ago. Although the Federal law that established the Addition mandates that hunting be allowed, the NPS has delayed doing so, most recently until it finalizes this hunting plan. SCI's comments urged the NPS to quickly finalize the plan and allow hunting under state management, as occurs in the rest of the BCNP.

SCI Continues Legal Challenge to ESA Settlement
For almost two years, SCI has been battling to get a court to at least consider SCI's objections to the massive ESA settlements the U.S. Fish and Wildlife Service entered into with the Center for Biological Diversity and WildEarth Guardians. Those settlements force listing decisions on hundreds of species, including three game species – the greater sage grouse, lesser prairie-chicken (recently proposed for listing) and New England cottontail. Despite a setback earlier this year, SCI recently filed a "Petition" with the full D.C. Circuit Court of Appeals in an attempt to reverse the three-judge panel ruling that denied SCI's request to intervene to object to the settlements. In keeping SCI out of the case, the appellate court relied on a particular D.C. Circuit rule that imposes additional burdens of proof on intervenors who seek to join a case on the side of the defendants. The D.C. Circuit is one of very few jurisdictions that imposes these burdens on prospective intervenors. SCI has asked the full court to reverse this rule so that SCI can more easily intervene in the case and voice its objections.

Oklahoma Members May Comment on New Ozark Plateau National Wildlife Refuge Hunting Opportunity
The United States Fish and Wildlife Service (FWS) recently published a draft comprehensive conservation plan and environmental assessment for the Ozark Plateau National Wildlife Refuge in Oklahoma. The refuge is located within Adair, Cherokee, Craig, Delaware, Mayes, Ottawa, and Sequoyah Counties. Part of the Plan addresses hunting in the refuge. The FWS is considering two alternatives: (1) the current management plan which does not allow hunting on any portion of the refuge; and (2) an alternative that would allow for walk-in-only, open-access hunting on the Sally Bull Hollow Unit of the refuge, which is adjacent to the State-managed Ozark Plateau Wildlife Management Area. Comments on the plan are due on March 8, 2013. All comments must be submitted by email to sarah_catchot@fws.gov or by U.S. mail to Sarah Catchot, Lead Planner, U.S. Fish and Wildlife Service, NWRS Division of Planning, P.O. Box.

SCI Foundation and Acclaimed Wildlife Artist Linda Besse Join Forces for Conservation Funding
Washington, DC – Safari Club International Foundation (SCI Foundation) has awarded Linda Besse as the 2014 Conservation Artist of the Year, the most prestigious award in big game wildlife artistry. Ms. Besse will create an original oil painting of caribou that will be auctioned at the 42nd Annual SCI Hunters' Convention at the Mandalay Bay Resort, February 5-8, 2014 in Las Vegas, Nev. All proceeds from this one-of-a-kind caribou painting will fund conservation projects for big game species in 2014. http://wp.me/p2AKuX-6N