Feb 23, 2012 "In The Crosshairs"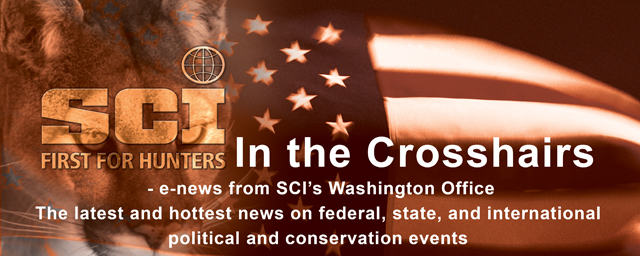 February 23, 2012

TV Segment Highlights Anti-Poaching Efforts: Washington, D.C. –- (Ammoland.com)- On Tuesday, February 22, 2012, NBC's "Rock Center with Brian Williams" aired a detailed segment on rhino poaching in South Africa. Because the price of rhino horn has increased dramatically over the past few decades, statistics show poachers killed nearly 450 rhinos last year. In 2012 alone, poachers have killed one rhino every 18 hours. This issue is at the forefront of Safari Club International (SCI) and Safari Club International Foundation's (SCI Foundation) conservation efforts. Read the full press release http://bit.ly/xIMeOM.
To make a donation through the WILD Foundation that SCI and SCI Foundation have partnered with please go to https://www.gifttool.com/donations/Donate?ID=1274&AID=445.

HSUS Hysteria Over Mountain Lion: "You would have thought someone had trapped, killed and eaten the very last unicorn in the world! 'Oh no, string 'em up!' The hysterical screams from the anti-hunting, animal-rights group Humane Society of the United States (HSUS) are squealing all over the place. And why? Because Dan Richards, President of the California Fish and Game Commission, went on a legal hunt and was pleased with the results. "It was the most physically exhausting hunt of my lifetime," Richards said of the mountain lion hunt in Idaho. And that's something, from a long-time hunter." (Source: TheOutdoorWire.com) http://www.theoutdoorwire.com/features/225576.

In Praise of 'Enviropreneurs': "Entrepreneurs are my heroes because of their optimism. Instead of seeing problems, they see opportunities. And "enviropreneurs" can give us cause to celebrate the future of our planet by finding ways to ameliorate or solve environmental problems. But we'll have to beware of environmental Luddites who can thwart even the best of positive steps. Like their 19th-century counterparts who opposed industrialization by destroying machines, they see solutions as problems." (Source: Wall St. Journal online) Read more at http://online.wsj.com/article/SB10001424052970204369404577209062592063958.html.

Wyoming Prepares To End Federal Wolf Protections: "CHEYENNE — Wyoming lawmakers appear ready to change the state's wolf management law to accommodate an agreement that Gov. Matt Mead and U.S. Secretary of Interior Ken Salazar reached last year on ending federal protections for the animals in the state." (Source: Billings Gazette Online) Read more: http://billingsgazette.com/news/state-and-regional/wyoming/wyoming-prepares-to-end-federal-wolf-protections/article_9a682ae3-fa1e-5283-a430-7888b17b876a.html#ixzz1n25ungTi

Tracking the State Capitols: Tracking the Capitols is a weekly compilation of state legislation currently being tracked by the Congressional Sportsmen's Foundation State Policy Team to keep you informed on legislation affecting hunting, fishing, and conservation issues. The purpose of this weekly update is to highlight for NASC members and partners, specific examples of sportsmen's bills, to keep you informed of what is occurring in your neighboring states, and to recognize those caucus members who have introduced them. http://www.ufollowup.com/showEmailInBrowserAction.html?companyID=282&emailID=30280793.

The EPA Denies A Petition To Restrict Lead Tackle: "Science has prevailed. The Environmental Protection Agency (EPA) has denied a petition by the Center for Biological Diversity (CBD)—an anti-sportsmen group—that would have precipitated significant restrictions on lead fishing tackle all over the United States. The CBD wanted the EPA to use the Toxic Substances Control Act (TSCA) to heavily regulate anglers from using tackle they have long used even though science doesn't support such a measure. The Congressional Sportsmen's Foundation (CSF) has been, and will continue to, fight such unscientific lead bans and restrictions at the state and federal level." (Source: Congressional Sportsmen's Foundation Website) http://www.sportsmenslink.org/node/581