MAR, 2013 "In The Crosshairs"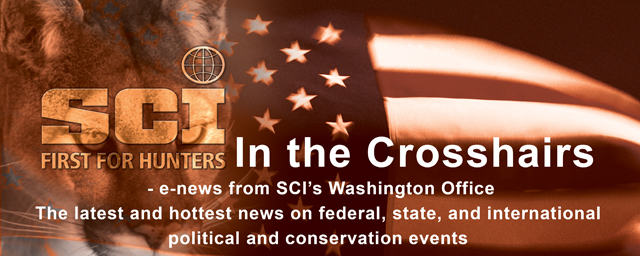 March 22, 2013

Register for Congressional Lobby Day by April 5th – Use the Attached Form
The largest annual event in Washington, D.C. that focuses solely on hunting & conservation is happening May 9, 2013. Safari Club International will organize over 200 visits to the Congressional Offices of House and Senate Leadership, so that you, as a hunter can speak with your elected officials about hunters' rights! Critically important legislation is now being debated in the Halls of Congress. Sportsmen and women need to protect their second amendment right to own firearms, ensure that access to public lands is there for future generations of hunters, and guarantee that government regulations do not kick the families of hunters off their land. Help Safari Club advocate for all hunting on May 9th. Please use the form attached here to register today! If you are a chapter president - share this invitation to lobby Congress with all your members. Now, more than ever, it is important that hunters speak with the strongest voice. By registering before April 5th, you will be eligible for a drawing to WIN a Kimber Pistol CDP II, .45 ACP. Return the attached form as soon as you can to join Safari Club International on May 9th when we will go to Capitol Hill to lobby on behalf of the 13 million Americans who hunt.

American Hunters: Necessary to Save African Lions
"A recent article in the New York Times has drawn attention to the plight of the lion population in Tanzania and the part that American hunters have in saving the species. The article, penned by Tanzanian Wildlife Director Alexander N. Songorwa, is paradoxically titled 'Saving Lions by Killing Them.' Songorwa states that while the lion population in his country is not endangered (according to him, Tanzania has roughly 40 percent of all lions in Africa and the biggest concentration in the world), a loss of American hunters would be devastating to conservation efforts." Read the full article at http://www.outdoorhub.com/news/american-hunters-necessary-to-save-african-lions/.

CITES Wrap-Up
The 16th Conference of the CITES Convention officially ended on March 14th, and the Safari Club International (SCI) and Safari Club International Foundation (SCI Foundation) delegations were elated with the outcomes. Polar bear was not up-listed, processes of handling hunting trophy importation were clarified that will reduce seizures, proposals of zero quotas and trade bans on hunting trophies were defeated, and measures to end the poaching of rhinos while avoiding burdensome regulation of legitimate hunting were accepted. The next CITES conference will be held in South Africa in 2016. SCI and SCI Foundation are already anticipating what issues will surface in 2016. To read a complete list of CITES updates, check out the SCI Foundation blog. http://firstforwildlife.wordpress.com.

CSF Hosts Breakfast Briefing on Sportsmen's Economic Impact Report
"March 20, 2013 (Washington, DC) - Amidst a busy morning on Capitol Hill, the Congressional Sportsmen's Foundation (CSF) hosted a breakfast briefing for a crowded room, which included eleven Members of Congress, congressional staff, policy makers, and sportsmen-industry representatives. CSF President Jeff Crane was joined by bipartisan members of the Congressional Sportsmen's Caucus (CSC) and leaders from the sportsmen's community in a dialogue on the positive effects sportsmen's activities have on the American economy and the future of fish and wildlife conservation." This breakfast briefing was made possible by Title Sponsors: the Association of Fish and Wildlife Agencies, Conservation Leaders for Tomorrow, Cabela's and Safari Club International. The Sportsmen's Economic Impact Report was paid for in large part by Safari Club International. Read more: http://www.sportsmenslink.org/the-media-room/news/csf-hosts-breakfast-briefing-on-sportsmens-economic-impact-report.

SCI Chapters Support Increased Hunting Opportunities in North Carolina
The Carolinas Chapter and the NC Triangle Chapter of North Carolina are supporting legislation in their state to increase hunting opportunities. Current laws limit hunting to only six days a week. Senate Bill 224 and House Bill 360, introduced by the NC Sportsmen's Caucus Co-Chair Senator Buck Newton and Rep. Brian Brown, would allow hunting on private lands every day of the week. The Chapters encourage all the hunters in the state of North Carolina to contact their state representatives and voice support immediately.

SCI Opposing Legislation in Minnesota to Halt Wolf Hunting
Safari Club International has voiced its opposition to legislation in the Minnesota State Senate and House that would place a moratorium on wolf hunting within the state for five years. The legislation, which is being championed by HSUS and others, would be a step backwards for wolf management in the entire region. The anti-hunting organizations and supporters of the bill ignore the state's wolf management plan and the scientific evaluation that the U.S. Fish and Wildlife Service conducted when they delisted the Western Great Lakes wolf population.

SCI Moves to Intervene in Wyoming Wolf Delisting Cases
SCI, together with the National Rifle Association, has moved to intervene to defend the delisting of Wyoming's wolf population. Three different coalitions of animal rights groups have filed three individual suits to challenge the delisting. Two of those suits were filed in the District of Columbia and one is before the Wyoming federal court. With the help of members who offered statements in support of SCI and NRA's interests in hunting wolves and participating in the sustainable management and conservation of wolves and their prey, SCI and NRA have moved to intervene in all three suits.

SCI Submits Numerous Comments to Advance Hunting Interests
In the last month, SCI has been very active in submitting comments to Federal agencies to advance the interests of sportsmen and women throughout the United States.
SCI encouraged the National Park Service to adopt a hunting plan for the Addition lands of Big Cypress National Park in Florida.

Consistent with SCI's and the SCI Foundation's longstanding support of wood bison reintroduction in Alaska, we filed comments in support of a rule that would allow sustainable hunting of the species in future years.

We supported a Fish and Wildlife Service plan to increase hunting in the Ozark Plateau National Wildlife Refuge in Oklahoma.

SCI filed extensive comments opposing a proposal to list the lesser prairie-chicken under the Endangered Species Act.

Safari Club Presents to Members of Congressional Western Caucus
Hunting throughout the American West remains a vibrant cultural tradition despite the many forces that work against it and against the landscapes that support hunting opportunities. During a presentation before the staff of over 40 members of Congress, SCI discussed obstacles to hunting imposed by the Endangered Species Act, government regulations impacting landowners, and bureaucracies that plague our advocacy efforts, all of which curtail sportsmen and women's access to public land. Working to right these negative forces has been central to SCI's lobbying efforts over the past decade.
If you would rather not receive future communications from Safari Club International, let us know by clicking here.
Safari Club International, 501 2nd Street NE, Washington, DC 20002 United States