MAR 23, 2012 "In The Crosshairs"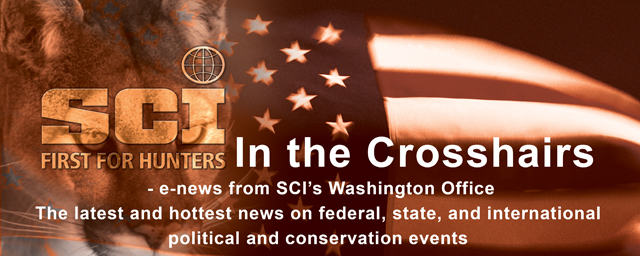 March 23, 2012

A Wolf Victory for SCI, Hunters and Sustainable Use
SCI announces a long and hard fought victory in the battle to recognize the role that hunting has and will play in wolf management. Last week the Ninth Circuit Court of Appeals ruled to affirm the constitutionality of a federal law that directed the U.S. Fish and Wildlife Service to delist the wolves of Montana and Idaho. After years of court battles over whether or not the U.S. Fish and Wildlife Service had the authority to delist those wolves, Congress stepped in to legalize the delisting. When pro-wolf and anti-hunting groups returned to court to try to interfere with Congress' legislative solution, first the Montana District Court and then the Ninth Circuit appellate court rejected those challenges. SCI, in cooperation with the National Rifle Association of America, played an active role in all these efforts. Since 2003, SCI has supported the federal government's and the states' effort to remove the Northern Rocky Mountain gray wolves from the endangered list. SCI has participated in multiple lawsuits to defend the FWS's repeated attempts at delisting. Most recently, SCI and NRA returned to court to defend against the challenges to the constitutionality of legislation that required the delisting. At long last, the courts, the legislators, the states and the hunting community are in agreement that the wolves of Montana and Idaho should be managed by the states and not the federal government and that sustainable use hunting will be part of that management.

SCI Represents Hunters at the 15th Annual WFSA General Assembly
Earlier this month, SCI staff represented hunters at 15th Annual General Assembly of the World Forum on the Future of Sport Shooting Activities (WFSA) The WFSA is a Brussels based non-for-profit NGO that represents the interests of over 100 million hunters and sport-shooters world-wide. It also works closely with the international guns and ammunition manufacturer associations to prevent United Nations gun grabs and oppose unnecessary trade restrictions on firearms. Every year, ahead of the IWA-Gun Show, in Nuremberg, Germany, the WFSA holds its Executive Committee meeting, and its General Assembly. SCI has played an active role in the WFSA since it was started and currently serves on its Executive Committee. Some of the topics that we are working to oppose are the UN Arms Trade Treaty and the UN's Programme of Action on small Arms. Both would undermine global gun rights and greatly complicate international trade.

Sierra Club Tries to Build Support For Anti-Trapping Campaign – Sportsmen Need To Voice Opposition
The Sierra Club has established a poll to determine whether it should attempt to ban trapping nationwide. Under the proposal, the Sierra Club would also attempt to ban Conibear and all similar traps, as well as leg hold traps. You have the ability to log in and voice your opposition to these drastic measure. Go to the Sierra Club Website: www.clubhouse.sierraclub.org. About half way down the page you will see: "Seeking Comments on New Trapping Policy" Don't worry, members and non-members are free to use the username and password. Be respectful, and polite -- but let them know that you oppose their plans to oppose trapping! Then log in using the following: Username: clubhouse; Password: explore



Safari Club International Sponsors World Cup Shoot
Safari Club International, Safari Club International Foundation and the Arizona Chapter of SCI are major sponsors of the 2012 International Shooting Sports Federation (ISSF) World Cup to be held in Tucson, Arizona USA March 24 to 31. More than 260 shooters from more than 44 countries will be competing in the event, which is the final World Cup prior to the 2012 Olympic Games in London, England.

Sales of Apprentice Hunting Licenses on the Rise
"New research shows the huge impact that the Families Afield program is having across the country. In all, 782,604 apprentice hunting licenses have been sold with a significant portion of those being adults in 2011." http://bit.ly/GRNBHw

Senate panel approves bill to expand ATV hunting
"A Senate committee narrowly advanced legislation designed to restrict the Idaho Fish and Game Department's authority to regulate all-terrain vehicle hunting privileges on backcountry trails." Read more at http://bit.ly/GMtuYV.

Idaho officials hike bag limits for 2012 wolf hunt
"Idaho wildlife officials have agreed to boost bag limits, expand trapping and extend hunting seasons in some areas to help further reduce wolf populations in all corners of the state." To learn more about the adjustments go to http://bit.ly/GRSwGn.

Women opt for hunting, fishing and outdoor survival skill training instead of spa weekend
The program began two decades ago in Wisconsin and has spread to 40 states and Canada as a way to teach women the skills needed to enjoy outdoor activities. In Florida, three workshops are held in different parts of the state throughout the year. Organizers say the sessions are so popular they usually fill up just days after they are announced. To read more about the successful workshop go to http://wapo.st/GICDR4 and to learn more about Becoming an Outdoors-Woman go to http://bit.ly/BeyondBOW.

EPA Loses Major Supreme Court Decision on Wetland Enforcement
"A unanimous Supreme Court ruling yesterday in favor of Mike and Chantell Sackett marks a significant victory for private property advocates. It also represents one of the biggest wins for the Pacific Legal Foundation (PLF) in its 30-year history as a nonprofit law firm working to rollback environmental laws and advance a broad conservative agenda." To read more about the Supreme Court's ruling go to http://bit.ly/GJys5R.

Judge issues ruling in fight over NM hunting law
"The law spells out how many New Mexico residents, non-residents and outfitters can be awarded hunting tags through the draw system. Tens of thousands of hunting licenses are sold in the state every year, and a portion of those are doled out through the draw by the state Game and Fish Department." To learn about the NM hunting law go to http://bit.ly/GHFJ7u.

Lakeport woman enjoys African hunting safari (first of two-part series)
"It was a lot bigger than anything I've ever harvested before. When I saw it up close my eyes filled with tears. I just kept petting its face as everyone was congratulating me. I thanked the animal for the experience, for allowing me to harvest its meat. It just blew me away. It was a real spiritual experience." To read more about the successful safari trip go to http://bit.ly/GJLEYE.
Upcoming News for Next Week
SCI files comments supporting conservation efforts to keep the Sage-Grouse from being listed as threatened or endangered.

SCI will file briefs in the Three Antelope Species lawsuit.

Updated information on importation issues effecting international hunters.