Apr, 2013 "In The Crosshairs"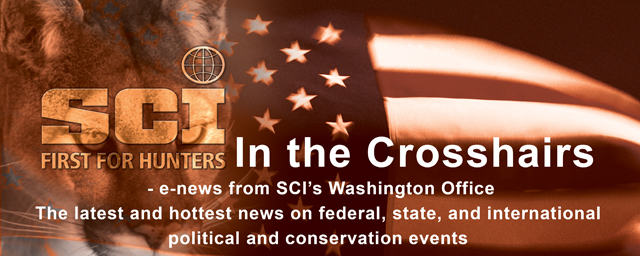 April 5, 2013

31 Major Hunting, Wildlife Organizations Oppose Universal Background Checks
The National Rifle Association and SCI, with 29 other prominent hunting and wildlife preservation organizations that represent tens of millions of Americans, sent a letter to the leadership in the United States Senate, opposing universal background checks. This letter lays out a 5-point plan to make our communities safer. These 31 sportsmen's organizations informed the Senate of their strong opposition to unnecessary firearms restrictions that would neither reduce crime nor prevent tragedy. SCI is proud to support a robust 2nd Amendment and stand shoulder to shoulder with the NRA against anti-gun forces. (Credit: OutdoorWire.com) Read the full letter here: http://cms.nraila.org/media/11158643/awcp_gun_control_debate_letter_final.pdf
If you are a member of a national hunting or conservation organization that has not joined in the fight, ask them why they are not working to protect your hunting heritage.

Advocate, Lobby for Hunting and the Second Amendment on May 9
The fight for the future of hunting is upon us in the U.S. Congress. Liberal members of the U.S. Senate are advancing legislation that would impact everyday hunters like you, your family and friends in unprecedented ways. Common hunting activities like teaching a son's friend to shoot or allowing your hunting buddies to use a rifle or shotgun while afield could soon become impossible if the U.S. Senate has their way. Have you called your U.S. senator to oppose this legislation? Now is your time to make your voice heard. SCI needs you to travel to Washington, DC in May to be an advocate for the future of hunting. On May 9th SCI will be visiting hundreds of members of Congress and fighting for hunters everywhere. Please use the attached form and register for the largest hunters-only lobbying event of 2013!
By registering before close of business today, April 5th, you will be eligible for a drawing to WIN a Kimber Pistol CDP II, .45 ACP. Return the attached form as soon as you can to join Safari Club International on May 9th when we will go to Capitol Hill to lobby on behalf of SCI and the 13 million Americans who hunt.

U.N. Approves Arms Trade Treaty
High Alert – On Friday March 29th the United Nations (U.N.) had final discussions on the passage of an Arms Trade Treaty (ATT). While this treaty was widely expected to pass via consensus, it was blocked by three countries that had concerns about its effect on their sovereignty. Sadly, after the treaty was rejected, the United States reversed its longstanding position that the treaty should only pass with the consensus of all nations, and a vote on the treaty was held at the general assembly where it passed 154-3 with 23 abstentions. Safari Club International is extremely disappointed by this abrupt reversal of the U.S. position. We are very concerned that this treaty could greatly affect travelling hunters should it be domestically adopted by enough countries. Even though the treaty was passed, in order to be ratified and take effect, the treaty must be signed by at least 50 countries. The treaty will be open for signature on June 3rd. Unfortunately the question is not if enough countries will sign this treaty for it to go into effect, but when. SCI will continue to fight as the UN negotiates implementing the burdensome requirements and attempt to protect hunters as much as possible. We expect the Administration to review the treaty over the next 6-12 months to determine whether the U.S. should sign it. SCI members have been extremely active in contacting Congress to oppose this treaty and it is vital that we not stop now. Help SCI fight this international encroachment on your freedoms by joining us in Washington, DC on May 9th to lobby the U.S. Members of Congress. Don't wait until the Obama Administration undermines all hunters worldwide. For more information about the details about what is in the ATT please see the link to an article from our friends at the Heritage Foundation http://blog.heritage.org/2013/03/28/the-arms-trade-treaty-reactions-to-the-final-draft/

Democratic Front Group Hyped As Hunters By Media In Gun Control Fight
"The liberal media will do anything to pressure lawmakers to support President Obama's gun-control agenda. Politico published a story Wednesday with this headline: 'Hunting Group Wants Background Checks.' The story gave the false impression that the millions of hunters in the U.S. support Mr. Obama's push for 'universal background checks.' That is way off target. In fact, 31 well-known hunting and conservation groups sent a letter to Capitol Hill Thursday expressing opposition to intrusion by the federal government into private firearm transfers." (Credit: WashingtonTimes.com) Read more: http://bit.ly/ZjI6ve

SCI members can now submit all hunt reports electronically, using the Online Record Book. No subscription is necessary to submit a report and there is no fee to submit a hunt report. Fill out a report to recognize your Outfitter or Guide for their service and tell other members about your experience. All Hunt Reports submitted using the new electronic system will be included in the Online Record Book for all subscribers to view with the SCI Records, Species Distribution Maps, and detailed taxonomic information. This is a valuable resource for every international hunter. Subscribe today and check out the new update today at www.scirecordbook.com.

SCI Argentina Chapters Dismiss Rumor About Possible Restriction to Red Stags
Federico Testa, Secretary of the SCI Buenos Aires - Argentina Chapter, contacted the Secretary of Environment and Sustainable Use of Argentina regarding a persistent rumor that suggests the possible restriction to the exportation of red stags from Argentina. According to Eduardo Fernandez, from the Control & Supervision Department, "no legislation has been issued neither is being discussed at this time." Emilio Paris, President of the SCI Argentina Chapter stated "red stag is an introduced species to Argentina and it would have been very detrimental to the industry if such a measure is being proposed. SCI members can continue enjoying hunting red stags and other available species in Argentina." A special thanks to SCI Regional Representative Thomas Saldias for his help in getting this rumor debunked.

The New North America & North America Introduced Record Books
Get the new North America & North America Introduced Hardcover Record Books, Edition XIII vol. 1 & 2 for $179.95 plus shipping, includes a free Field Scoring Kit while supplies last. Order your book today at the SCI Shop or call the SCI Headquarters at (520) 620-1220.

SCI Helps Minnesota Defend Its Wolf Harvest
On Wednesday, April 3rd, SCI attorneys appeared in the Minnesota Court of Appeals to assist state attorneys in their defense of Minnesota's wolf harvest. Animal rights groups brought the case to state court to challenge the process by which the Department of Natural Resources established the hunt, claiming that the on-line survey used by the Minnesota DNR failed to allow the public a meaningful opportunity to comment on the hunt. The three judge panel heard arguments from each of the attorneys and devoted the majority of their questions to the issue of whether the animal rights groups had suffered any harm from the sustainable harvest of wolves or the process by which the hunt was adopted. SCI's in-house litigation attorneys were accompanied by Ryan Burt, President-elect of the Minnesota Twin Cities Chapter, who served as SCI's local counsel. Stay tuned for a ruling, expected in the next few weeks.

SCI Helps Secure Victory in Nevada Wild Horse Gather Case
For the fourth time, SCI has helped defeat a lawsuit seeking to undermine the U.S. Bureau of Land Management's management of feral populations of horses, this time in the Triple B horse management area in Nevada. On March 26, 2013, the U.S. District Court for Nevada upheld the BLM's decision to gather the excess wild horse. Although the gather already occurred, the horse advocates want the Court to order the BLM to return the horses to the range. Before the gather, the horse population was many times higher than scientifically established appropriate management levels. The excess horses were damaging the ecosystem and harming resident wildlife, including game mammals and birds. As it has done in other wild horse cases, SCI intervened to defend the gather and subsequent relocation of the excess horses to long-term pastures. SCI expects the horse advocates to appeal this decision to the Ninth Circuit, which is currently reviewing an earlier decision upholding a different gather.
If you would rather not receive future communications from Safari Club International, let us know by clicking here.
Safari Club International, 501 2nd Street NE, Washington, DC 20002 United States