APR, 2013 "In The Crosshairs"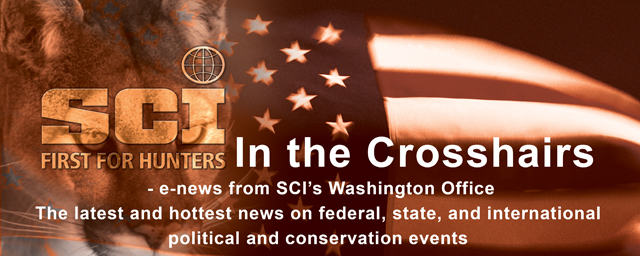 April 26, 2013

Polar Bear Conservation and Fairness Act of 2013 Introduced
"Washington, D.C. – Idaho Senators Mike Crapo and Jim Risch reintroduced the Polar Bear Conservation and Fairness Act of 2013. Harvesting of polar bears was banned on May 14, 2008 when the species was listed as threatened; however, this ban prevented hunters who had legally killed a polar bear in Canada prior to this date from importing their trophy hide. This measure would allow those hunters impacted to import the trophies that belong to them." Read the full release at http://1.usa.gov/ZAXXnZ. Safari Club International has been lobbying extensively on this legislation and hopes to see progress this congress.
"The response from the mainline conservation and animal rights communities has been predictable, and is focused on listing the lion as endangered under the U.S. Endangered Species Act. This would make it illegal to bring lion trophies into the United States -- and presumably, remove a primary incentive for the killing of the big cats. Great idea, right? Well -- no. The main threat to the African lion isn't from wealthy trophy hunters." (Source Huffington Post) Read more at http://huff.to/15MpRQM.

New Polling on Gun Control Debate
Please see the latest polling that was conducted by the Pew Research Center and the Washington Post following the failed gun control legislation in the U.S. Senate. Here are some interesting figures from the poll. 39% list themselves as relieved or very happy about the Senate vote, including 22% of democrats. So clearly the purported 90% support for the universal background checks figure peddled gun control groups and the White House are bogus. In the 16 states where both senators voted against the legislation, 46% say they are very happy or relieved that the bill did not pass; 37% say they are angry or disappointed. Read the entire polling data here: http://bit.ly/ZRPecv.

Hunting Lobby Has Pull in D.C.
"WASHINGTON – For all the talk about the National Rifle Association as the key player in defeating gun control proposals in the Senate last week, the hunting and wildlife lobby also played a significant role.
Safari Club International touts itself as a lobbying leader on Capitol Hill for hunters' rights and wildlife conservation." Read the rest of the story at http://bit.ly/Y21auP.

SCI's Lobbying, Advocacy Featured on Lars Larson Radio Show
While on a remote visit to Washington, D.C., nationally syndicated conservative radio show host Lars Larson sat down for an interview with SCI's Government Affairs staff. Listen to the interview at this link: http://bit.ly/15MqxW8.

Cougar Hunting Bill Gets Oregon House Approval
"SALEM -- Referring to cougar sightings near playgrounds, school bus stops and under a minivan, the Oregon House narrowly approved a bill Tuesday that would overturn a voter approved ban on hunting the big cats with hound dogs.
The vote came after a spirited discussion that ranged from concerns about environmental balance to the vast difference between Oregon's urban and rural counties. And there was even one up-close and personal scare story." (Source: The Oregonian Online) http://bit.ly/15Mrbmy.

Lots of Litigation
As always, SCI's Litigation Team has been busy advocating on behalf of SCI and the hunting community. In the last few weeks . . .
SCI/NRA were granted intervention to defend against a challenge to Wyoming's wolf delisting in Wyoming federal district court;

Together with Conservation Force and one other group, SCI filed a petition seeking an en banc (full court) rehearing on its challenge to the polar bear listing;

SCI filed a motion and brief seeking amicus status in the Tenth Circuit Court of Appeals to defend trapping in the area occupied by an experimental Mexican wolf population in New Mexico.
If you would rather not receive future communications from Safari Club International, let us know by clicking here.
Safari Club International, 501 2nd Street NE, Washington, DC 20002 United States