MAY, 2013 "In The Crosshairs"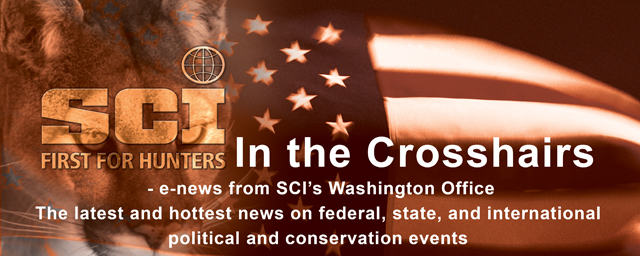 May 17, 2013

Future Generations Deserve To Hunt On Public Lands
The Recreational Fishing and Hunting Heritage and Opportunities Act (H.R. 1825) will recognize the rightful place of recreational hunting, fishing, and shooting on federal lands and protect hunting, fishing and shooting opportunities from being closed to the public without justification. According to the National Shooting Sports Foundation, "a new survey shows 79 percent of the American public approve of hunting." The survey was published in conjunctions with Responsive Management. Today is the day to protect hunting – Contact your member of Congress today: http://www.scifirstforhunters.org/advocacy/contactcongressman

SCI Foundation Convenes In Washington, D.C. – Lion Conservation Top Priority
The $1 million Fighting for Lions Campaign led the discussion at a SCI Foundation's Conservation Committee meeting in Washington DC. The committee is receiving resources requests from every lion range country to conserve the African lion and prevent an endangered listing under the ESA. Partnerships with lion researchers, range states, and the professional hunting community ensure that all interested organizations and individuals will help fight for sustainable use conservation of the lion. The SCI Foundation Conservation Committee plans to invest in a substantial public outreach campaign to educate the public, as well as multifaceted research projects, and anti-poaching efforts across Africa.

Online Auction To Benefit Conservation In Alaska
"For the first time EVER, Safari Club International Foundation (SCI Foundation) will be hosting an online auction to sell highly prized Alaska Governor's Permits! There are two big game tags available. The first tag is an opportunity to hunt a Kenai Mountains Caribou (Barren Ground). The second Alaska tag is for the chance to hunt a free-ranging Plains Bison from the coveted Delta Bison Herd." Read about your chance to participate at http://bit.ly/109sYPe.

SCI Co-Hosts Congressional Sporting Clays Event
"Safari Club International co-hosted the 19th Annual Congressional Shoot-Out on May 12 and May 13 just outside of Washington, D.C. The event brought together over 100 competitors from the sporting manufacturer, hunter-conservationist, and firearms industry. SCI's unique role in sponsoring this event included the opportunity to shoot sporting clays with over 30 members of the Congressional Sportsmen's Caucus. SCI's considers the Congressional Shoot Out to be integral to the development of relationships with members of Congress who care passionately about sportsmen's issues." Read more at http://firstforhunters.wordpress.com/2013/05/17/sci-co-hosts-congressional-sporting-clays-event/

SCI Co-Hosts Sportsmen's Caucus Event At The Beretta Gallery In New York City
On April 29, Safari Club International co-hosted an exclusive fundraiser to support the Congressional Sportsmen's Foundation at Beretta's New York City Gallery. Congressman Bob Latta (OH) addressed the attendees on the importance of hunting in his family and the necessity to protect hunting on public and private lands across the country. The event's special guest was Sen. Mitch McConnell (KY) who discussed the importance of hunting to the economy of Kentucky and the recent victory in defeating gun-control legislation in the U.S. Senate. See the photo gallery on Facebook: http://on.fb.me/YOOoAn.

SCI Selects Executive Committee Leadership At Board Meeting
"Washington, D.C. –Safari Club International's Board of Directors elected the organization's Officers and Executive Committee during their meeting in Washington, D.C. on May 11. The 12-member Executive Committee, comprised of volunteers within the organization, will work with SCI's Chief Executive Officer Phil DeLone." Read more at http://firstforhunters.wordpress.com/2013/05/17/sci-selects-executive-committee-leadership-at-board-meeting/

SCI Thanks Gov. Snyder For Protecting Hunting, Fishing Rights In Mich.
"Washington, DC – Governor Rick Snyder (Mich.) signed Michigan Senate Bills 288 and 289 into law today at a ceremony attended by many Safari Club International members. The new laws 1) state that the Natural Resources Commission has the authority to designate game species and 2) protect the right to hunt and fish. SCI's Michigan Chapters, along with other sporting organizations in Michigan, advocated for final passage of both of these bills during this legislative session." Read more at http://firstforhunters.wordpress.com/2013/05/09/safari-club-international-thanks-governor-snyder-for-protecting-hunting-fishing-rights-in-michigan/

Calif. Assembly Votes To Ban Lead Ammunition For Hunting
"The California Assembly voted Thursday to ban the use of lead ammunition when hunting wildlife. The ban would be the first of its kind in the country, said Jennifer Fearing, senior state director for the Humane Society of the United States. She said there's no excuse for continuing to use toxic lead for hunting. 'We've taken it out of paint, gasoline, pencils, toys,' Fearing said. 'It doesn't need to be in ammunition either.' The bill (AB 711) was approved, 44-21, in a vote that broke down largely along party lines, with most Republicans standing in opposition. The measure now goes to the state Senate for further consideration." Read the full article at http://lat.ms/14xoK3H.
SCI and the California Chapters of Safari Club International strongly oppose this legislation. The Humane Society representative seems to ignore the fact that elemental lead, like that found in ammunition, is not soluble in humans, rendering HSUS's trumped up arguments invalid. The State already bans the use of lead ammunition for hunting big game and coyote in Condor range, so any assertion that lead from ammunition harming the population of condors in the state is unsubstantiated.

Litigation Update
While preparing for and participating in the SCI May Board meeting here in Washington, D.C., SCI's litigation team has continued to actively represent SCI's interests in the courts and in the federal agencies. Here are just a few of our recent activities:
The Tenth Circuit Court of Appeals granted SCI's motion to participate as an amicus to defend New Mexico state's authorization of trapping in the area occupied by an experimental gray wolf population.

SCI moved to intervene in the case of Meister v. U.S. Forest Service to defend hunting and snowmobile access to hunting areas in the Huron and Manistee National Forests in Michigan.

SCI submitted comments on the U.S. Forest Service's Directives to implement the 2012 Forest Service Planning Rules. SCI's comments advocated for recognition of hunting as a primary recreational activity within our National Forests.
If you would rather not receive future communications from Safari Club International, let us know by clicking here.
Safari Club International, 501 2nd Street NE, Washington, DC 20002 United States