MAY, 2013 "In The Crosshairs"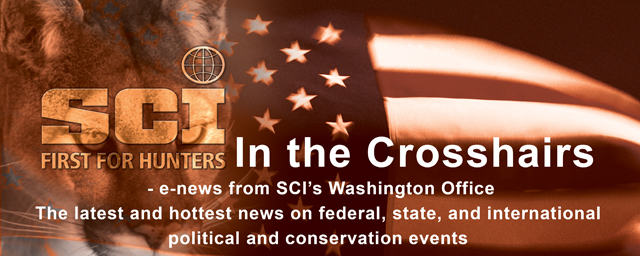 May 24, 2013

Legislation To Protect Hunting On Public Lands Gains Momentum – Nearing 40 Sponsors
During this Memorial Day weekend, reflect on those special opportunities that are available in the United States – particularly your opportunities to hunt on America's public lands. Hunting opportunities that have existed for our parents, grandparents and those who preceded them must be protected for future generations. This is our Hunting Heritage that we pass to the next sportsmen and women. It is this heritage that SCI is protecting in its endorsement of legislation called the Recreational Fishing and Hunting Heritage and Opportunities Act. This federal legislation would permanently ensure hunting and fishing opportunities on public lands managed by the U.S. Forest Service and Bureau of Land Management. These two federal agencies together control nearly 500 million acres. And protecting recreational hunting and fishing needs to happen today. So far, nearly 40 Representatives have joined as sponsors to support this important bill. More are needed and you can help. Please take time to contact your member of Congress, and ask them to protect hunting and fishing. http://www.scifirstforhunters.org/advocacy/contactcongressman

SCI, WFSA Fight Gun Confiscation In Peru
SCI and the World Forum on Shooting Activities (WFSA) have partnered to halt the implementation of new gun laws that would limit civilian gun ownership and would lead to government firearm confiscation without compensation. In light of this grave threat to the hunting and shooting community, SCI and WFSA have pledged support to the Peruvian Association of Legal Firearms Owners and are working on a multi-pronged approach to reverse this gun grab. To learn more about this fight and find out how you can help this effort please visit: http://www.indiegogo.com/projects/2nd-amendment-legal-fund-in-peru

Court Dismisses Case Seeking Nationwide Lead Ammunition Ban
On May 23, 2013, U.S. federal District Court Judge Emmett Sullivan dismissed a case filed by the Center for Biological Diversity (CBD) and others, that sought to force the Environmental Protection Agency to adopt rules to ban lead ammunition throughout the U.S. The Plaintiffs brought suit under the Toxic Control Substances Act (TSCA). The EPA filed a motion to dismiss CBD's Complaint on procedural grounds. SCI, together with the NRA, intervened in the case and filed their own motion to dismiss, as did NSSF and the Association of Battery Recyclers. After listening to oral argument, Judge Sullivan dismissed CBD's claims, finding that the Plaintiffs had failed to comply with TSCA's requirements for submitting a rulemaking petition. This is CBD's second failed litigation attempt to ban lead ammunition nationwide.

SCI Supports State Of Wyo.'s Efforts To Keep Wyo. Wolf Delisting Lawsuit In Wyo. Court
"CHEYENNE — Lawyers for the federal government and several pro-hunting organizations have joined the state of Wyoming in urging a federal judge not to allow a coalition of environmental groups to drop a lawsuit challenging recent federal action turning wolf management over to Wyoming…Anna Seidman is director of litigation for Safari Club International in Washington, D.C. She said Thursday that her group believes WildEarth Guardians and the other groups should be required to continue the lawsuit they started. 'The district court in D.C. called this an issue of national concern, but it's also an issue of Wyoming concern,' Seidman said. 'So we would like to see that the case remains open to be litigated in a Wyoming court.'" (Casper Star Tribune) Read the full article at http://bit.ly/1245dew.

SCI Foundation Anti-Poaching Program
The indiscriminate poaching of wildlife species is a crime around the world. Too often "poaching" is erroneously linked to "hunting." Hunter-conservationists are well aware of the difference and it is time for the general public to be schooled in the distinction. As a group, hunters engage in the legal take of wildlife by following game regulations. Poachers do not. In addition, hunters, through fees, licenses and taxes, provide essential financial support for wildlife management and conservation. Whether it is the quail hunter in Texas or the Cape buffalo hunter in Africa, hunters provide a significant amount of the funding needed to help manage healthy wildlife populations. Learn about all of the SCI Foundation programs at http://firstforwildlife.wordpress.com/.

Lion Attack Forces Nyimba School To Adjust Timetable
"Chieftainess Mwape of the Nsenga people in Nyimba district has asked authorities at Chifukuzi Community School to adjust their timetable to start at 09:00 hours instead of the 07:00 hours in light of lions that are terrorising the area. In an interview on Monday, chieftainess Mwape who visited the family of Lembani Daka who was attacked and eaten by a lion last week, said she advised the local people to be security conscious." (Souce: Post Zambia) Read the full article at http://bit.ly/19a92yU
If you would rather not receive future communications from Safari Club International, let us know by clicking here.
Safari Club International, 501 2nd Street NE, Washington, DC 20002 United States