MAY, 2012 "In The Crosshairs"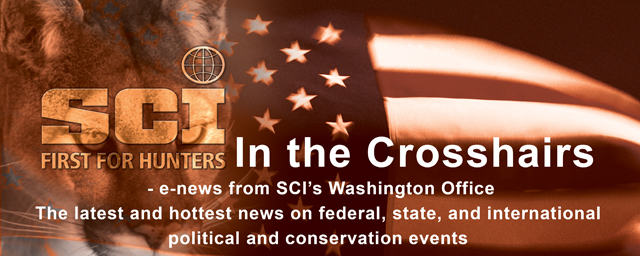 May 25, 2012

SCI Foundation Partners With Wisconsin DNR: "Safari Club International Foundation (SCI Foundation) proudly announced today that it made a donation of $25,000 to the Wisconsin Department of Natural Resources (DNR) to conduct a white-tailed deer predation study. The SCI Foundation and Wisconsin DNR Predator / Prey study will examine challenges wildlife managers face in finding a balance between predator and prey populations." (Source: SCI Foundation Press Release) http://bit.ly/KnvZ4I.

Latest Hunting News From Canada: "Snap Shots goes to SCI-Canada and Canadian chapter leadership on a weekly basis. It is also available at the 'News' page of the SCI-Canada web site. We include relevant media releases from provincial governments where we have chapters, as well as from the federal government. Also included are media articles from around the world that touch on hunting and Canada. Some of these stories may prompt you and your chapter to take action; some may provide material for your newsletter; and some may just be of passing interest." (Source: SCI – Canada Office) http://scihunteradvocacy.blogspot.com/2012/05/latest-hunting-news-from-canada.html

It's Open Season On Rules For Minnesota Wolf Hunt: "Details of Minnesota's first wolf hunting and trapping season released on Monday didn't please everyone. Mark Johnson, executive director of the Minnesota Deer Hunters Association, said limiting the season that opens Nov. 3 to 6,000 licenses and 400 wolves is too conservative. 'I think deer hunters will be disappointed,' Johnson said. Howard Goldman, senior Minnesota director of the Humane Society of the United States, said hunters shouldn't be pursuing wolves. 'We don't see any biological reason to hunt and trap wolves at all,'' Goldman said." (Source: Minnesota Star Tribune) http://bit.ly/Js5QnM

SB 1221 – Mammals: use of dogs to pursue bears and bobcats: SCI would like to draw attention to current legislation pertaining to hunting rights in the state of California. Senator Ted Lieu (CA, District 28) and Senator Darrell Steinberg (CA, District 6) introduced Senate Bill 1221 Mammals: use of dogs to pursue bears and bobcats, sponsored by the Humane Society of the United States. SB1221 would expressly prohibit the use of dogs in hunting to pursue any bear or bobcat. The bill barely passed the Senate with a 22-15 vote on May 21, 2012. The bill is now in the Assembly waiting for assignment to committee. We encourage you to take action on this issue now in order to protect the future of hunting.

After Passage of "Sportsmen's Heritage Act," BLM Backs Down on Shooting Ban: "On May 11, the Bureau of Land Management announced that it was abandoning its effort to ban recreational shooting on the Sonoran Desert National Monument in Arizona. BLM released a new proposed management plan that protects 'monument objects and values' through best management practices, but does not close the monument to shooters." (Source: NRA-ILA Press Release) http://bit.ly/Jidlsy.

Roadless Rule heads to Supreme Court: "After years of volleying between federal and state control, Wyoming has placed the Roadless Area Conservation Rule back in the hands of the U.S. Supreme Court. The Roadless Rule, as it is commonly known, originated in the Clinton administration, making new roads off limits for almost 50 million acres of national forest land. The Bush administration rerouted control of the lands to states in 2004. But in 2006, a federal court reinstated the rules barring road building, logging and development on the lands. Since then, states have been individually fighting the rule on various grounds." (Source: WyomingBusinesReport.com) http://bit.ly/LAEVF5.

South Africa: Hunters, Conservation Association Donates R100k To Onderstepoort: "The Veterinary Genetics Laboratory (VGL) of the University of Pretoria at Onderstepoort, received a R100 000 boost from the SA Hunters and Game Conservation Association (SAHGCA) to help fund the upkeep of its Rhino DNA Index System (RhODIS). The VGL collects and stores DNA from South Africa's white and black rhino populations. This database not only plays a key role in providing irrefutable evidence to trace poached products and convict rhino poachers, but also serves as a valuable source of information for rhino breeding programmes." (Source: AllAfrica.com) http://bit.ly/Kzf68h.

SCI Celebrates Kofa Victory: A U.S. District Court judge in Arizona has just ruled in favor of SCI's arguments that two artificial water developments remain in place to aid in Arizona Desert Bighorn Sheep conservation. Wilderness groups have been litigating for years in an attempt to have the U.S. Fish and Wildlife Service remove two water sources from the Kofa National Wildlife Refuge in Arizona. SCI is participating in the case as a defendant-intervenor, alongside the state of Arizona, the National Rifle Association and several sportsmen's conservation groups. After the District Court initially ruled in favor of leaving the water developments in place, the wilderness groups appealed their loss. The Ninth Circuit Court of Appeals then reversed the lower court's decision and sent the case back to the District Court to decide on the appropriate remedy. On this recent review, the Arizona District Court decided that the water developments may stay on the refuge and directed the FWS to prepare a detailed explanation as to why the developments are necessary for bighorn sheep conservation.
If you would rather not receive future communications from Safari Club International, let us know by clicking here.
Safari Club International, 501 2nd Street NE, Washington, DC 20002 United States
Upcoming News for Next Week
SCI files comments supporting conservation efforts to keep the Sage-Grouse from being listed as threatened or endangered.

SCI will file briefs in the Three Antelope Species lawsuit.

Updated information on importation issues effecting international hunters.