JUNE, 2013 "In The Crosshairs"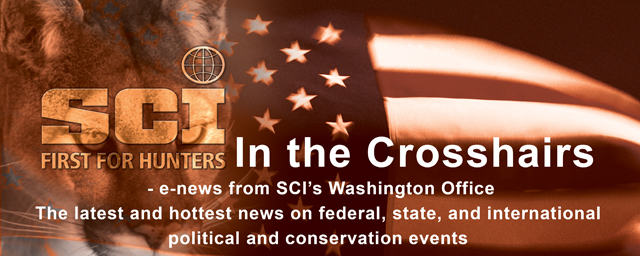 June 7, 2013

Outdoor Coalition Opposes California's Ban on Traditional Ammunition
"A coalition of 24 organizations representing millions of sportsmen and sportswomen nationally and thousands in California this week sent a letter to State Sen. Fran Pavley, chair of the Senate Natural Resources Committee, expressing its united opposition to Assembly Bill 711: An Act to Amend Section 3004.5 of the Fish and Game Code, Relating to Hunting." Read the full letter and article here: http://bit.ly/11kvmi5.

Information Needed To Help Lobby Airlines Trade Association & TSA
All SCI members are encouraged to participate in an online survey about their experiences traveling with various airlines and the Transportation Security Administration (TSA). Please participate in the survey so that SCI can lobby the airlines and TSA to improve their performance for the traveling hunter. http://bit.ly/SCIairlineSurvey. No other membership organization represents more hunters than SCI. Please help add your voice to the story so that airlines and the TSA can be held accountable: http://bit.ly/SCIairlineSurvey.

Hunting Rights Fall By Wayside
"I recently had the opportunity to travel to Washington, D.C., as president of the Western Montana Chapter of Safari Club International. Annually, we meet with elected officials discussing legislation important to hunters. We have over 200 people from SCI involved in such meetings." Read the full letter to the editor at http://bit.ly/15P9qRg.

Read & React: What House Bill 1825 Means To You
"Believe it or not, there is no language in current law that protects the rights of sportsmen to hunt and fish on U.S. Forest Service (USFS) or Bureau of Land Management (BLM) land—a fact that has not gone unnoticed by anti-hunting forces. It has been a long-held assumption that hunting and fishing were allowed on public lands, but without specific legislation that guarantees that right, sportsmen may find themselves shut out of areas to which they have enjoyed access for years." Read more: http://www.petersenshunting.com/2013/05/29/read-react-what-house-bill-1825-means-to-you/#ixzz2VTMYfxq4.

SCI Donates to Alaska Professional Hunters Association With $25,000 Grant For Advocacy Efforts
"Washington, D.C. – Safari Club International (SCI) is proud to announce a major contribution to support the Alaska Professional Hunters Association. SCI supports the members of APHA because of their dedication to hunters' rights in Alaska." Read the full release here: http://bit.ly/11kvqhR.

NC Governor Signs Apprentice Hunting License Into Law
"Safari Club International commends North Carolina Governor Pat McCrory for signing into law Families Afield, Senate Bill 234. This bill was sponsored by the North Carolina Sportsmen's Caucus Leadership, Senator Newton, and Representatives Bell, Moffitt, Martin and Wray." Read the full release here: http://bit.ly/11nH2BD.

HEADS UP! SCI Foundation: First for Wildlife
SCI Foundation helps fund its important conservation and education work through direct mail. A Spring Appeal letter and updated brochure from SCI Foundation President Joe Hosmer will arrive in many SCI members' mailboxes this week. Please take the time to read the letter, brochure and contribution reply form. We hope the information shared about our critical mission and long-term vision–to be recognized as the international leader in wildlife conservation and outdoor education–resonates with you. If so, we ask you to make a gift to help us continue our important and impactful work worldwide. Please complete and return the form (call us at +1 520.620.1220 Ext. 322 or visit our Web site now) indicating your tax-deductible donation level and preferred payment method. http://firstforwildlife.wordpress.com/2013/06/04/heads-up/

USFWS Decision Threatens Three Antelope Conservation
"On May 31, 2013, the U.S. Fish and Wildlife Service (FWS) denied Safari Club International's (SCI) petition to delist the U.S. populations of the scimitar-horned oryx, dama gazelle and addax. In the same decision, the FWS rejected a similar delisting petition submitted by the Exotic Wildlife Association." Read the entire article at http://huntinglife.com/usfws-decision-threatens-three-antelope-conservation/.

Plaintiff Abandons Litigation Challenge to Hunting and Snowmobiling on Huron-Manistee National Forests
Plaintiff Kurt Meister voluntarily dismissed his latest challenge to the U.S. Forest Service's (FS) planning for the Huron-Manistee National Forests in Michigan. Meister had previously persuaded a Sixth Circuit Court of Appeals to require the FS to revise the forest plan and to revisit questions about whether hunting and snowmobile use could continue in areas frequented by cross-country skiers. The FS's revised planning documents complied with the Court's order but maintained hunting and snowmobile use in the areas of concern to Meister. In response, Meister filed a new challenge to the revised plans. After SCI moved to intervene to defend hunting in the forests, Meister voluntarily dismissed, finally ending years of litigation.
If you would rather not receive future communications from Safari Club International PAC, let us know by clicking here.
Safari Club International PAC, 501 2nd Street NE, Washington, DC 20002 United States