June, 2012 "In The Crosshairs"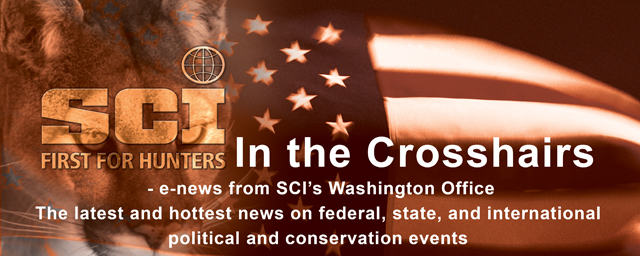 June 08, 2012

SCI Foundation Awards Record Amount For College Scholarships: "This past year Safari Club International Foundation awarded a total of $33,270 in college scholarships benefiting 20 students majoring in wildlife management, natural resource management, or a related field of study. That total dollar commitment is being increased to $35,270 in the 2012-13 academic years. Since the year 2000, SCI Foundation has awarded $300,000 to 61 scholars attending colleges around the U.S and internationally. Since 2004, Safari Club International Foundation has invested nearly $500,000 in scholarship endowments that have awarded $41,000 to 22 scholars. Safari Club International Foundation has four hunting heritage scholars this year and will have five at the beginning of the 2012 fall semester. Education Sables Hunting Heritage Scholarship Endowments are at the University of West Virginia, Unity College in Maine, Texas A & M Kingsville, University of Idaho and University of Montana." (Source: SCI Blog) http://bit.ly/LanwRf

Sportsmen's Heritage Act Continues Making Progress: This week Senator Tester (Montana) and Senator Thune (South Dakota) introduced their version of the Sportsmen's Heritage Act of 2012 to potentially be added as an amendment to the Senate Farm Bill that will be considered next week. While this bill is not perfect it contains numerous SCI legislative priorities and we plan to work with Senate allies to introduce amendments that would further strengthen the bill. We hope that the overwhelming bipartisan support that helped pass the Sportsmen's Heritage Act, H.R. 4089 in the House of Representatives will be matched by the Senate as they move forward on this bill.

Environmentalists Work To Reduce Land Management Options On 1.7 Million Acres In Ariz.: Recently environmentalists have proposed that 1.7 million acres of Arizona land should be designated as a national monument. "The proposed area currently provides recreational opportunities to millions of people who are physically unable to put on a backpack and hike miles and miles as well as those who could but chose not to. It is also an area where multiple-use management has resulted in a wildlife-rich, biologically diverse ecosystem." SCI strongly supports the multiple-use of federal lands which is why we oppose these sort of federal land grabs. A monument designation on this area would reduce recreational opportunities and could lead to the entire 1.7 million acres being closed to target shooting. SCI has supported language in H.R. 4089, the Sportsmen's Heritage Act that would prevent massive land grabs like this one .This bill contained an amendment from Rep. Foxx (R-NC) which would have provided a much needed check on the Presidential power by requiring that affected states to agree to federal monument designations. H.R. 4089 recently passed with overwhelming bipartisan support in the House of Representatives and is awaiting Senate action. Unfortunately this vital language was stripped in the Senate version of this bill introduced by Senator Jon Tester. SCI will continue to advocate for this vital protection for sportsmen as the bill moves forward in the legislative process. Please see the link below for more information. (Source: Arizona Daily Sun) http://bit.ly/LAIWcU

Wyoming Governor Wants Quicker Review Of Yellowstone Bear Protections: "CODY, WYO. — Wyoming governor Matt Mead has written to Interior Secretary Ken Salazar asking for the removal of federal protections for grizzly bears under the Endangered Species Act, saying the Yellowstone bear situation is 'severe and costly' for Wyoming. Mead said he hoped to accelerate what could be a two-year review and analysis of how changes in Yellowstone bear habitat and food sources might affect the grizzly's status as a protected species. 'Two years is too long and the cost is too great,' Mead wrote." (Source:YellowstoneGate.com) http://bit.ly/KSmAEd

McMillan Leaves BOA, Moves To National Bank Of Arizona: "McMillan: 'I want to let everyone know we have found a new bank. National Bank of Arizona. (McMillan has had a very public dispute with Ban of America http://tiny.cc/r45dfw)They are a terrific 2nd Amendment friendly bank, part of Zions out of Utah, have a great customer service department and our money will stay here in Arizona. There have been many people pledging to support McMillan in a financial way and with the price of our products it is very difficult. Besides we have maintained that this is not about McMillan or money, but our freedoms. I have come up with a way that you can support McMillan, gun ownership, hunting, SCI, and the Phoenix Chapter of SCI. We have built a one of a kind rifle to be auction off by the Phoenix Chapter of Safari Club International. It is a fantastic rifle for Antelope, Sheep, Whitetail and Mule deer, The details are in the link below. The main thing is each ticket is $20 or 6 for $100 and 100% goes to the Phoenix Chapter of SCI. Call 623-582-9635 and talk to Dee, she will take your order. http://www.phxsci.org/raffles/mcmillan-rifle-raffle.html" (Source: Ammoland.com) http://bit.ly/MlBKOs

Australia: Farmers Hope Hunting Plan Will Curb Feral Animal Problem: "FARMERS crippled by the scourge of feral animals have thrown their support behind the state government's proposal to allow hunting in national parks. More than 95 per cent of NSW is inhabited by some species of feral animal, according to Game Council NSW. Farmers that adjoin public land fare the worst, said Gerry Leach, the chairman of the National Farmers Federation's sustainability committee. Feral animals use the protected public land as a haven for breeding and go onto neighbouring land to graze crops and maul animals." (Source: TheAge.co.au) http://bit.ly/KPznaI

Eritrea: Endangered Species Of Wild Animals Being Reinstated In Line With Environment-Related Accomplishments – Ministry: "Asmara — The Ministry of Agriculture indicated that several endangered species of wild animals have been reinstated in line with accomplishments made in afforestation, as well as soil and water conservation. Mr. Hagos Yohanes, head of forestry and wildlife department in the Ministry, explained that the population and distribution of wild asses, elephants, ibex and ostriches are expanding thanks to the accomplished popular undertakings and prevailing awareness in that regard. He further indicated that the emergence of new species of ostrich and wild ass is a demonstration of improvements in boosting wildlife resources in the country." (Source: AllAfrica.com) http://bit.ly/LanNDE

Griffin: Initiative Aims To Restore Pheasants To Abundance: "The Michigan Pheasant Restoration Initiative aims to do just that on lands public and private lands, largely through public-private cooperatives that improve habitat on a landscape, rather than individual parcel, level. The Initiative uses state and federal funds to help landowners banded in cooperatives improve habitat on their lands, and to improve habitat on selected game areas, recreation areas and other public lands. The premise, and it's a good one, is that work on individual sites is not as effective as that coordinated within a larger area. Initiative managers start getting interested when landowners pool into the program acres in the thousands. The DNR last week spotlighted the Lake Hudson Pheasant Cooperative, one of the state's first such cooperatives. It works with several Pheasants Forever chapters and the DNR at the agency's Lake Hudson Recreation Area in Lenawee County, establishing over several years covers of native grass with wildflowers, and food plots. Coop members are betting landowners nearby will join the effort and connect filter stripes, buffers and other blocks of habitat, as well as enhancing existing habitat. More [on the] Initiative info can be found at www.michigan.gov/pheasant." (Source: Midland Daily News) http://bit.ly/KPzvHd
If you would rather not receive future communications from Safari Club International, let us know by clicking here.
Safari Club International, 501 2nd Street NE, Washington, DC 20002 United States
Upcoming News for Next Week
SCI files comments supporting conservation efforts to keep the Sage-Grouse from being listed as threatened or endangered.

SCI will file briefs in the Three Antelope Species lawsuit.

Updated information on importation issues effecting international hunters.