JUNE, 2012 "In The Crosshairs"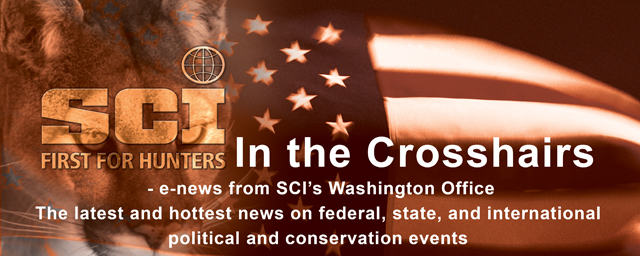 June 15, 2012

Safari Club International To Testify Before House Committee: Washington, DC - On Tuesday, June 19, 2012, Safari Club International Foundation (SCI Foundation) Chairman of Conservation & SCI Vice-President, Dr. Al Maki, will testify before the Space, Science, and Technology Subcommittee on Investigations and Oversight. The hearing will cover 'The Science of How Hunting Assists Species Conservation and Management.'" Read more at http://bit.ly/NDHLf9.

2012 Farm Bill Update: The 2012 Farm Bill is playing host to several pro-sportsmen amendments. These amendments include language from Sen. Tester (D-MT), Sen. Thune (R-SD), Sen. Risch (R-ID), Sen. Murkowski (R-AK), Sen. Manchin (D-WV), Sen. Vitter (R-LA), and Sen. Lee (R-UT). The proposed amendments cover a variety of hunters' priorities. The key policies would provide statutory protections of hunting on public lands, allow the importation of polar bear trophies that were legally harvested prior to polar bear listing, provide protections for traditional ammunition and fishing tackle, and require an economic analysis prior to listing a species on the endangered species act. Currently, none of these amendments have been considered on the floor of the Senate.

Wyoming Seeks To Remove Grizzlies From Endangered Species List, Opening Door For Future Hunting: "The governor of Wyoming wants the feds to take grizzly bears off their endangered list, a move that could open the door to hunting the fearsome animals, which have been blamed for at least four fatal attacks in the last two years in and around Yellowstone National Park. Gov. Matt Mead recently wrote Department of Interior Secretary Ken Salazar asking that he remove federal protection of the grizzly bear under the Endangered Species Act. The May 24 letter, which Salazar's office said is being reviewed, said grizzly bears have 'unquestionably recovered within the Yellowstone Ecosystem" and an official close to Mead acknowledged that managed hunts may be needed to control the population. 'At some point in time, we would envision hunting grizzlies,' Steve Farrell, a policy adviser to Mead, told FoxNews.com. 'It's an important tool for population management, just like it is for whitetail deer and elk.'" (Source: FoxNews.com) http://fxn.ws/LHTM04

County Commissioners Voice Opposition To Roadless Rule: "Montrose County Commissioners voiced their opposition to the Roadless Rule and the alternative put forward by the Forest Service at their meeting yesterday. The Commissioners opposed the current Roadless Rule, which conserves 4.2 million acres of Roadless areas in eight national forests. A roadless area is defined as at least 5,000 acres of undeveloped land with unique characteristics like highly scenic landscapes and sacred areas. [read the definitions here] The Roadless Rule was opposed by many residents of Colorado, and the Forest Service has put forward an alternative which returns to the roadless rules that were in place in 2001. The county also opposed the alternative, saying what they would like to see is the third alternative, which returns management of roadless areas to the local forest service offices." (Source: ColoradoRadio.com) http://bit.ly/NBxa4o The Roadless Rule is currently being considered for review by the Supreme Court. SCI is planning on filing an Amicus brief with the Supreme Court urging them to review the Roadless Rule. SCI would like review largely because of the negative impacts that the Roadless Rule has on forest and wildlife health, and because the rule takes management authority away from local land managers and consolidates it with bureaucrats in Washington, D.C.

Sarasota County Considers Wild Hog Hunt: "SARASOTA COUNTY - If county and regional officials get their way, a group of 30 hunters with dogs and knives will head out to a Sarasota County wilderness preserve for nighttime hog hunts in December and again next March. Officials from the Southwest Florida Water Management District and the county say legions of wild hogs are tearing up pristine lands in Deer Prairie Creek Preserve located east of the Myakka River and south of Interstate 75 near North Port. They are asking the commission to allow a rare, sanctioned hunt to trim hog numbers. They propose a pair of 3-day hunts in mid-December and late March 2013 on some 7,700 acres in Deer Prairie Creek and the adjacent Schewe Tracts. They say that night-hunting with dogs is more effective than daytime hunting with firearms." (Source: TheHeraldTribune.com) http://bit.ly/M26M1s

The Risks The Arms Trade Treaty Poses To The Sovereignty Of The United States: "The U.N. Arms Trade Treaty (ATT) will be negotiated in July in New York. One reason to be concerned about the ATT is the risks it poses to U.S. sovereignty. Some of these risks are specific to the ATT, but the fundamental problem is that the ATT is an aspirational treaty and, as such, will impose constraints on the U.S. that will not in practice affect the dictatorial regimes at which the treaty is nominally aimed. Because the ATT is yet to be negotiated, its text is not likely to be public until it is concluded on July 27, but in the context of sovereignty, two of its principles are reasonably clear. First, the treaty will likely assert that all U.N. member states have the inherent right of self-defense, including the right to buy, sell, and transfer arms. Second, it will likely be based primarily on national implementation, not enforcement by a U.N. organization." (Source: The Heritage Foundation) http://bit.ly/MDmGMk SCI has strongly opposed the inclusion of sporting arms and ammunition in the definition of arms for this treaty because of the absurd results that happen when you treat hunting rifles and ammunition the same as battleships and cruise missiles. SCI will be in New York to oppose the treaty this July and you can expect further updates shortly.

Sunday Hunting Ban Headed To Court: "Hunters United for Sunday Hunting - HUSH - is planning to sue the state government in an attempt to force the issue on Sunday hunting once and for all. "For the last 20 years, hunters have tried to get the Legislature to deal with this and the Legislature has repeatedly dropped the ball," said HUSH director Kathy Davis. "So now we're going to the courts." The debate over Sunday hunting in Pennsylvania has been going on for years. Currently hunting on The Lord's Day here is extremely limited. Crows, foxes and coyotes are the only game on the menu. The state Game Commission has no control over the matter. It's in the hands of the state Legislature. And through the years, every single attempt to either flat-out make Sunday like every other day of the week as far as hunting goes or to give authority over Sunday hunting to the Game Commission has died on the vine. No measure has ever been voted down by state lawmakers. They've just never gotten that far, instead dying on the road to a vote. The same arguments come up time and again." (Source:LDNews.com) http://bit.ly/LcHzmX. To learn more about HUSH go to http://bit.ly/M8vR9l

China Cracks Down On Online Wildlife Trading: "The Chinese government and the major online sellers in China have agreed to work together to crack down on the menace of online selling of endangered species. 15 of the major e-commerce businesses have agreed to monitor for adverts of endangered species. The 15 businesses, including the largest operators in China such as Alibaba, Taobao, and Tencent, have signed a declaration stating they will operate a zero-tolerence attitude to selling illegal wildlife products on their sites. The declaration followed on from workshops run by China's law enforcement agencies with help from WWF and TRAFFIC." (Source:Wildlifenews.co.uk) http://bit.ly/LcHsrh

Oregon Department Of Fish, Wildlife Raises Half Million In Raffle: "The 2012 ODFW auction and raffles for big game hunting tags grossed $523,202, of which $308,566 will go to the Access and Habitat Program and $179,937 to big game research and management. The auction of 11 special big game tags grossed $347,000 including $110,000 for a bighorn sheep tag. The sportsman/conservation groups that sponsored the auctions at various meetings and conventions of their organizations in the past few months will keep 10 percent of the auction proceeds ($34,700). Those groups include state and/or national chapters of the Mule Deer Foundation, Safari Club International, Wild Sheep Foundation, Oregon Bow Hunters, Rocky Mt Elk Foundation, and the Oregon Hunters Association." (Source: NaturalResourceReport.com) http://bit.ly/MDmkW6
Upcoming News for Next Week
SCI files comments supporting conservation efforts to keep the Sage-Grouse from being listed as threatened or endangered.

SCI will file briefs in the Three Antelope Species lawsuit.

Updated information on importation issues effecting international hunters.