JUNE, 2013 "In The Crosshairs"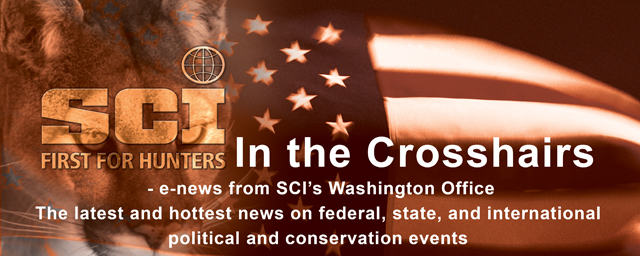 June 21, 2013

SCI Foundation, Mossy Oak Team-Up on Conservation Education
Tucson, AZ: This summer one of America's foremost conservation organizations and most popular camouflage companies have teamed-up to offer educators a unique hands-on opportunity to learn about the North American Model of Wildlife Management. Safari Club International Foundation (SCI Foundation) and Mossy Oak are conducting a professional development course for teachers from across the nation and Canada in a Wyoming wilderness setting. The American Wilderness Leadership School (AWLS), located in Jackson, Wyoming, offers a college-level course in "conservation" – understanding natural resources management and, more specifically, management of wildlife. http://firstforwildlife.wordpress.com/2013/06/18/sci-foundation-mossy-oak-team-up-on-conservation-education/

Hunting Rights Fall By Wayside
"I recently had the opportunity to travel to Washington, D.C., as president of the Western Montana Chapter of Safari Club International. Annually, we meet with elected officials discussing legislation important to hunters. We have over 200 people from SCI involved in such meetings." Read the full letter to the editor at http://bit.ly/15P9qRg.

SCI's Michigan Chapters Honored by MUCC As Conservationist Organization of the Year
"Safari Club International's (SCI) Michigan Chapters were collectively selected by Michigan United Conservation Clubs (MUCC) as the Conservationist Organization of the Year. The Conservationist Organization of the Year award is the MUCC's most prestigious award." http://firstforhunters.wordpress.com/2013/06/21/scis-michigan-chapters-honored-by-mucc-as-conservationist-organization-of-the-year/

Call for Comments: Wolf Delisting
"The U.S. Fish and Wildlife Service (FWS) proposed to remove all gray wolves in the lower 48 states from the Endangered Species list (except wolves of the Southwest or Mexican wolves). SCI agrees with the Service that no further gray wolf recovery is necessary and that the gray wolf does not qualify for endangered species. SCI encourages its members to submit comment letters on this very important issue." Read how you can submit your comments by going to this link: http://firstforhunters.wordpress.com/2013/06/21/call-for-comments-wolf-delisting/

Online Governor's Permit Auction to Benefit Conservation in Alaska
"Safari Club International Foundation (SCI Foundation) is hosting for the first time ever, an online auction to sell two highly prized Alaska Governor's Permits. The first Alaska Governor's Permit is an opportunity to hunt a Kenai Mountains Caribou (Barren Ground). The second Alaska Governor's Permit is for the chance to hunt a free-ranging Plains Bison from the coveted Delta Bison Herd." Start bidding today: http://www.liveauctionworld.com/Alaska-Tag-Auction_as27702.

Michigan's Inaugural Wolf Hunt Debuts in November
Michigan Gov. Rick Snyder on May 8 signed a bill empowering the Natural Resources Commission to decide whether to allow wolf hunting. A day after Snyder signed Senate Bill 288 into law, the commission, on a 6 to 1 vote, approved regulations for Michigan's inaugural wolf hunt this fall, making Michigan the sixth state to authorize the hunting of wolves since federal protections were removed. It set the total harvest at 43 animals." http://www.natlawreview.com/article/michigan-s-inaugural-wolf-hunt-debuts-november

SAM Calls for Constitutional Amendment to Ban Citizen Initiatives on Fish & Wildlife
"Of all of the many political rivals in Augusta, there are few more bitterly opposed to each other than the Humane Society of the United States (HSUS) and the Sportsman's Alliance of Maine (SAM) Historically, the animal protection side has had a minimal influence on Augusta lawmakers, and SAM has been very effective at mobilizing its passionate base." (Source: Free Press Online). Read about how HSUS is trying to subvert state wildlife management in Maine: http://freepressonline.com/main.asp?SectionID=52&SubSectionID=78&ArticleID=26621

Hunting, Fishing License Fee Increases Approved by Michigan Senate
"LANSING - Licenses for hunting and fishing generally would get more expensive through a bill approved by the Michigan Senate. House Bill 4668 was approved 24-14 on Wednesday in the Republican-led Senate after an amendment was added aimed at providing more transparency about how the state's fisheries department will spend money from the fee increases." SCI's Michigan Chapters were very supportive of this initiative to improve conservation funding in their state. http://www.mlive.com/politics/index.ssf/2013/06/hunting_fishing_licenses_michi.html

Additional Hunting Opportunities in State Parks, Forests Now Available
HARRISBURG, Pa., June 19, 2013 — PRNewswire-USNewswire/ -- Deer hunters now can apply for permits affording more hunting opportunities in state forestlands and state parks through the Game Commission's Deer Management Assistance Program, or DMAP. DMAP allows landowners to request and offer permits to encourage antlerless harvests on their property, enabling DCNR and private landowners to more effectively manage white-tailed deer populations and curtail damage to forests and crops. http://www.heraldonline.com/2013/06/19/4959559/additional-hunting-opportunities.html

Shumlin Signs Sportsmen's Act of 2013
Joined Friday by sportsmen and women at the Barre Fish and Game Club, Governor Peter Shumlin signed the Sportsmen's Act of 2013, legislation spearheaded by the Fish & Wildlife Department in coordination with members of the Legislature and many hunting, fishing, trapping, and other traditional interest groups. http://www.vermontbiz.com/news/june/shumlin-signs-sportsmen%E2%80%99s-act-2013

Information Needed To Help Lobby Airlines Trade Association & TSA
All SCI members are encouraged to participate in an online survey about their experiences traveling with various airlines and the Transportation Security Administration (TSA). Please participate in the survey so that SCI can lobby the airlines and TSA to improve their performance for the traveling hunter. No other membership organization represents more hunters than SCI. Please help add your voice to the story so that airlines and the TSA can be held accountable: http://bit.ly/SCIairlineSurvey.


Upcoming Webinar for NAS Report on Wild Horses and Burros
"The National Academies of Sciences will be hosting that last of a series of free public webinars June 26th at 1:00 pm EST to brief the general public on their recent report titled Using Science to Improve the BLM Wild Horse and Burro Program: A Way Forward. Dr. Guy Palmer, chair of the authoring committee, will give a 30-minute presentation followed by a question and answer period. The report reviews the science that underpins the Bureau of Land Management's oversight of free-ranging horses and burros on federal public lands in the western U.S., concluding that constructive changes could be implemented. Among other things, findings in the report indicate that horse and burro populations are experiencing population growth rates of of 15 to 20% annually - a level that is unsustainable and is detrimental to healthy horse populations as well as healthy ecosystems. The report summarizes fertility control methods used to slow horse and burro population growth, scientific techniques to better estimate population size and predicting the effects of management practices in order to maintain genetically diverse, healthy populations while maintaining rangeland productivity. Register on-line today for the June 26th webinar! Additional materials are available online, including a free PDF of this report, an FAQ, and an interactive map of herd management areas. For more information regarding this report from the National Academies of Sciences, visit the project website."