JULY, 2012 "In The Crosshairs"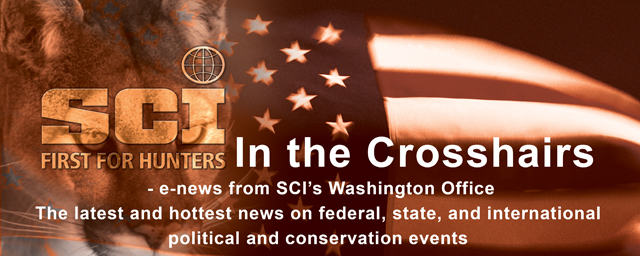 July 27, 2012

SCI Meets With Airline Trade Association To Protect Traveling Hunters: SCI's lobbyists recently met with Airlines-4-America, the airline industry trade association in Washington, DC. As nearly all hunters know the difficulty and heartache that traveling with your hunting rifle can cause. That is why SCI's Washington, DC office is working to make sure consistent (hunter friendly) baggage policies are implemented across the airline industry. SCI provided past and current examples where traveling sportsmen and women are being specifically restricted in flying with their sporting firearm. All hunters know that the effort to improve airline policies will be difficult and changes will not be seen overnight. However, through the work of SCI's Washington, DC office, the fight to make positive changes for all hunters will not stop.

Environmental Extremists Exposed As Political Goliaths: "In 2010 $100,000,000 was donated to the environmental advocacy organization ClimateWorks by a single progressive funding organization: the William & Flora Hewlett Foundation. While the Hewlett Foundation's $100 million dollar donation is an outlier, the amount of liberal money flowing into environmental groups is undeniably extreme. According to tax records, in 2010 the aforementioned Hewlett Foundation gave a total of $135,203,199 to environmental advocacy groups. Similarly, Pew Charitable Trusts gave out $18,494,516 in grants to the green movement, and Tides chipped in a little over $10 million as well. Environmental advocacy group The Sierra Club Foundation even donated an astounding $33,789,753 to fellow environmental organizations. In fact, the top 30 "Green Movement" funders donated a combined total of $286,861,331 to groups concerned with climate, environment, and sustainable energy, according to 2010 tax information. Again that is more than $286 million that groups pushing the environmental agenda raked into their coffers in one year alone. In that single year, these 30 top funders bankrolled a total of 237 different environmental advocacy groups." (Source: NetRightDaily) http://bit.ly/MmcVsq. These same foundations are bankrolling so called "sportsmen's groups" that are really just camouflage environmentalists. See more at http://www.undueinfluence.com/trcp.htm and http://www.undueinfluence.com/trout_unlimited.htm.

SCI Foundation Announces Creation Of Latin American Fund: Washington, DC – Safari Club International Foundation (SCI Foundation) is pleased to announce the creation of a new regional conservation fund for Latin America. The Latin American Fund will enhance the SCI Foundation's conservation, education, and humanitarian mission in Latin America through private and corporate investment. The assets used by this and other SCI Foundation funds are largely raised through Safari Club International (SCI) chapter fundraising events like the Houston Chapter fundraiser on August 25, 2012. The event will be the first of many opportunities for SCI members and their guests to support the new fund. To read the full release go to http://wp.me/p2C4PF-18

Call for Applications: 2013 Foundation Matching Grants Program: The purpose of the SCI Foundation Matching Grant Program is to help SCI Chapters support opportunities which further the mission of SCI/F through conservation, education and humanitarian services projects. This year alone, SCI Foundation has contributed $20,000 to chapters to help further their philanthropic pursuits, however, an additional $20,000 went unclaimed due to lack of applicants. Conservation Matching Grants help SCI Chapters build partnerships with state and federal agencies, organizations and other SCI Chapters. SCI Foundation as an organization is proud to fund Chapter projects because it enhances the visibility of how hunters are seriously involved with conservation. In order to be eligible for Matching Grant funds from SCI Foundation, a Chapter must be in good standing with SCI, having fulfilled their 30% contribution to the organization. 2013 Matching Grant applications and detailed information can be obtained on the SCI Foundation website: www.safariclubfoundation.org.

Watchdog Group Calls On Iowa's Attorney General To Investigate Deceptive Fundraising Practices Of HSUS: "Washington, DC – Today, HumaneWatch.org, a project of the nonprofit Center for Consumer Freedom (CCF), petitioned Iowa Attorney General Tom Miller to investigate the deceptive fundraising practices of the animal rights group Humane Society of the United States (HSUS). HumaneWatch.org released a full report today exposing HSUS's misleading telemarketing, direct mail, and television appeals. The new analysis reveals that the animal rights group's fundraising activities might be more than just dishonest, speculating that these tactics could violate some charitable solicitation or consumer protection laws in the Hawkeye State. The new report delves into years of HSUS's direct mail, telemarketing, and television appeals, which actively perpetuate the misperception that HSUS's primary focus is to care for abandoned and abused cats and dogs. However, a look through the group's tax returns reveals just 1 percent of its multi-million dollar budget goes to local hands-on shelters and rescues. That's a surprise to many of HSUS's own donors. Recent public polling by ORC International determined that 71 percent of Americans mistakenly believe that HSUS is a pet shelter umbrella group, and 68 percent wrongly think that HSUS spends most of its money on pet shelters." (Source: HumaneWatch.org) Read the full report here http://bit.ly/OJ9zLe

SCI's Youth Safari Day A Success: "Mark Nyberg, of Corona, said it cost him $30 to bring his wife, Nicole, and his daughters, Rylee, 8, and Regan, 5, to the 14th annual Youth Outdoor Safari Saturday at Raahauge's Shooting Enterprises. The tab grew to $54 for the Nybergs because of the cost of lunch. 'I love it,' said Nyberg. 'It's the best. My kids have never shot a gun before. They have never shot a bow and arrow. We met up with three families from our church.' Nyberg said his daughters had such a good time during the family's first trip to the outdoor sports exhibition that the cost could multiply even more. Chandler Van Meter, 11, of Canyon Lake, put on gloves and a vest so that he could hold a falcon. 'It was kind of scary,' said Chandler, 'At first when it was looking at me. I never knew a falcon was that heavy.' Chandler's mother, Kelly, also brought son, Tyler, 10. 'We all got to shoot different types of guns,' said Kelly. 'They actually train you before you go out and do it. They teach you how to be safer.'" (Source: The Press Enterprise) Read the full article at http://bit.ly/NU7r3Z

Salazar Expects Grizzly Delisting By 2014: "CHEYENNE — Interior Secretary Ken Salazar has informed Gov. Matt Mead that he shares the governor's desire to end federal protections for Yellowstone grizzly bears. Salazar wrote to Mead late last week, saying he expects the U.S. Fish and Wildlife Service and other agencies will finish their analysis of the effect of the decline of the whitebark pine tree on bear populations by early 2014. Scientists with the U.S. Fish and Wildlife Service and other agencies have been addressing the whitebark pine issue, Salazar wrote. 'All participants agreed that the Yellowstone grizzly population was recovered and that declines in whitebark pine do not threaten the future of the grizzly population,' he stated. Biologists estimate the greater Yellowstone area has at least 600 grizzly bears. A federal appeals court last year ruled that more work was necessary to document how the decline of whitebark pine might affect the grizzly population before they could be delisted again." (Source: Casper Star-Tribune) Read the full article here http://bit.ly/PeIYJc

Mugabe Roped In Poaching War: "HARARE - Tourism minister Walter Mzembi has sought President Robert Mugabe and his deputy Joice Mujuru's help in a vicious fight against top Zanu PF chiefs who have invaded wildlife conservancies with the backing of some top army officials. Highly placed sources told the Daily News Mzembi has been involved in a nasty fight with Shuvai Mahofa, a former Zanu PF MP and deputy minister over the invasion of a wildlife conservancy and poaching. Mzembi fears anarchy prevailing in the conservancies will dent the country's image ahead of the United Nations World Tourism Organisation (UNWTO) general assembly conference which Zimbabwe is co-hosting with Zambia next year. The event is viewed as key to jumpstarting Zimbabwe's tourism sector which has suffered the brunt of bad publicity generated by a decade of political turmoil. Wildlife conservation activists claimed in interviews with the Daily News that Mahofa had strong backing from serving and retired military commanders, some of whom have interests in the conservancies where poaching is rife. Parks and Wildlife director general Vitalis Chadenga confirmed that poaching is rampant in the conservancies under dispute. Mzembi says he wants Mahofa, feared war veteran Francis Zimuto aka Black Jesus and a white farmer identified as Ken Drummond stopped from decimating animals in the lucrative ranch. A letter sent to Mugabe and Mujuru and seen by the Daily News states that Mahofa is acting illegally. 'The High Court of Zimbabwe has ruled to suspend Mahofa's lease agreement and that Forever African Safaris are the rightful occupiers of the ranch in the Save Valley Conservancy,' reads the communication." (Source: Daily News) Read the full article here http://bit.ly/OdQ95L
If you would rather not receive future communications from Safari Club International, let us know by clicking here.
Safari Club International, 501 2nd Street NE, Washington, DC 20002 United States