AUG, 2012 "In The Crosshairs"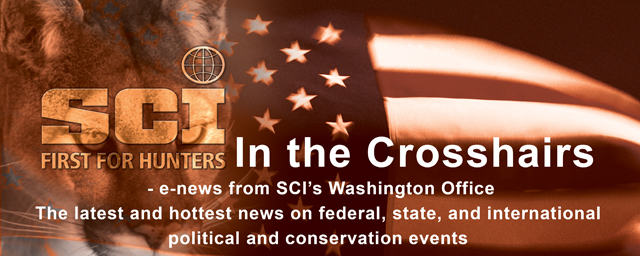 August 13, 2012

Rule To Downlist Straight-Horned Markhor Proposed By U.S. Fish And Wildlife: Announcing the good news to SCI prior to the Federal Register notice, SCI was contacted by the Deputy Chief from the Division of Congressional and Legislative Affairs about the proposed markhor rule. The Fish and Wildlife Service (FWS) proposed a rule to downlist straight-horned markhor from "endangered" to "threatened" status. This proposal is huge! It admits that "hunting" is the main reason why the species recovered and can be downlisted, "markhor populations significantly increased only in conservation areas managed for trophy hunting" (Pakistani Government). It also forces FWS to acknowledge that because U.S. hunters were not allowed to import markhor trophies while the species is/was classified as endangered, U.S. hunters could not actively participate in a conservation effort that resulted in a species' recovery. The dowlisting includes a special rule that will make importation of markhor possible due to its proposed threatened status. To read the proposed rule, go to http://1.usa.gov/QPRv8Y

Microlight Conservation Patrol Update: The Friedkin Conservation Fund's (FCF) anti-poaching operation in Tanzania is producing results. Conservationists Doug Braum and Boniphace Haule perform flyovers of the region using a microlight: an aircraft that looks like a hang-glider with an airplane prop. Last year, FCF's pilots covered over 24,000km. "Pilots not only have to know how to fly but also need to possess the skills to carry out essential engine and frame maintenance on the microlights. Additionally, FCF's pilots fly many more hours than most other conservation groups under extremely hard weather conditions, hence the wear and tear on the planes." The pilots patrol the region looking for signs of poaching camps, snares, and other illegal activity. For a full article and pictures of the operation, please visit http://bit.ly/MybGGY

SCI Foundation Renews U.N. Membership: The United Nations (U.N.) has accepted SCI Foundation's quadrennial report, thus allowing SCI Foundation to attend U.N. meetings promoting sustainable-use wildlife conservation. The U.N. quadrennial report is required from all Non-Government Organizations (NGO). The SCI Foundation report highlights its leadership role at CITES, its numerous conservation programs in Southern Africa and Asia, and humanitarian projects bringing needed medical supplies to underdeveloped communities around the globe. SCI Foundation will keep a seat at the U.N. Economic and Social Council as a NGO with special consultative status. Visit the SCI Foundation Blog for more conservation updates. http://wp.me/p2AKuX-1X. SCI Foundation will file their next report in June 2015.

August Recess Shootout Draws Hundreds to Congressional Sportsmen's Foundation Event: "August 8, 2012 (Washington, DC) - Over two hundred beginner and experienced shooters joined the Congressional Sportsmen's Foundation (CSF) for a day of friendly shooting competition at the Prince George's County Trap and Skeet Center in Glenn Dale, Maryland. The August Recess Shoot brings Congressional staff together with the outdoor recreational community to enjoy a fun day out of the office with hands on opportunities to shoot skeet, trap and sporting clays. This year's event had the largest attendance of any prior August Recess Shoot as many new faces joined the CSF for a great day of shooting. 'CSF hosts the August Recess Shoot every year to build interest in the shooting sports and to keep Congressional staffers informed on the importance of the outdoor industry. Events like these showcase how sportsmen and women can come together to enjoy the outdoors and promote our important traditions,' said Jeff Crane, CSF president." (Source: Congressional Sportsmen's Foundation) To read the full release, go to http://bit.ly/RB6WAY

Dan Richards Voted Out As California Fish And Game Commission President Following Legal Cougar Hunt: "The California Fish and Game Commission voted unanimously for Jim Kellogg as president, thus ousting previous commission head and controversial cougar-hunter Dan Richards. Richards was gracious after the vote, expressing his appreciation to the commission and immediately turning over his gavel. Richards had said previously that if he was removed as president, he'd stay on the commission until his term ends in January. At that point it would be up to Jerry Brown to reappoint him, which Richards himself said is unlikely. At today's meeting, just one citizen spoke in favor of Richards, who caused a stir in February when he shot and killed a cougar in Idaho. The small turnout is in marked contrast to a Fish and Game Commission meeting in March, when 60 people expressed their support for Richards during the two-and-a-half hour public comment period. Richards became notorious to some after posing with the mountain lion's dead carcass for an outdoors magazine. That caused an uproar as animal-rights organizations and a slew of Democrats in the legislature sought to remove him from office, though the effort petered out. Cougar hunting is legal in Idaho but not in California." (Source: KQED News) To read more, visit http://bit.ly/Qmko6e

CITES Warns Thailand To Put House In Order - Puts China On Notice: "August 2012. A week's long meeting of the CITES Standing Committee has ended in Geneva. The Committee governs the Convention on International Trade in Endangered Species (CITES) between full-scale meetings of the Conference of the Parties. The decisions taken are ratcheting up pressure on a number of countries to be held accountable over their failure to deal with rampant poaching and illegal trade, but no sanctions or punitive measures were agreed. African countries identified as the main sources of illegal ivory in trade, plus Asian and East African transit countries and the two countries with the largest illegal ivory consumer markets-China and Thailand-were given until the end of the year by the Standing Committee to provide written reports of what progress they have made in tackling the illicit trade. Failure to do so could ultimately result in a suspension of all trade in CITES-listed species with the country concerned, but the CITES Parties have so far avoided taking such action." (Source: Wildlife Extra News) Read more here http://bit.ly/O4QRzP

U.S. Forest Service Proposes To Streamline Land Management Plan Review Process: "WASHINGTON, Aug. 8, 2012 -- The U.S. Forest Service today published in the Federal Register a proposed regulation that will improve the administrative review process for proposed projects and activities implementing land management plans. The proposed rule for an objections process will be applied to all projects and activities that implement land management plans requiring an environmental analysis or environmental impact statement. The publication of the proposed rule will provide a 30-day public comment opportunity. All comments received will be considered before a final rule is published. 'This proposal will result in better, more informed project decisions, better documentation of environmental effects of agency proposals, and reduced regulation for administrative reviews,' said US Forest Service Chief Tom Tidwell." (Source: North Texas E-News) to read more, visit http://bit.ly/OO51Es
If you would rather not receive future communications from Safari Club International, let us know by clicking here.
Safari Club International, 501 2nd Street NE, Washington, DC 20002 United States