"In The Crosshairs"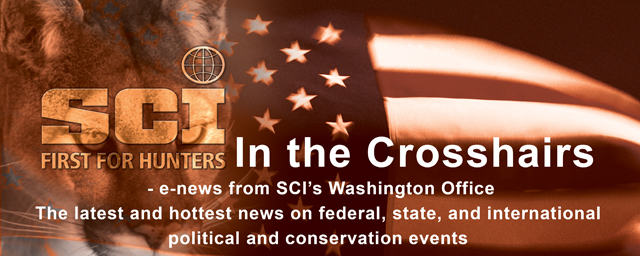 August 23, 2013

New Jersey Again Authorizes Black Bear Hunt
Thanks in part to the litigation efforts of SCI, New Jersey is able to again authorize a six-day black bear hunt in December 2013. For over eight years, SCI litigated in favor of black bear hunting in New Jersey. In June 2013, SCI filed comments in support of the current game code, which included the black bear hunt. The State has held successful black bear hunts for the last two years. Information about the upcoming hunt, to be held December 9-14, 2013, can be found at http://www.njfishandwildlife.com/pdf/2013/dighnt13-no_map.pdf.

SCI Foundation Partners with Frankfurt Zoological Society and U.S. Fish and Wildlife Service To Curb Poaching In Zambia
Washington D.C. – Safari Club International Foundation (SCI Foundation) today announced that it has partnered with the Frankfurt Zoological Society, as well as the U.S. Fish and Wildlife Service, on a North Luangwa Conservation Project in Zambia. The project focuses on anti-poaching efforts for the reintroduced population of black rhinos in North Luangwa National Park. http://firstforwildlife.wordpress.com/2013/08/14/sci-foundation-partners-with-frankfurt-zoological-society-and-u-s-fish-and-wildlife-service-to-curb-poaching-in-zambia/

The Sportsmen's Act of 2013: Protecting Hunters' Rights and Providing Greater Public Access
Daniel Xu, a staff contributor to the outdoor online web portal OutdoorHub, addressed the introduction of the Sportsmen's Act of 2013 in a feature article. SCI President Craig Kauffman was quoted in the article. http://www.outdoorhub.com/news/the-sportsmens-act-of-2013-protecting-hunters-rights-and-providing-greater-public-access

The Incredible Indestructible Zeiss Binoculars
Sporting Shooter editor Dom Holtam traveled to Germany where he dropped, dangled, dragged, threw, shot, ran over with a truck and eventually attempted to blow up the binoculars to see if they can take a lifetime of abuse crammed into three days. You can see the test here: http://www.fieldsportschannel.tv/?zoombox=-1 Those are TOUGH binoculars from Zeiss. At the end of the day, they could not be destroyed. SCI wishes to thank our sponsors, Zeiss and www.fieldsportschannel.tv, who are auctioning off these very binoculars on ebay with the proceeds going to SCI. All money raised by your generous bidding will go to SCI's work with the World Forum on Shooting Sports, WFSA. Not only are they great binoculars, they've got a phenomenal story behind them. Please go here to bid
http://www.ebay.co.uk/itm/130971784104

Wild Sheep Monitoring in Mongolia
An SCI Foundation-sponsored research team compared the ages of hunter-harvested rams with the ages of rams found dead in the field of natural causes. This approach has provided insights into the influence of hunting on wild sheep age structure, and potential impacts to the natural dynamics of wild sheep populations in Mongolia.
http://firstforwildlife.wordpress.com/2013/08/13/is-hunting-negatively-impacting-wild-sheep-in-mongolia/

Linda Besse's Artist of the Year Painting Unveiled for 2014 SCI Hunters' Convention
Each year Safari Club International Foundation (SCI Foundation) honors one distinguished artist by naming that individual the Conservation Artist of the Year. This special distinction is given to an outstanding artist who is dedicated to conservation. This year SCI Foundation honors Linda Besse and her recently completed painting titled "Outgunned" will be auctioned to benefit conservation of big game in 2014.
http://firstforwildlife.wordpress.com/2013/08/06/linda-besses-artist-of-the-year-painting-unveiled-for-2014-sci-hunters-convention/

Midway USA Renews Support for SCI and Conservation
Safari Club International and long-time SCI supporter MidwayUSA have announced the signing of a corporate sponsorship through 2015. The corporate sponsorship agreement includes the establishment of MidwayUSA as a Corporate Sponsor of the SCI Convention to be held February 5-8, 2014 in Las Vegas, NV, and the Official Sponsor of the Saturday Dinner and Auction. http://huntforever.wordpress.com/2013/08/12/midwayusa-renews-support-for-sci-and-conservation/