Oct, 2012 "In The Crosshairs"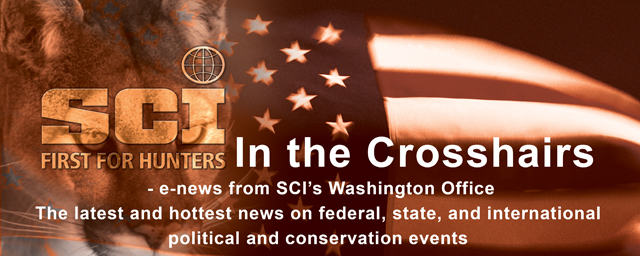 October 6, 2012


Paul Ryan "A Catholic Deer Hunter–Guilty As Charged!": "When the Republican nominee for Vice President Paul Ryan recounts Barack Obama's 2008 remarks about people who "cling to their guns or religion," his answer is simple. "I'm a Catholic deer hunter, guilty as charged!" Your team in the nation's capital presented a series of more in-depth questions to Ryan, to further explore the positions of the Romney-Ryan ticket on issues of concern to SCI members. SCI: Congressman Ryan, thank you for taking the time to discuss hunting and conservation issues. They don't always make the headlines, but they're very important to our members." (Source: SCI HuntForever) To read the full interview, visit http://bit.ly/SFhiLj

Safari Club Stays Active in the Courts: Safari Club has filed briefs in cases involving wild horses on the Triple B area in Nevada, the use of off-road vehicles in the Big Cypress National Preserve in Florida, and the use of lead ammunition nationwide. In the wild horse case, SCI filed its final brief opposing a challenge that seeks to make it virtually impossible for the government to gather excess wild horses that are harmful to other wildlife, including game species. In the Big Cypress case, SCI filed an opening brief defending a National Park Service decision to allow ORVs and to limit Wilderness designations in one part of the Preserve. In the lead ammunition case, SCI joined with the NRA to try to dismiss a case filed by anti-hunting groups who seek to have the Environmental Protection Agency ban the use of lead ammunition under the Toxic Control Substances Act. The National Shooting Sports Foundation and other groups filed their own motions to dismiss the case.

Safari Club Moves to Intervene to Defend Wisconsin's Wolf Hunt With Dogs: Yesterday, SCI filed a motion to intervene in a case in Wisconsin in order to help the State DNR to defend against a challenge to the state's wolf hunting regulations. The case, filed by a federation of Wisconsin Humane Societies, is designed to prevent wolf hunting with dogs in Wisconsin. A Wisconsin state court has already issued a temporary stay against the dog hunting provision. SCI has joined with the Wisconsin Bear Hunters Association, the United Sportsmen of Wisconsin and the U.S. Sportsmen's Alliance Foundation to intervene to defend a hunting opportunity mandated by state statute.

Aerial Mulching Moves To Private Lands, Grants Help Navigators Reclaim Burned Campgrounds: "As aerial mulching on about 3,000 acres of national forest in the Waldo Canyon Fire burn area wrapped up, money was coming in to extend the mulching program to private land at Eagle Lake Camps. The camp, owned by The Navigators which also owns Glen Eyrie, was founded in 1957 and brings in about 2,500 children each year. ... A check for $30,000 from Safari Club International, given to The Navigators on Sept. 24, kept Bradco flying for a few more days, dumping tons of agricultural straw and wood chip-mulch on heavily burned and steeper areas of the Eagle Lake burn area. Celestre explained that the Safari Club's worldwide mission is conservation, preserving natural resources and wildlife and promoting responsible and ethical hunting as a wildlife management tool. The club recently decided to work with private landowners affected by the Waldo Canyon Fire to restore habitat for bighorn sheep, elk, deer and other species." (Source: Pikes Peak Courier View) To read more, visit http://bit.ly/RfGzx3

Costa Rica Set To Ban Hunting, A First In The Americas: "SAN JOSE — Costa Rica is set to be the first country in the American continent to ban recreational hunting after the country's legislature approved the popular measure by a wide margin. The bill, which bans hunting for sport but still allows culling and subsistence hunting, was approved late Tuesday by a 41-5 vote. Congress will revisit the issue on Thursday, but the second round is seen as just a formality. President Laura Chinchilla, who supports the measure, is expected to sign it into law in the next days. The ban, which does not affect fishing for sport, does allow researchers to hunt for scientific purposes. Hunters violating the ban would have to pay a fine of up to $3,000." (Source: AFP) To read more, visit http://bit.ly/VFoqwu

High Court Declines Challenge Of Roadless Rule: "The U.S. Supreme Court has declined to hear a challenge to the 'roadless rule' in national forests, letting stand a previous ruling that declared the controversial regulation lawful. The State of Wyoming and the Colorado Mining Association claimed the U.S. Forest Service exceeded its authority by adopting the rule, which prohibits road building and timber harvest on roughly 50 million acres. The petitioners argued that the agency was effectively designating wilderness areas in national forests, 'usurping a power explicitly reserved to Congress. ... As a result of the roadless rule, about one-third of national forest land is set aside solely for wilderness instead of multiple uses, thereby impairing logging, grazing, mining and fire prevention, according to the petition." (Source: Capital Press) To read more, visit http://bit.ly/VlOZbw Safari Club International filed an amicus brief in the case, arguing that the permanent nature of roadless designations prevents access to some members of the hunting community and prohibits the Forest Service from following their own mandates to adapt forest planning to changes in wildlife habitat and population conditions.

STATE: Fish, Game Commission To Study Listing Of Wolf As Endangered: "The California Fish and Game Commission determined Wednesday that listing the gray wolf as an endangered species in the state may be warranted. The decision opens a status review to be done over the course of the next 12 months, after which the commission could decide to list the wolf as an endangered species under state law... Last December, a lone wolf known as OR7 dispersed to California from a pack in northeastern Oregon and has been in the state for most of the time since then. Gray wolves such as OR7 are protected as an endangered species in California and elsewhere under the federal Endangered Species Act." (Source: Lake County News) To read more, visit http://bit.ly/PA3Ms5

South Africa: 430 Rhinos Poached in SA : "Pretoria — South Africa has lost 430 rhinos to poaching since January this year, according to the Department of Environmental Affairs. 'The latest rhino poaching statistics indicate that a total of 430 rhinos have been lost to illegal killings since the beginning of this year, with the total number of arrests at 205,' said the department on Tuesday. The Kruger National Park has lost 258 rhinos to poaching. Limpopo, KwaZulu-Natal and the North West provinces continue to be the hardest hit by poachers, collectively accounting for the loss of 141 rhinos. Of those arrested, 177 are at the level of poacher, 10 are receivers and 18 are couriers." (Source: AllAfrica.com) http://bit.ly/SFcIg6

Landers: 'Hunting By Reservation' Program Hits Cyber Barrier: "A new method of gaining public hunting access to private land in Washington is staggering onto the scene this fall. About 30,000 East Side acres have been enrolled in the "Hunting by Reservation Only" program. Most of the initial offerings are in Columbia, Garfield, Walla Walla and Whitman counties, plus some small-scale timberlands in northeastern Washington. If you've been scouting for a spot to hunt in the deer and upland bird seasons, you may have seen the signs posted along some farm fields. But the Washington Department of Fish and Wildlife website that will handle the reservations – like every website in the history of the cyber world – is being cranky. It's not ready to go online." (Source: The Spokesman Review) To read more, visit http://bit.ly/QAopqp