Oct, 2012 "In The Crosshairs"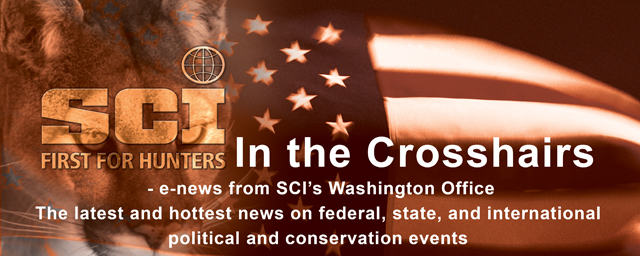 October 24, 2012

SCI To Hold Three Trophy Importation Seminars At Convention: In an effort to reduce the number of trophies seized and confiscated during importation, SCI will host three importation seminars at the upcoming SCI 41st Annual Hunters Convention entitled "Making Sure Your Trophy Gets Home" on Jan. 22, 2013 - 5:00 P.M. - 6:00 P.M.; Jan. 23, 2013 - 12:00 P.M. - 1:00 P.M.; and Jan. 26, 2013 - 8:00 A.M. to 9:00 A.M. These seminars will discuss these new importation developments and will provide important information and resources to help hunters prevent common errors that could result in a loss of a highly valued trophy. As we count down the days to SCI's Annual Convention and Hunters' Market, don't forget to register by following this link. (http://bit.ly/RWkGTK)

SCI Hosts Annual Wounded Warrior, Wheelchair Hunt: "BEAUFORT CO., SC (WTOC) - Patriotism was flying high Monday [Oct. 15] as many lined the avenue of flags at Nemours Plantation to welcome dozens of wounded warriors for Safari Club International's 8th annual Wounded Warrior and Wheelchair Hunt. 'Today was pretty incredible, all the support, it's been amazing,' said Joe Hamilton, wounded warrior. 'It was awesome,' said LeRoy Steigerwalt, Vietnam veteran. 'Along with other Vietnam veterans, we didn't get a homecoming so that was totally awesome.' During the two-day event, wounded warriors, along with a number of disabled adults and children of deployed reservists, will get the opportunity to hunt on 24 private plantations in the area." (Source: WTOC) To read more, please visit http://bit.ly/WtLz6Z

Hunt For Warriors at Enterprise South: "A special deer hunt for veterans kicked off this morning at Enterprise South. And this Hunts For Warriors was mostly for those injured while in Iraq or Afghanistan. The soldiers were extremely grateful for this event. The Tennessee Wildlife Resources Agency and the Chattanooga chapter of Safari Club International organized the hunt. The intention of the hunt is to help in transition back to day-to-day life after the traumatic stress or injury from the battlefield. About 25 soldiers donned the camoflauge and made their way deep into the woods well before sunrise." (Source: News Channel 9, TN) To read more, please visit http://bit.ly/TElYlC

U.S. Joins With Range Nations in Joint Proposal to Clarify Leopard Trophy Importation Problems: The U.S., in collaboration with Botswana and South Africa, has submitted a proposal to be considered by the 16th Conference of the Parties ("CoP") of the Convention on International Trade in Endangered Species ("CITES") to end the confusion caused by inconsistencies in the requirements pertaining to the documentation necessary for the export and import of leopard trophies. The CoP will be held on Mar. 13-15, 2013 in Bankok, Thailand. Safari Club International is working closely with the U.S. Fish and Wildlife Service in support of this clarification as well as other changes in FWS practices and procedures.

41st Annual Hunters' Convention 91 Days Away!: The world's largest and fastest growing convention dedicated to the every need of hunters both domestic and international has passed the 100-day mark! As we count down the days to SCI's Annual Convention and Hunters' Market, don't forget to register by following this link. (http://bit.ly/RWkGTK) Hotels are filling up fast; all rooms in the Atlantis Casino Resort AND the North and West Wings of Peppermill are already SOLD OUT! To check on hotel options, pricing, and availability please follow this link. (http://bit.ly/TgvKOE) This year's show has everything from world class entertainment to important educational seminars to plenty of auctions and hunts to buy. Register Today! http://bit.ly/RWkGTK

Court Hears Appeal on Polar Bear Listing: On Friday, Oct. 19, the U.S. Court of Appeals for the District of Columbia Circuit heard oral arguments on SCI's appeal of a decision last year upholding the 2008 listing of the polar bear as threatened under the ESA. The State of Alaska, Conservation Force, and the California Cattlemen also appealed the decision and the appeals were heard together. The Court seemed satisfied with the parties' briefing of the legal issues and did not ask many questions of either side. While not under any strict deadline, this Court usually issues a ruling in two to four months. SCI is still separately briefing its appeal of the district court's decision upholding the polar bear import ban that arose with the ESA listing. To read the OutdoorHub.com interview with SCI attorney Doug Burdin, please visit http://bit.ly/P3iufF.

SCI to Defend Wisconsin's Wolf Hunt: Safari Club International, in collaboration with the United Sportsmen of Wisconsin, the Wisconsin Bear Hunters Association, and the U.S. Sportsmen's Alliance Foundation, has been granted the right to intervene in Wisconsin state court to defend the Wisconsin wolf hunt. On Thursday, Oct. 18th, at a hearing in Madison, Wisconsin, Judge Peter C. Anderson granted the hunting groups' motion, rejecting the efforts waged by several local animal rights groups to bar the hunting groups' participation in the case. The Plaintiffs' lawsuit attempts to prevent hunters in Wisconsin from using dogs in the state's first wolf hunt since the species was removed from the federal endangered species list.

Animal Rights Groups Plan to Challenge Western Great Lakes Wolves Delisting -- Again: While Safari Club International applauded the delisting of the Western Great Lakes wolves as a conservation success, others continue to fight the delisting. On Oct. 15, 2012, HSUS and Fund for Animals delivered a letter to the U.S. Fish and Wildlife Service notifying the government of their intent to sue to challenge the delisting of the Western Great Lakes wolf population. The letter claims that the delisting violates the ESA and describes many of the same legal challenges that the anti-hunting groups have used in prior lawsuits against the removal of the midwest wolves from the endangered species list. As a result of the delisting and restoration of state authority over wolf management, Minnesota and Wisconsin have instituted wolf hunts which are now underway in both states. SCI will consider intervening to defend the delisting, as it has done on each previous occasion that groups have gone to court to challenge the FWS's efforts to recognize wolf recovery. Currently, SCI is in state court in Wisconsin, defending a challenge to Wisconsin's wolf hunt and is preparing to seek intervention in a case challenging Minnesota's wolf hunt.