NOV, 2012 "In The Crosshairs"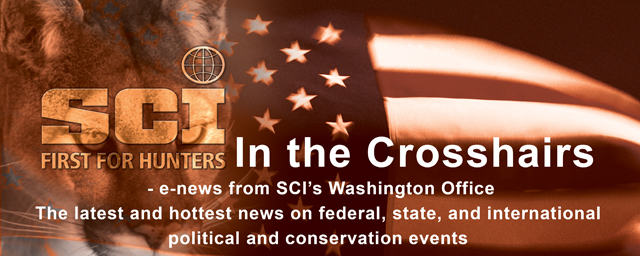 November 14, 2012

SCI Foundation & Boy Scouts Of America Foundation Inaugural Shoot: TUCSON, Ariz. — Safari Club International Foundation (SCI Foundation) and the Boy Scouts of America Foundation (BSAF) are proud to announce the Inaugural Sporting Clays Shoot in Reno, Nevada on January 22, 2013 at Sage Hill Clay Sports. All proceeds will go to support the mission programs for SCI Foundation and BSAF. To read more, please visit SCI Foundation's blog at http://bit.ly/W7SrCt.

Right To Hunt, Trap, And Fish Ballot Measures Pass With Landslide Victories: Washington, D.C. – Safari Club International (SCI) congratulates the sportsmen and women of Idaho, Nebraska, and Kentucky for ratifying their rights to hunt, trap, and fish. With over 73% of residents voting "yes" in each of the aforementioned states, sportsmen and women in Idaho, Nebraska, and Kentucky have protected our sporting and outdoor traditions for generations to come. "Hunters, trappers and anglers have always been, and will remain the backbone of wildlife conservation in North America," said SCI President John Whipple. "SCI is extremely proud of our chapters and members in Idaho, Nebraska, and Kentucky who spearheaded the grassroots efforts to ratify these important constitutional amendments." To read more, please visit SCI's FirstForHunters advocacy blog at http://wp.me/p2C4PF-4f

SCI Legislative Alert – Oppose H.R. 835 & S. 707, The Puppy Uniform Protection & Safety Act (PUPS): Earlier this year SCI sent an alert to members asking that you oppose H.R. 835 and S. 707, the Puppy Uniform Protection and Safety Act (PUPS). The PUPS legislation, backed by the Humane Society of the United States (HSUS), is a veiled attempt to further regulate breeders of hunting and working dogs. HSUS's end goal is to ban all hunting with dogs and sport hunting generally. The PUPS bill is an incremental step toward that goal disguised as harmless legislation. Nothing could be further from the truth. HSUS is attempting to move this legislation, as a non-controversial bill, during the lame duck session of Congress and your help is needed to stop them. Please contact your Member of Congress today and urge them to oppose any attempt to pass H.R. 835 and S. 707 during the lame duck session of congress. To contact your Representative please click the following link: bit.ly/U066hz.

Registration Now Open for SCI Continuing Legal Education Course for Lawyers : Attorneys! Don't miss SCI's Sixth Annual Wildlife Law Continuing Legal Education Course at the SCI Convention in Reno, Nevada. The course is open to members of SCI and non-members. The registration fee is $199.00 which includes same day (Friday) admission to the SCI Convention. The course will run from 1:00 P.M. to 5:15 P.M. on Friday, January 25th and will provide 4.0 hours of CLE credit, including 1.0 hours of ethics credit. Online registration is now open through the Nevada State Bar's CLE website. To register, please go to: http://www.legalspan.com/nvbar/catalog.asp?ItemID=20121113-152194-163628. If you have any questions, please contact Anna Seidman, SCI Director of Litigation, at 202-543-8733 or aseidman@safariclub.org.

Anti-hunting Groups Sue to Challenge Wyoming Wolf Delisting: Defenders of Wildlife, the Natural Resources Defense Council, the Sierra Club and the Center for Biological Diversity filed suit on November 13, 2012 to challenge the U.S. Fish and Wildlife Service's delisting of Wyoming's wolves. This suit is the latest in a long line of cases challenging the FWS's decision to recognize wolf recovery in the United States. SCI is reviewing the Wyoming wolf litigation for potential intervention to defend the delisting, state management and hunting of the Wyoming wolf population. If you are an SCI member, have definite plans to hunt wolves in Wyoming and would be willing to provide a sworn statement to assist SCI's litigation efforts, please contact SCI Director of Litigation, Anna Seidman at aseidman@safariclub.org.

U.S. Endures Near-Record Wildfire Season: "The total amount of acres burned is roughly the same size as Massachusetts and Connecticut put together. 8:31AM EST November 11. 2012 - Nationally, the scorching heat and relentless drought this year helped spark a disastrous wildfire season. For only the third time on record, the total number of acres burned due to wildfires across the country so far this year has topped 9 million, according to data from the National Interagency Fire Center. The area scorched, as of Friday – 9,101,461 acres – is roughly the size of the states of Massachusetts and Connecticut combined." (Source: USAToday.com) To read more, please visit http://usat.ly/VXKEfo

Yellowstone Grizzly Bear Deaths Hit Record High: "Yellowstone grizzly bear deaths for 2012 have tied a 2010 record high of 50. The average number of Yellowstone grizzly deaths has doubled from 21 per year for 2001-2006 to 42 per year for 2007-2012. In an article titled 'Recent Wyoming grizzly bear deaths human-caused,' Wyoming Department of Fish & Game bear specialist Mark Bruscino said the current number of grizzly bear deaths is 'about average.' That depends on if you mean the average number of deaths before the U.S. Fish & Wildlife Service removed Endangered Species Act protections for grizzlies in 2007, or after." (Source: Examiner.com) To read more, please visit http://exm.nr/TJ3EcV

Phase One of Nevada Bighorn Sheep Relocation Complete: "RENO- November 8, 2012 – On November 6, 2012 the Nevada Department of Wildlife (NDOW) completed the first phase of their 2012-2013 big game capture, transplant and monitoring program by netting twenty-four California Bighorn Sheep in the Sheep Creek Range outside of Battle Mountain and releasing them in the Jackson Mountains. This operation was the last of a four part effort starting on Nevada Day that involved capture of fifty Desert Bighorn Sheep in the Muddy Mountains near Henderson and the River Mountains near Boulder City which were transported and released on the Kaiparowits Plateau in Utah; and followed by twenty-five Desert Bighorn Sheep captured on Lone Mountain outside Tonopah and released in the Excelsior Mountain Range near Marrietta." (Source: Wild Sheep Foundation) To read more, please visit http://bit.ly/XyFLcU

No Rain Brings New Life To Waterfowl Habitat: "The drought that turned shallow wetlands into mudflats and lowered lake levels throughout Central Minnesota could ultimately improve waterfowl habitat, clarify murky waters and eliminate invading fish.'What I've compared it to is fire in the prairie,' said Josh Kavanagh, a Spicer-based Ducks Unlimited biologist who coordinates projects with the Minnesota Department of Natural Resources and the U.S. Fish & Wildlife Service. 'Like fire in the prairie, you need these periods of dry weather to reset the ecology.' That reset starts with aquatic plants, which reseed when the water dries up or recedes. Plants such as arrowhead, smartweed, soft-stem bulrush, river bulrush, cattail, sego pondweed, coontail, wild celery and wild rice provide food for waterfowl." (Source:SCTimes.com) To read more, please visit http://on.sctimes.com/UDlxsz

South Africa: Court Sentences Rhino Poacher To 40 Years: "The South African Revenue Service (Sars) has welcomed the sentencing of international rhino horn smuggling syndicate kingpin Chumlong Lemtongthai. The Kempton Park Regional Court on Friday morning sentenced the 40-year-old Thai national to 40 years in prison. Lemtongthai was arrested in 2010 and together with five others was charged with various counts of fraud, customs and excise violations and transgressions of environmental legislation. 'Today's sentence was the successful outcome of comprehensive investigative work and co-operation between various state law enforcement agencies in the country, including the SAPS Directorate of Priority Crimes Investigation, the Hawks, the National Prosecuting Authority, the Department of Environmental Affairs and SA National Parks,' Sars said in a statement. On Monday, Lemtongthai pleaded guilty to 59 charges." (Source: AllAfrica.com) To read more, please visit http://bit.ly/TEWhTH