NOV, 2012 "In The Crosshairs"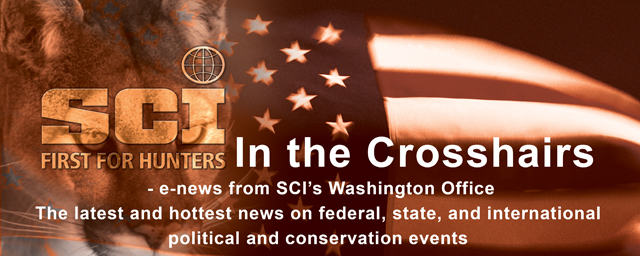 Wednesday November 21, 2012

Educational Seminars Offered At 41st Annual SCI Convention: "Tucson, Ariz. – A variety of educational seminars will be available for interested attendees of the 41st Annual Safari Club International Hunters' Convention in Reno, NV Jan. 23-26. 'We are proud to offer a long list of educational seminars held each and every day of convention,' said SCI President John Whipple. 'Our annual convention offers much more than a place to catch up with old hunting friends and book a hunt,' he concluded. Seminars are complementary for convention attendees and are repeated throughout the four-day convention. This year's featured seminars include 'Whitetail Food Plotting for Small Acreages' presented by Paul Cwiklinski, 'Field Dress Like the Experts' with Ron Dube, 'Fierce Fishes of the Amazon' by Paul Reiss, 'Creating the Perfect Trophy Room' by Tom Julian, and 'Making Sure Your Trophy Gets Home' which will be given by SCI attorney Anna Seidman and focus on the challenges of trophy documentation and importation." (Source: Howard Communications) To read more, please visit http://bit.ly/10uYp4t.



Trijicon Sponsors 2013 SCI Veterans' Breakfast: Trijicon, long known for its "brilliant aiming solutions," is sponsoring the 2013 Safari Club International Veterans' Breakfast to be held Friday, January 25, 2013 at the Naples Ballroom in the Peppermill Resort in Reno, Nevada. The event runs from 8:00 am until 10:00 am with doors opening at 7:30 am. The program includes presentations by CWO Brad Garfield, USMC, Retired–a wounded warrior, decorated veteran and hunter; Michael Petersen–country western singer and stalwart military supporter who has made numerous trips to the Middle East entertaining coalition troops; and Jim Shockey–TV personality, outfitter and hunter. To read more, please visit SCI's HuntForever blog here. http://bit.ly/ZZmyRi

SCI In Court Challenging ESA Settlement: Yesterday, SCI argued before the U.S. Court of Appeals for the District of Columbia against two massive ESA settlements that "fundamentally reorder" the entire ESA listing program. The U.S. Fish and Wildlife Service privately negotiated these settlements with only two litigious private groups. SCI oppose the settlements because they illegally force the Service to propose listing rules for hundreds of species, including three game species: the greater sage grouse, lesser prairie-chicken, and New England cottontail. SCI appealed both (1) the District Court's refusal to even let Safari Club participate in the case to comment on the illegality of the settlements and (2) that Court's approval of the settlements. A decision from the Court of Appeals is expected in the next couple of months.

SCI Joins Minnesota DNR in Defense of Wolf Hunt: The Minnesota Court of Appeals has granted SCI leave to participate in a lawsuit brought by animal rights groups that seeks to stop the state's wolf season. SCI has joined the case to help the Minnesota Department of Natural Resources defend the legality of the wolf hunt. This is Minnesota's first wolf hunt since the U.S. Fish and Wildlife Service removed Minnesota's wolves from the federal threatened species list. SCI is also participating in another lawsuit in Wisconsin to help the Wisconsin DNR defend a challenge regarding Wisconsin's wolf harvest.

SCI Helps Secure Victory in Calif., Nev. Wild Horse Gather Case: Washington – Safari Club International (SCI) defeated the animal rights group In Defense of Animals in a major court battle over management of feral populations of horses in accordance with federal law. On November 15, 2012, the U.S. District Court for the Eastern District of California rejected the horse groups' claims that the Bureau of Land Management's (BLM) gather of the excess wild horses and burros violated federal law. The case focused on the Twin Peaks Horse Management Area (HMA), located on the northern border of California and Nevada. The BLM conducted the gather during August and September 2010, after SCI joined the BLM in defeating the horse groups' emergency request to halt the gather. To read more, please visit SCI's FirstForHunters advocacy blog here: http://bit.ly/RUnOAS.

ICCF Holds Congressional Hearing On Global Poaching Crisis: On Thursday, Nov. 15 the International Conservation Caucus Foundation (ICCF) held a hearing on the Global Poaching Crisis for members of the U.S. Congress and their staff. The hearing's purpose was to discuss the recent, unprecedented spike in illegal trade in wildlife and links to organized terrorism. The U.S. State Department, launched by Secretary of State Hilary Clinton at her November 8 meeting "Wildlife Trafficking and Conservation: A Call to Action", has taken an interest in wildlife poaching because of a suspected link between the illegal trade of wildlife and terrorist groups like al-Shabaab and al Qaeda. To read more about the ICCF hearing, please visit SCI Foundation's blog here: http://bit.ly/TYy4YN.

How To Hunt Fall Turkeys (For Your Thanksgiving Feast): "Fall was the original turkey season. We eat turkey at Thanksgiving, not Easter, yet the generation of hunters that came of age during the bird's 'great comeback' sees turkey hunting as a spring-only pursuit. Although many turkey hunters have never tried it, they'll tell you the fall hunt is boring ('Turkey hunting is all about the gobble') or wrong ('I'd never kill a hen'). They're missing out. Half a dozen lost turkeys converging on you from six different directions gets your heart going every bit as fast as a spring gobbler at 30 steps does." (Source: Field&Stream.com) To read more about fall turkey hunting tactics, please visit http://bit.ly/XW4J6s

Farm Bill Could Be Part Of Solution: "ST. PAUL — A farm bill awaiting congressional action is being viewed more and more as a partial solution to the federal government's debt and budget crisis. The farm bill and impending 'fiscal cliff' are being linked because new federal farm policy could produce billions of dollars in savings. 'There is a growing recognition that this could be part of the puzzle,' said Sen. Kent Conrad, the North Dakota Democrat who leads the Senate Budget Committee and is a key player in fiscal cliff negotiations." (Source: Republican-Eagle.com) To read more, please visit http://bit.ly/Xt4Szj

Gun Owners Enter The Fight Of Our Lives: "The NRA has been saying all along that Barack Obama would unleash an assault on our Second Amendment freedoms if he won a second term. It sure didn't take long for him to prove us right. Just hours after Obama won re-election last Tuesday, his administration endorsed a new effort by the global gun grabbers at the United Nations to draft a gun ban treaty early next year. The official starting point for the new talks is last year's failed draft, which contains provisions that threaten our sovereign right to keep and bear arms through an international gun registration scheme." (Source: DailyCaller.com) To read more, please visit http://bit.ly/WpVkDB

Moose, Two Calves Illegally Shot & Left Behind In Grand County: "A Colorado Parks and Wildlife official called the shooting of a moose and her two calves 'outrageous' and authorities are asking for the public's help to find the person responsible. A reward of up to $7,500 reward is being offered by the state and Safari Club International, a sportsman and wildlife conservation organization." (Source: DenverPost.com) To read more, please visit http://bit.ly/TbVHyy

South Africa: North West Considers Calling in Army As More Rhinos Are Killed: "Pretoria — The North West provincial government is considering asking the South African National Defence Force to assist in overcoming the scourge of rhino poaching, Premier Thandi Modise says. Modise's statement follows the killing of seven rhinos at a game farm near Sun City at the weekend. This brings to 21 the number of rhinos killed in the province in recent weeks." (Source: AllAfrica.com) To read more, please visit http://bit.ly/TMEzvp

Tanzania Minister Calls for Tougher Poaching Laws: "In the face of an operation that has unearthed millions worth of product of illicit hunting, the Minister for Natural Resources and Tourism Hamis Kagasheki has urged the government to consider increasing jail time to up to 60 years for poaching." (Source: AllAfrica.com) To read more, please visit http://bit.ly/XW9ZXy