DEC, 2012 "In The Crosshairs"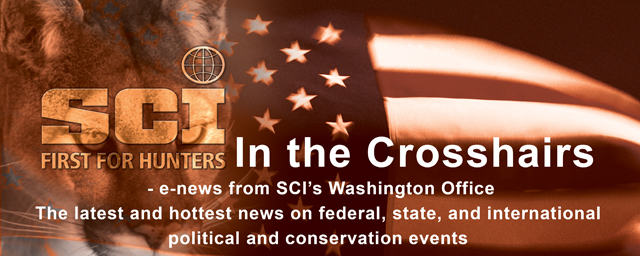 December 5, 2012

African Nation of Botswana Declares Countrywide Ban on Hunting: "The Ministry of Environment, Wildlife and Tourism in Botswana announced on Thursday it will enforce a ban on all hunting in the country effective January 1, 2014 saying that wildlife populations are declining. Botswana, a land-locked country in southern Africa, boasts roughly one-third of the world's elephant population, or about 130,000 of the large herbivores. Its large national parks and the Kalahari Desert are home to lions, giraffes, wild dogs, antelopes, buffalo, wildebeests and more." (Source: OutdoorHub.com) To read more on Botswana's Hunting Ban, and to see what SCI Director of Government Affairs and Science Based Conservation Melissa Simpson had to say, please visit http://bit.ly/SO4rJT

State Sportsman Leaders Support Pro-Sportsmen Agenda At Annual Summit: "December 3, 2012 (Washington, DC) - State legislative and other sportsmen's leaders from across the nation gathered last week at the 9th Annual National Assembly of Sportsmen's Caucuses (NASC) Sportsman-Legislator Summit to discuss an agenda to address sportsmen's issues in state capitals across the country. The three-day Summit, held at the Marina Inn at Grande Dunes Resort in Myrtle Beach, South Carolina, was hosted by the South Carolina Sportsmen's Caucus and the Myrtle Beach Chamber of Commerce." SCI was proud to be the Title Sponsor of this event. To read more about the NASC Summit, please visit http://bit.ly/TKoR5

New Mexico Court Rules Trapping Is Legal in Mexican Wolf Area: A federal district court in New Mexico entered judgment in favor of New Mexico state officials by denying a challenge filed by Wild Earth Guardians to the regulation of trapping in the vicinity of a Mexican wolf population. The animal rights group had sued state wildlife officials claiming that their authorization of trapping in areas inhabited by a nonessential experimental population had caused the illegal take of wolves. The Court rejected the Plaintiffs' claims and determined that the state's authorization of trapping did not violate either the Endangered Species Act or regulations promulgated by the FWS for the management of the Mexican wolf population.

SCI Active In North American Conservation: "(AmmoLand.com) When you hear about the Safari Club International group you might envision a group of hunters who spend most of their time on exotic hunts around the world who only care about crossing their next trophy off the list. Take time to learn a little bit more and you will learn of an organization that has greatly shaped and impacted conservation right here in North America." (Source: AmmoLand.com) To read more about SCI and SCI Foundation's involvement in North American Conservation efforts, please visit http://bit.ly/SH08jz

Online Petition Wants NRA, RMEF and SCI Declared "Domestic Terrorist Groups": "An online petition is asking the White House to label the National Rifle Association (NRA), Safari Club International (SCI), Rocky Mountain Elk Foundation (RMEF) and other sportsmen's organizations 'domestic terrorist groups.' The petition, created on November 20 on the White House's petitions portal We the People, accuses the 'anti-predatory animal organizations' of 'decimating predators to the brink of extinction.'" (Source: OutdoorHub.com) To read from the petition, and see what SCI Director of Government Affairs and Science Based Conservation Melissa Simpson had to say, please visit http://bit.ly/VEZPa3

Bear Hunt Begins For Third Year In NJ: "New Jersey's third annual bear hunt began Monday, with the first black bear brought in as part of the hunt killed in Sussex County. The bear, a 165-pound male, was three years old and was not lured by hunters, according to The Record. The second killed bear brought in was a year-and-a-half old and was killed near Sparta. The bear hunt, which is designed to help control the state's black bear population, will continue until Saturday and is held in conjunction with the firearm deer-hunting season. According to the New Jersey Department of Environmental Protection (NJDEP), 469 black bears were harvested last year while 50,109 deer were harvested." (Source: SouthBrunswickPatch.com) To read more about New Jersey's bear hunt, please visit http://bit.ly/VkKIjS

SCI HuntForever Holiday Gift Guide: Whether it's for the holidays or just because, a gift to show someone that they're special is always worth the time, effort and expense—even if that someone is yourself. We've looked around for quality outdoors and wildlife-inspired gift ideas and came up with this guide to help you find that "just right" item. To view the 2012 Holiday Gift Guide, please visit http://bit.ly/11rZD1P

Mountain Lions Killed Near Homes In Half Moon Bay: "Wandering into a Half Moon Bay neighborhood, two young mountain lions took shelter beneath a porch. They may have roamed there from a nearby state park. They may have had a run-in with another lion that cast them out of his territory. They may have had a disease that gave them what officials later described as a glazed stare and an uncharacteristic indifference to the humans trying to shoo them away. If any of those questions are answered, it won't be until results of a necropsy are analyzed in about three weeks. The lions, which weighed 25 to 30 pounds, were fatally shot by a game warden trying to avert a possible threat to public safety, state Department of Fish and Game officials said Tuesday." (Source: LATimes.com) To read more, please visit http://lat.ms/SH6OzR

Unpacking The HSUS Gravy Train (2012 Edition): "Every November, we get a peek at the internal operations of HSUS when we get a copy of its IRS Form 990, a publicly available tax return that nonprofits have to file with the federal government. We have a copy of HSUS's latest Form 990 (PDF - 6.7 MB), covering calendar year 2011, and there's some good and bad news. The good news: Public support for HSUS is down. You read that right. Contributions and grants to HSUS went down by about $8.5 million in 2011 compared to 2010, for an overall decrease of 6.5 percent. HSUS's total revenue actually decreased by more than 10 percent, mostly due to the drop in public support and drop in investment income relative to 2010." (Source: HumaneWatch.org) To read more, please visit http://bit.ly/UVkPJd

South Africa: Nambiti Private Game Reserve's Rhinos Dehorned: "Criminal acts call for tough measures and that's the reason Nambiti Private Game Reserve's rhino population has been dehorned; the process having been completed on 22 November 2012. 'The whole exercise went off very well and I am extremely happy with the teamwork and professionalism we witnessed,' said Clarke Smith, chairman of the KwaZulu-Natal game reserve. 'It's distressing to have to tranquilise such magnificent creatures, but it is necessary and for their own good. I feel a lot more comfortable now that the entire rhino population had been dehorned.'" (Source: AllAfrica.com) To read more, please visit http://bit.ly/VqChJD