DEC, 2012 "In The Crosshairs"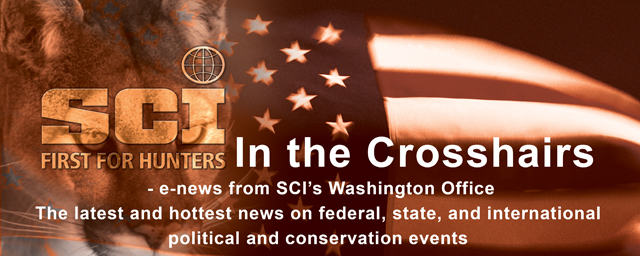 December 12, 2012

Botswana Indefinitely Suspends Hunting Activities Starting Jan. 1, 2014: "As was confirmed by His Excellency the President in his recent State of the Nation Address, Government has decided to indefinitely suspend commercial hunting of wildlife in public or Controlled Hunting Areas as from the 1st of January 2014. This comes as a realization that the shooting of wild game purely for sport and trophies is no longer seen to be compatible with either our national commitment to conserve and preserve local fauna or the long term growth of the local tourism industry." SCI received this official statement from Botswana's Embassy in Washington, D.C. SCI will continue to work with the Botswana government and other non-government organizations to reverse this policy, and return Botswana to sustainable-use wildlife management and rural economic development. To read the full press release, with contact information for the Botswana Minister of Environment, Wildlife And Tourism, please visit http://wp.me/s2C4PF-303

MidwayUSA Recommits To Safari Club International: Tucson, Ariz. –- Safari Club International (SCI) welcomes once again MidwayUSA as one of its premier sponsors of the world's greatest convention dedicated to North American and International hunting, the 41st Annual Safari Club International Hunters' Convention. 'Without organizations like SCI to play an important role in effective conservation efforts, our children and grandchildren won't be able to enjoy hunting and shooting sports,' said Larry Potterfield, Founder and CEO of MidwayUSA. To read more, please visit http://bit.ly/UsrXdp

A Busy Ten Days for SCI Litigation Staff: In the last ten days, SCI attorneys finalized and filed four significant briefs on behalf of SCI members in four important cases around the country. In Wisconsin, SCI, in conjunction with the Wisconsin Bear Hunters, United Sportsmen of Wisconsin and the U.S Sportsmen's Alliance, filed their final brief in support of Wisconsin's wolf hunting regulations. In Florida, SCI filed a reply brief in support of the National Park Service's plan for ORV use (a precursor to allowing hunting) in the "Addition Lands" of Big Cypress National Preserve. In Minnesota, SCI filed an amicus brief, attacking the standing of Center for Biological Diversity and Howling for Wolves to challenge Minnesota's wolf hunt regulations. And, in the D.C. Circuit Court of Appeals, SCI attorneys filed their final brief challenging the U.S. Fish and Wildlife Service's ban on the importation of polar bear trophies from Canada. SCI attorneys are now digging out from the accumulated documents needed for preparing these briefs and are celebrating having survived one of the most active two weeks in SCI's litigation history.

SCI Foundation Convention Seminars: The Safari Club International Foundation (SCIF) and partners are working to advance sound, science-based manage­ment of wildlife resources worldwide. SCI Foundation's Conservation Committee invites you to attend our wildlife conservation-related seminars at the 2013 Safari Club International Convention featuring North American, African and Asian species. Learn about new ways international hunters are contributing to science-based conservation worldwide. To view a list of SCI Foundation Seminars, please visit http://bit.ly/12l5k1e

Mont. Shuts Down Wolf Harvest Near Yellowstone: "Billings, Mont. -- Montana wildlife commissioners on Monday closed down the gray wolf season in some areas outside Yellowstone National Park after several collared animals used for scientific research were shot in recent weeks. The closures prohibit hunting and trapping for the predators and include areas north of the park around the town of Gardiner. But Fish, Wildlife and Parks Commission chairman Bob Ream indicated the closures are not meant to be permanent. He said commissioners were acting to address the "particular and unique situation" of collared wolves being shot." (Source: SaltLakeTribune.com) To read more, please visit http://bit.ly/TUDvdV

Let It burn? Federal Agencies Draft National Wildland Fire Strategy: "Wildfires and weather share a common problem: We all talk about them, but what can we do about them? The federal government hopes to answer the wildfire question with a three-year strategy session that's wrapping up this month. But there's no guarantee the National Cohesive Wildland Fire Management Strategy will save an acre of forest. In fact, it might force the nation to decide how much it's willing to let burn. 'We've never done this before, and we're still trying to work out the details,' former forest supervisor Alan Quan said from his home in Prescott, Ariz." (Source: Missoulian.com) To read more about the fire strategy, please visit http://bit.ly/1237kvL

Negotiators See Glimmers Of Progress On Farm Bill: "(Reuters) - With a week left to act, agricultural leaders in Congress are still deadlocked on two major issues for a new U.S. farm bill, cuts in crop subsidies and reductions in food stamps, said two of the four key negotiators on Thursday. But the leaders of the House and Senate agriculture committees suggested that recent talks had yielded at least some progress. Agriculture Secretary Tom Vilsack urged prompt passage of the new bill. Without reauthorization, U.S. farm policy would revert to the provisions of the Agricultural Act of 1949, the last "permanent" farm bill and one crafted for an entirely different U.S. economy." (Source: Reuters.com) To read more, please visit http://reut.rs/X0IM1e

BLM Leading Reclamation Program To Enhance Restoration Of Sage Grouse Habitat In Wyo.: "GILLETTE, Wyoming — Still a candidate for protection under the Endangered Species Act, sage grouse had favorable weather this summer but remain challenged by energy development in the state. The species was among 192 species candidates for protection under the act, according to a report from the U.S. Fish and Wildlife Service released last week. The 'candidate species' status of sage grouse means the service has enough information on the status and the threats the species faces to propose it as threatened or endangered. But it hasn't listed it because of the need to address other higher priority species." (Source:TheRepublic.com) To read more, please visit http://bit.ly/UsM0Is

South Africa: Nation Signs Deal To Save Rhino: "Ha Noi — The governments of South Africa and Vietnam today signed a landmark agreement that authorities hope will help quash the alarming scourge of rhino poaching that has been seen in the North West, Limpopo and Mpumalanga provinces. The release last month of the official rhino poaching figures for South Africa had sent shockwaves throughout the country and had environmentalist questioning whether authorities were winning the war against the crime. As of this week, a staggering 607 rhinos were poached in South Africa." (Source: AllAfrica.com) To read more, please visit http://bit.ly/TM9eKY