DEC, 2012 "In The Crosshairs"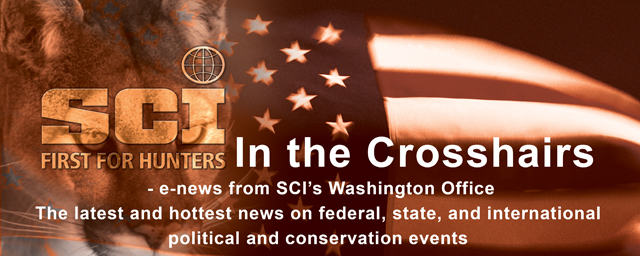 December 20, 2012

41st Annual Hunters' Convention Registration: With 33 days to go until the Most Dangerous Game In Town returns to Reno, Nevada, time is running out to register for the 41st Annual Hunters' Convention! Visit showsci.org to register and look over the numerous seminars, auction items, and entertainment opportunities that this year's Convention has to offer.

Please Join Us For The Kick-Off Event For SCI's New Hunter Defense Fund: Tucson, Ariz.– Award winning outdoor writer, wildlife photographer/videographer, wilderness guide, and outfitter Jim Shockey will be the keynote speaker at the inaugural Hunter Defense Fund Luncheon on Saturday, January 26 at the 41st Annual Safari Club International Hunters' Convention in Reno, Nevada. The inaugural Hunter Defense Fund Luncheon will set the stage for the unveiling of a brand new political action committee (PAC). The Hunter Defense Fund will supplement SCI's existing political action committee, SCI-PAC, by allowing unlimited contributions to advocate for every hunter worldwide. Please visit http://wp.me/p2C4PF-55 for registration information.

Your First African Safari: Planning a safari is unlike the planning for most of your travels. The preparation and anticipation of the actual trip can be almost as exciting as the safari itself. In a world where nature reigns, one must be prepared. The first stop on your adventure begins at the "Your First African Safari" seminar to be held during the 41st Annual SCI Hunters' Convention in Reno, Nevada held January 23-26, 2013. The seminar will be held Thursday, January 24 from 10:00 a.m. to 12:00 p.m. in rooms A10 &A11. To read more about the seminar panelists, please visit http://wp.me/p2C4PF-5f

Governor Cuomo Vetoes Restrictive Hunting Bill: On Monday, December 17, 2012, Governor Cuomo vetoed Assembly Bill 10583A. This bill, though primarily concerned with regulations surrounding crossbow use, would have discontinued the youth firearms deer hunt for the 2013 season. The youth hunt was held for the first time this year on Columbus Day weekend, and involved nearly 700 participants. As a result of the actions taken by SCI members and other sportsmen in New York, the youth of New York will continue to be able to don their camouflage, and spend some quality family time afield in 2013. Thank you to all the SCI members who called Governor Cuomo asking him to veto the bill, and thank you for protecting the freedom to hunt for the youth of New York.

Grizzly Bear Hunting Proposal Considered In The Lower 48: "The Interagency Grizzly Bear Committee, a group that includes representatives of five federal agencies, four states and the Canadian government, announced last week Thursday that they have decided upon a plan that would allow grizzles to be hunted in Montana, Wyoming, and Idaho once they are removed from the threatened list. There are about 600 grizzles in and around Yellowstone National Park and roughly 1,000 grizzlies in an area centered on Glacier National Park. Regulated hunting could begin in the next few years." (Source: OutdoorLife.com) To read more, please visit http://bit.ly/Tsegxs

Woodland Caribou Might Lose Endangered Status: "SPOKANE -- The federal government plans a new study to determine if the woodland caribou found in Idaho and Washington should continue to be protected as an endangered species, the U.S. Fish and Wildlife Service said Tuesday. The agency will conduct a new review of the Selkirk population of caribou, after deciding that removing them from protection 'may be warranted.' The animals were given endangered species protection in 1984." (Source: OregonLive.com) To read more, please visit http://bit.ly/STBgco

Namibia: Five Black Rhinos Up for Trophy Hunters: "Five black rhino males have been earmarked to be hunted as trophy animals following the latest approval and release by Cabinet of the hunting concessions from next year to 2017. These concessions all apply to state-owned land outside registered conservancies. The approved concessions are Mahango Core Area and Mangetti National Park in the Western Kavango, Waterberg Plateau Park, Daan Viljoen and Von Bach Parks and Naukluft Area, which is part of the Namib Naukluft Park. The concessions will be awarded through a tender process." (Source: AllAfrica.com) To read more, please visit http://bit.ly/WwnvBz

South Africa: Sanparks Receives Reconnaissance Aircraft To Fight Rhino Poaching: "PRESS RELEASE: Efforts to combat rhino poaching in the Kruger National Park were bolstered recently as the Ichikowitz Family Foundation and South African National Parks (SANParks) launched a new, state-of-the-art aerial surveillance solution to save South Africa's rhinos. The unique specialist reconnaissance aircraft, The Seeker Seabird, incorporating highly sophisticated surveillance technology, was unveiled at Skukuza airport in the Kruger National Park (KNP). The unveiling was part of an announcement of a strategic cooperation between the Ichikowitz Family Foundation and SANParks which will see the Foundation providing SANParks with a number of solutions from the Paramount Group, an associated entity." (Source: AllAfrica.com) To read more, please visit http://bit.ly/VLXmbv

Zimbabwe: Rangers Kill Poachers, Recover Weapons of War: "National Parks and Wildlife Management Authority rangers have killed two elephant poachers in the Dande Safari Area in Mbire north of Guruve and recovered weapons, among them mortar bombs. Mortar bombs are weapons of war and it is yet to be established why the poachers had such dangerous arms of war. Items recovered include three mortar-bombs, one 3008 calibre hunting rifle, one 3008 spent cartridge, three live 3008 rounds of ammunition and six pairs of elephant tusks weighing 51,4 kg valued at US$12 850. Parks public relations manager Ms Caroline Washaya Moyo on Monday said the two poachers killed were from Mashumbi Pools. The other three poachers ran away." (Source: AllAfrica.com) To read more, please visit http://bit.ly/TrM5il