JAN, 2012 "In The Crosshairs"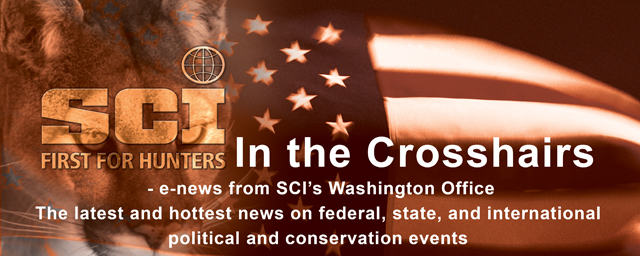 FWS To Issue Final Three Antelope Rule Tomorrow (Jan 5, 2012) – Rule Will Go Into Effect in Ninety Days
SCI has received advanced notice that tomorrow, the U.S. Fish and Wildlife Service (FWS) will publish the Final Rule removing the permit exemptions for U.S. captive-bred Scimitar-Horned Oryx, Addax, and Dama Gazelle in the Federal Register. The Final Rule will not go into effect until April 4, 2012, which is 90 days following publication. Until that date, the existing permit exemptions applicable for these animals remain in effect. Once the rule becomes effective, the take; export or re-import; delivery, receipt, carrying, transport or shipment in interstate or foreign commerce in the course of a commercial activity; and sale or offer for sale in interstate or foreign commerce will require permit authority. Owners and/or hunters can obtain that authority from the FWS either via individual Endangered Species Act enhancement of survival permits pursuant to 50 C.F.R. 17.21(g) or through participation in the Captive Bred Wildlife Registration program pursuant to 10 C.F.R.17.22.
To assist SCI members in preparing for this change in regulation, SCI has invited Rowan Gould, Deputy Director of Operations for the FWS, to attend SCI's 40th Annual Hunters' Convention in Las Vegas, NV in order to educate our members about the new requirements and explain how private ranchers can continue to trade and offer hunts for these animals under the new regulatory scheme. Stay tuned to Crosshairs for a listing of the dates and times for these sessions.
SCI continues its fight against these unnecessary regulatory restrictions. SCI is currently in litigation against the FWS in a challenge to the agency's decision to list U.S. captive members of these species as "endangered." If not for their endangered classification, permits and regulatory restrictions would be unnecessary.
If you would like to help SCI defend sound conservation and oppose radical animal rights and anti-hunting groups please consider donating to the SCI's Hunter Defense Fund by clicking Here.
Contributions to the Hunter Defense Fund go directly to SCI's litigation and legislative efforts to Protect the Freedom to Hunt! Donate Today