January 7, 2008 "In The Crosshairs"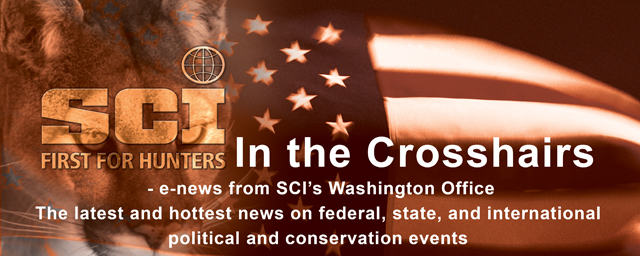 January 7, 2008


U.S. Fish and Wildlife Service Delays Decision on Polar Bear Listing


Safari Club International learned today that the U.S. Fish and Wildlife Service will delay its long awaited decision on whether it will list the polar bear as threatened under the Endangered Species Act. The Service indicated that it expects to finalize its decision within the next month. Despite historically high population numbers worldwide, the Service is considering whether to list the species due to allegations that global climate change will destroy the polar bears sea-ice habitat over the next 45 years. SCI has been involved in this listing process since 2005 and recently argued that the Service should take up to an additional six months to properly review the scientific evidence, including nine new U.S. Geological Survey studies made public in September 2007. SCI opposes the listing of the polar bear because 1) a listing will have a detrimental impact on importing legally hunted trophies from Canada; 2) the scientific data on impacts to the species over the next 45 years is not certain enough to satisfy the ESA standards for listing; and 3) the ESA is not the proper vehicle for addressing global climate change.


Treasury Department Issues New Zimbabwe Ban List


The U.S. Treasury Department has updated their list of sanctioned Specially Designated Nationals from Zimbabwe. U.S. citizens are barred from doing any business with anybody on this list. If you plan to hunt Zimbabwe in the future, please make sure your operator or hunting outfitter is not on this list. Earlier lists can be found at www.safariclub.org under International and this list will be posted soon as well. The SCI website also contains general information on the effect of these sanctions and their possible impacts on U.S. hunters. For current list details, please visit http://www.treas.gov/offices/enforcement/ofac/sdn/prgrmlst.txt or http://www.treasury.gov/offices/enforcement/ofac/sdn/sdnlist.txt.


D.C. Dropping Ball on Supreme Court Gun Ban Case?


"Acting D.C. Attorney General Peter Nickles has fired the city lawyer who had been preparing to defend the District's longtime ban on handguns before the Supreme Court this spring, a move that some city officials fear could harm the case. Alan B. Morrison, who has argued 20 cases before the high court, was asked to leave his post as special counsel by the end of [last] week. Morrison had been hired by then-Attorney General Linda Singer and put in charge of arguing the handgun case. Singer resigned two weeks ago. The case is one of the most important in the city's history, and the court's ruling could have a national impact, legal experts have said. The city appealed to the Supreme Court to maintain the handgun ban after a lower court overturned it in the spring. The high court agreed to hear the case, probably in March, which would mark the first time the Supreme Court has examined a Second Amendment case in nearly 70 years." (Source: Washington Post)