January 8, 2009 "In The Crosshairs"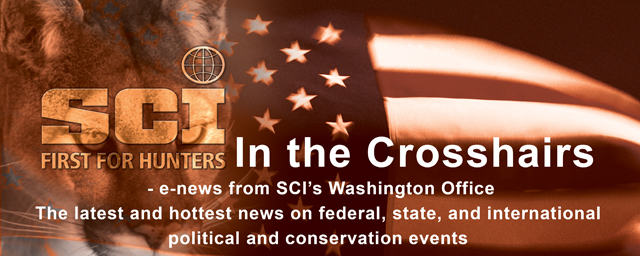 January 8, 2009


Register Today For SCI's 2009 Annual Hunters' Convention and Have a Chance to Get Your Hunt of a Lifetime
Ask any member who has attended the SCI Convention, and you will likely hear, "Sensational, you have to go! It is the Ultimate Hunters' Market and it's a knockout!" The allure of SCI's 2008 Annual Convention attracted over 22,000 attendees. This hunters' paradise has everything the mind can dream of and occupies over 650,000 square feet of exhibit space. Six continents are under one roof; members come to book hunts, rendezvous with old friends and shop for the latest guns and hunting equipment. That only scratches the surface of products available at SCI's Annual Hunters' Convention. Learn more about SCI's Annual Hunters' Convention by going to http://www.showsci.com/.


Lawyers To Lunch with U.S. Supreme Court Justice Antonin Scalia


Attendees of SCI's Wildlife Law Continuing Legal Education (CLE) Course are in for a rare treat. CLE participants will be offered a once-in-a-lifetime opportunity to attend a lunch with special guest, U.S. Supreme Court Justice Antonin Scalia. Only those registered for the course by January 12th will be invited to the luncheon. Registration for the Second Annual Wildlife Law Continuing Legal Education Course at SCI's Convention in Reno will close on Monday, January 12th, and is being handled by the State Bar of Nevada. The CLE course and luncheon will be held on January 24, 2009. Please use the registration form available here to register. The fee for the CLE course is $129 and there will be an additional $45.00 fee for the lunch. If you have any questions about the CLE course and/or lunch, or if you have registered for the course and have not yet received an invitation to the lunch, please contact SCI Litigation Director, Anna Seidman, immediately at 202-543-8733, or aseidman@safariclub.org.


Go "On Safari in Grand Style" with SCIF's Sables at the 37th Annual Hunters' Convention on January 23rd!
The SCIF Sables are "On Safari in Grand Style" for the Sables Annual Luncheon, Show and Auction at the Atlantis Hotel Grand Ballroom in Reno, Friday, January 23, 2009. If you have not already registered for the convention, it's not too late to call 888-SHOW-SCI (746-9724) or book online at www.safariclub.org. If you have registered, you can still purchase Sables luncheon tickets by calling or going online. Tickets can also be purchased during the Convention at the Sables Merchandise Booth located in the lobby. The Sables luncheon is their key fundraiser for education programs to further the understanding of our outdoor heritage.
Favorite Country Music Artist Artie Dean Harris is back to perform again this year. For more details about Sables and the luncheon, log on here.


Gun Sales Continue to Increase, 24 Percent Jump in December Amid Gun-Owner Concerns
"NEWTOWN, Conn. -- Despite a weak economy, gun sales are continuing to increase amid concerns that incoming lawmakers will institute a new gun ban on law-abiding Americans. Data derived from the FBI's National Instant Criminal Background Check System (NICS) show a 24 percent increase in firearm purchaser background checks for the month of December 2008 (1,523,426 checks) over December 2007 (1,230,525 checks). This increase follows a 42 percent rise in NICS checks for the preceding month, the highest number of checks in NICS history. FBI background checks are required under federal law for all individuals purchasing firearms from federally licensed retailers. These checks serve as a strong indicator of actual sales.
A recent poll of hunters and target shooters by Southwick Associates Inc ., in which 80 percent of respondents said they expect it will become more difficult to purchase firearms under the incoming administration and congress, explains the increase in sales." (Source: NSSF Press Release)


Don't Miss SCIF's Conservation Seminars at Convention!


SCI Foundation will be hosting five different conservation seminars this year at Convention. The seminar topics include: Balancing Wildlife Conservation with Oil and Gas Development in the West, Status of Michigan's Reintroduced Moose Population, Snow Leopards in Siberia, Woodland Caribou in Newfoundland, and an SCIF Conservation Questions & Answers Session. For information on the seminars, please check the Convention Daily Times, look for fliers at Convention, or email Emma Mutinda at emutinda@safariclub.org.


California Sues Federal Government Over Changes in Endangered Species Act
"California Atty. Gen. Jerry Brown filed suit against the federal government Tuesday, charging that a recent rule change by the Bush administration illegally gutted provisions of the Endangered Species Act, essentially quashing the role of science in decisions made by federal agencies. Ken Alex, senior assistant attorney general, said the state took the action because it has both the legal right and the moral responsibility to protect California's environment and resources. The new federal rules, he said, could put California's threatened and endangered wildlife in greater jeopardy and could ultimately cost the state more to protect plants and animals on California's Endangered Species List." (Source: LA Times Online) Click Here to read the rest of the story.


Brady Campaign Sues to Stop National Park Gun Rule


"The Brady Campaign to Prevent Gun Violence, America's largest anti-gun organization, sued the Department of the Interior [12/30/08] to prevent the implementation of the controversial administrative rule allowing loaded and concealed firearms in national parks and wildlife refuges.  'The Bush Administration's last-minute gift to the gun lobby, allowing concealed semiautomatic weapons in national parks, jeopardizes the safety of park visitors in violation of federal law,' said Brady Campaign President Paul Helmke, in a press release. "We should not be making it easier for dangerous people to carry concealed firearms in our parks.' In a phone interview with NewWest.Net, Daniel Vice, Senior Attorney for the Brady's Legal Action Project, said his group 'is looking at all options,' but thought it was vital to file the lawsuit as soon as possible instead of waiting to let the rule go into effect and work through the long political process of trying to get the Obama administration to overturn it. Many other groups also oppose the rule, he noted, but at this point the Brady Campaign is going it alone with this lawsuit with no co-plaintiffs." (Source: NewsWest.net) Click Here to read the full article.


Nominate the 2010 SCIF International Conservationist of the Year


Nominations for the 2010 SCI Foundation International Conservationist of the Year are now being accepted. This prestigious award recognizes an outstanding individual for an extraordinary commitment of service to international wildlife conservation and/or wildlife management. To nominate a candidate, please email your nominee's contact information and additional information, such as a CV, resume, or short biography to Emma Mutinda, SCIF Conservation Program Assistant, at emutinda@safariclub.org, no later than January 15th 2009.


Nominate the 2010 SCIF Conservation Officer of the Year


The SCI Foundation is also seeking exceptional wildlife professionals to be considered "2010 SCIF Conservation Officer of the Year". This award is presented to an outstanding law enforcement official who has demonstrated a continuous dedication to conservation. To nominate a candidate, please email your nominee's contact information and additional information, such as a CV, resume, or short biography to Emma Mutinda, SCIF Conservation Program Assistant, at emutinda@safariclub.org, no later than January 15th 2009.