January 10, 2010 "In The Crosshairs"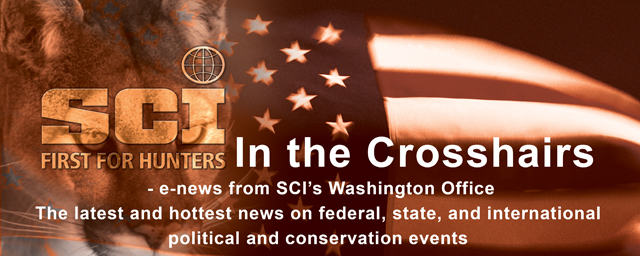 January 10, 2010


Safari Club International Gearing Up For Reno


During the past few weeks, SCI's Executive Committee, volunteers and staff have been working to bring the largest and most renowned Hunters' Convention and Expo to the 53,000 SCI members. The success of SCI's 38th Convention will help defend our hunting heritage and promote science-based wildlife management in the year to come. Much of SCI's work published "In the Crosshairs" is funded by a successful convention. SCI's tireless work to reopen hunting in Tajikistan, SCIF's critical lion conservation plan in Tanzania, SCI's litigation efforts to support the delisting of wolves, SCIF's first-class youth and hunting education programs at the AWLS Ranch and SCI's constant fight against anti-hunting organizations and anti-hunting legislation are ALL funded by a successful convention.  If you are planning to attend, we are excited to hear about it and SCI encourages you to bring friends and family along to enjoy the week's activities. If you haven't decided yet, please take a moment to recognize all the incredible work done by SCI and make the choice to attend the convention and support those important efforts.
 
Join SCI in Reno, Nevada Jan. 20-23! Register Today.


Federal Law Allowing Concealed Carry On National Parks And Refuges Will Go Into Effect On Feb. 20, 2010

On Feb. 20, 2010 a new law will go into effect that will allow individuals to lawfully carry their concealed weapons on National Parks and Refuges to the extent the state the unit is in permits concealed carry.  The concealed carry law was part of the Credit Card Holder Bill of Rights legislation passed by Congress in May 2009. Therefore as of Feb. 20, National Parks and National Wildlife Refuges will follow, with some exceptions (such as within facilities), the same gun rules as the states in which they are located.  Check with individual Parks or Refuges for answers to questions or concerns.  The following link also has information about how this law will be implemented. http://www.missoulian.com/news/state-and-regional/article_e1b9af0c-f82a-11de-925f-001cc4c002e0.html


Feed The Hungry Feast At SCI Annual Hunters' Convention


SCIF Humanitarian Services is short a few volunteers for the Sportsmen Against Hunger "Feed the Hungry" feast on the eve of the 2010 SCI Convention in Reno.  In 2009, we served a record 1,450 meals.
 
The event, held in conjunction with The Salvation Army, will take place on Jan. 19, 2010 at the Reno Events Center, 400 N. Center Street in downtown Reno.  Volunteers are needed for set-up, hosting, food/beverage service and tear-down—or just to provide a smile and maybe some conversation to folks who normally don't receive much of either.  Everyone is asked to arrive between 4 and 4:30 p.m. (unless you will be helping with tear-down).  A location map and further details will be provided to participants at a later date.
If you will be attending the Convention and would like to volunteer, phone or e-mail Eva Wilson, SCIF Humanitarian Services Manager at 520-620-1220 Ext. 480 or ewilson@safariclub.org.


Learn More About SCI Advocacy Efforts


Did you know that SCI is participating in two U.S. Supreme Court cases right now?  Are you curious about what's happening in the courts, Congress and internationally with polar bear trophy importation?  Do you have questions  about whether Montana and Idaho will have wolf  harvests in 2010?  Learn more about SCI's legal advocacy efforts at the Litigation Department Open House – "SCI in the Supreme Court and Beyond" -- taking place at the SCI Annual Hunters' Convention in Reno, Nevada on Wednesday, Jan. 20, 2010 from 3 to 4 p.m. in Room A12 of the Convention Center.  Meet SCI's Litigation attorneys and members of the SCI Legal Task Force. Bring your questions and share your ideas about how SCI can use the courts to protect hunting and sustainable use conservation.   Lawyers: Don't forget to sign up for SCI's Third Annual CLE Course on Friday, Jan. 22, 2010 from 1 to 4:15 P.M.  For more information and registration, click on the following link to the Nevada State Bar. http://www.legalspan.com/nvbar/catalog.asp?ItemID=20091203-249101-180738


Nominate A 2011 SCI Foundation Conservation Artist Of The Year Candidate


Nominations for the 2011 SCI Foundation Conservation Artist of the Year Award are still being accepted.  This program recognizes one renowned wildlife artist each year who donates an original painting for auction at the SCI Convention.  All auction proceeds are then donated to the SCI Foundation to implement cutting-edge conservation projects.  To nominate an artist, please email the contact information of your nominee to Shakita Bazemore, SCIF Conservation Program Assistant, at sbazemore@safariclub.org, by Tuesday, Jan. 12, 2010.


SCI Acts To Participate In Arizona Strip Lead Ammo Case


Safari Club International has filed papers in federal district court in Arizona to participate in a lawsuit that seeks to end the use of lead ammunition for hunting on federal lands in the Arizona Strip area.  The lawsuit also aims to stop or severely limit the use of off road vehicles, including for hunting access and retrieval, in the same area.  SCI asked the court for amicus status, which would allow SCI to file briefs to defend the federal agency's decision to continue to allow traditional lead ammo and well-regulated ORV use.  The NRA is seeking full party status in the case.  SCI expects to coordinate its efforts to protect hunting interests with those of the NRA.  SCI Legal Task Force member Brian Russo is providing needed local counsel services, on a pro bono basis to SCI.


Nominate A 2011 SCIF International Conservationist Of The Year


There is still time to submit nominations for the 2011 SCI Foundation International Conservationist of the Year.This prestigious award recognizes an outstanding individual for an extraordinary commitment of service to international wildlife conservation and/or wildlife management.  To nominate a candidate, email your nominee's contact information and additional information, such as a CV, resume, or short biography to Shakita Bazemore, SCIF Conservation Program Assistant, at sbazemore@safariclub.org, no later than Tuesday, Jan. 12, 2010.


 Nominate The 2011 SCIF Conservation Officer Of The Year


The SCI Foundation is also still seeking exceptional wildlife professionals to be considered the 2011 SCIF Conservation Officer of the Year. This award is presented to an outstanding law enforcement official who has demonstrated a continuous dedication to conservation.  To nominate a candidate, email your nominee's contact information and additional information, such as a CV, resume, or short biography to Shakita Bazemore, SCIF Conservation Program Assistant, at sbazemore@safariclub.org, no later than Tuesday, Jan. 12, 2010.