January 11, 2008 "In The Crosshairs"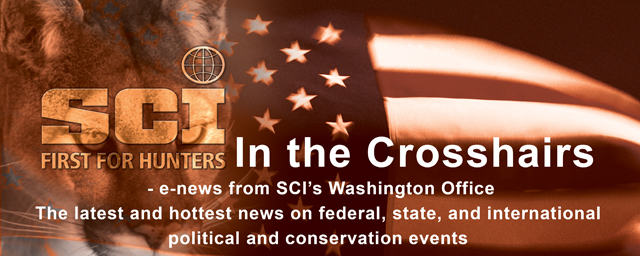 January 11, 2008


Gun Ban Overturned in San Francisco


"The California State Court of Appeals announced their decision to overturn one of the most restrictive gun bans in the country, following a legal battle by attorneys for the National Rifle Association (NRA) and a previous court order against the San Francisco Board of Supervisors. In 2005, NRA sought an injunction against the San Francisco Board of Supervisors to prevent them from enacting one of the nation's most restrictive gun bans. NRA won the injunction, but the City's mayor and Board of Supervisors ignored the court order and approved a set of penalties, including a $1,000 fine and a jail term of between 90 days and six months, for city residents who own firearms for lawful purposes in their own homes. The California State Court of Appeals has upheld the state preemption law. [This] decision came in the form of a 3-0 opinion in favor of the lower court ruling overturning the gun ban. (Source: NRA)


Minnesota DNR Considers Ban on Lead Shot for Small Game


Coming on the heels of the recent lead ban in California and similar rumblings in Arizona, SCI learned today that "the Minnesota Department of Natural Resources is considering a plan to ban lead shotgun pellets for small game hunting in some parts of the state, requiring hunters to use nontoxic alternatives such as polymer, steel or tungsten. While no decision has been made, the ban probably would start on state-managed lands in the agricultural areas of the state and be aimed mostly at pheasant hunters. The lead ban would be aimed at protecting upland birds, waterfowl and other species that might ingest the lead pellets accidentally and succumb to lead poisoning. Dennis Simon, chief of the DNR's wildlife management section, said the ban probably would start in state Wildlife Management Areas and eventually be phased in to include all land in agricultural areas, including private land. He said it's unlikely the ban would apply to grouse or other hunting in the state's northern forested areas." SCI will keep you posted. (Source: Duluth News Tribune)


Alaska's Wolves are on the Prowl


This winter has seen a rash of wolf attacks on dogs throughout Alaska. There have even been a few instances where the wolves threatened the people walking these dogs. These attacks raise a timely concern, as there will be a measure on the ballot this August that would take away an important predator management tool from the state. This will be an expensive and hard fought campaign and our friends in Alaska need your help. Fortunately, Alaskans for Professional Wildlife Management, who will be waging a campaign to oppose this measure, is hitting the ground running. Please visit their website, www.ProtectMoose.com, to contribute to the campaign. There is a secure, online form that will allow you to make contributions right from your credit card. (Source: APWM)


Help Keep Recreational Shooting Open On Federal Lands


"Opportunities to shoot recreationally on public lands benefit both the recreational shooter and hunter. Shooting takes place in a variety of forms, from dispersed unsupervised sites, to unsupervised ranges, to ranges managed under a special use permit. But many factors are combining to close these areas including: Environmental and property damage; Unsafe shooting practices; Accumulation of spent ammo, targets and other debris; Illegal dumping; Conflict with other recreational activities; Encroaching development. Access for hunting and shooting opportunities on federal lands is one of the highest priorities of the Federal Lands Hunting and Shooting Sports Roundtable, which was created under an agreement signed by SCI, the NRA and 39 other national organizations and three federal agencies. The Roundtable's purpose is to remove barriers to access for sportsmen and enhance opportunities for hunting and recreational shooting. If you shoot on lands managed by the National Forest Service and/or the Bureau of Land Management, we asks that you fill out the "Federal Lands Survey" found at http://www.nrahuntersrights.org/survey.aspx. You can provide the Roundtable with valuable information needed to keep recreational shooting areas opened to the public." (Source: NRA)


State Sportsmen's Economic Impact Reports Available


Hunters and anglers provide major economic benefit to the states they hunt and fish in. Now there are tools available to prove it! Visit www.sportsmenslink.org and download the economic impact flyer for your state. These can be a valuable tool when speaking to state legislators, useful for your chapter conventions or membership drives or to make non-hunters understand the value of what we do. Limited copies of each report and the main report covering all 50 states will be made available at the press room or during the board meeting at this month's SCI convention in Reno. SCI, and others, have partnered with the Congressional Sportsmen's Foundation on this research effort.