January 15, 2010 "In The Crosshairs"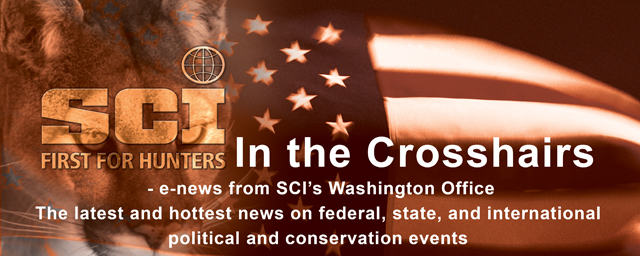 January 15, 2010


SCI President Larry Rudolph Speaks At Sportsmen's Rally


On Jan. 12 New York sportsmen and women descended on the state's Capitol building to remind all the state's legislators that the voice of American hunters and anglers will be heard.  SCI President Larry Rudolph addressed the nearly 2,000 hunters, stating:
 
With 12.5 million hunters in the United States, our outdoor community has a real opportunity to help elect legislators who support our hunting heritage and shape the legislative agenda both here at the state level and in the halls of Congress.  I want to talk today about a subject that every lawmaker can understand – money.  The economy is down, states are facing shortfalls, and programs and benefits are getting cut in state capitals across the country.  There's only one funding source that's bringing in more revenue today than ever before – and that's hunters.

Other event speakers included NRA Executive Vice-President Wayne LaPierre, Ken Mathison, president of the Shooter's Committee on Political Education (SCOPE); James Rabbia, plant manager for Remington Arms in Ilion, NY; and New York State Rifle and Pistol Association president Tom King. The impressive showing of support for hunting and the Second Amendment was organized by state Assemblyman & Republican Minority Leader Brian Kolb (R-Canandagua). Read more about the event here.


Outdoor Channel To Exclusively Broadcast 'SCI TV' Exclusively At Safari Club International's 38th Annual Hunters' Convention

For the second consecutive year, Outdoor Channel Holdings, Inc. (Nasdaq: OUTD) today announced plans to produce "SCI TV," an entertaining and engaging television production that will air in the Reno Convention Center and area hotels during Safari Club International's (SCI) 38th Annual Hunters' Convention. The premier annual hunting event takes place in Reno, Nevada from Jan. 20-23.  This is the second back-to-back year that Outdoor Channel will be producing SCI TV. Mike Rogers of "SCI Expedition Safari," and Larry Rudolph, SCI President, will serve as the hosts. The trade show television production features daily updates from the convention floor; in-depth interviews with the hottest hunting personalities; and segments from Outdoor Channel's best-in-class hunting shows, with special emphasis on "SCI Expedition Safari" and the significant philanthropic contributions SCI makes to wildlife conservation. Streaming Hunters' Convention video updates will also appear in a special dedicated section on OutdoorChannel.com. (PRNewsWire.com) (MORE)


SCI Foundation & The Salvation Army Team Up To Fight Hunger – 8th Annual Feed The Hungry Feast

The Salvation Army and the Safari Club International Foundation (SCIF) are inviting the homeless and anyone else who needs a hot meal to attend the 8th annual Feed the Hungry Feast. As many as 1,600 guests are expected at the event from 5-7 p.m., Tuesday, Jan. 19 at the downtown Reno Events Center.  The dinner is held each year on the eve of SCI's annual Hunters' Convention at the Reno-Sparks Convention Center…Eldorado Hotel Executive Chef Troy Cannan and his staff will prepare the game and other food donations into a great meal.  Other sponsors assisting The Salvation Army include the RSCVA, C & M Food Distributing, Model Dairy, SportService, Truckee Sourdough Company, Harrah's Reno and SYSCO.  The Washoe County Sheriff's Department will provide security…More than 150 volunteers are expected to help with the event, including the High Sierra Chefs Association, Wells Fargo, Kiwanis Sunrisers Club, Boy Scout Troop 152, Girl Scout Troop 72, McQueen High School football players, Job Corps students and members of The Salvation Army Advisory Board.  The Salvation Army's religious and social service programs serve millions of men, women and children in 118 nations. The organization has been meeting primary needs in Northern Nevada since 1884. For more information, call 775-688-4555 X 208 or visit our website at www.salvationarmyreno.com.


Safari Club Takes On Yellowstone Grizzly Ruling


Safari Club International is appealing a recent federal court ruling from U.S. District Judge Donald Molloy in Missoula that returned grizzly bears in the greater Yellowstone area to the list of threatened species, according to this AP story via KHQ News.  In declaring the region's roughly 600 grizzlies still at risk, Molloy cited concerns about how the new conservation strategy would be enforced and about how potential climate change might affect one of the bear's four primary food sources.  SCI's appeal has two primary goals, says Litigation Council Doug Burdin. "First, we want the bears removed from the threatened list so primary management can return to the states, which we believe do a good job of managing the animal's impact on game species," he explained. "Second, with delisting, SCI's members could again look forward to a hunting season as soon as the states deem it appropriate." (Field & Stream Blog) http://bit.ly/6950kK.


Sportsman Channel And Safari Club Launch Second Annual HUNT.FISH.FEED Tour

Sportsman Channel's Hunt.Fish.Feed.SM initiative, a partnership with Safari Club International, announced the start of its 2010 national tour with its second annual event in Las Vegas on Tuesday, Jan. 19 at 4:30pm at the Shade Tree Shelter's West Owens Avenue location. The Hunt.Fish.Feed.SM initiative is a unique outreach program that taps a new food source-game meat and fish donated by sportsmen-to feed those struggling with hunger across America.   Nevada Governor Jim Gibbons and Las Vegas Mayor Oscar B. Goodman will be present to officially kick-off Hunt.Fish.Feed.SM officially. "I'm very pleased that Sportsman Channel is bringing the successful Hunt.Fish.Feed.SM program back to Las Vegas," said Mayor Goodman. "The city of Las Vegas has worked very hard to help people escape the cycle of homelessness, and this program is another resource our care providers can use." (MORE)


2010 Convention – SCIF Conservation Seminars List;  Reno, NV


SCIF Conservation Seminar:  North American Wildlife:  (Friday, Jan. 22 at 1p.m. | RSCC A12)
§  Woodland Caribou Project – Shane Mahoney will be presenting a progress report on the Newfoundland Woodland Caribou Strategy to show our members the affects different predators have on caribou and discuss how the Government of Newfoundland is managing the decline.
§  EHD Project – Epizootic Hemorrhagic Disease is a serious threat to deer populations.  Come listen to the current investigation of this disease and how it may threaten white-tailed deer populations.   
§  SCIF will also provide an in depth look at the various SCIF North America wildlife projects.
v  SCIF Conservation Seminar:  African Wildlife:  (Friday, Jan. 22 at 2 p.m. | RSCC A12)
Zambia Lion Project – Dr. Paula White will present research on age-based selection of trophy lions in Zambia.  Dr. White's research intends to determine current status and to develop and promote practices that ensure the long term sustainability and health of the African lion.
SCIF Africa Programs Coordinator George Pangeti will report on the recent accomplishments and ongoing projects in the SCIF Africa Conservation Program.
v  SCIF Conservation Seminar:  Asian Wildlife:  (Friday, Jan. 22 at 3 p.m. | RSCC A12)
Snow Leopard – The very first presentation of the SCIF snow leopard project will show never before seen pictures of snow leopards in the mountains of Siberia.  Come see how we are monitoring this species and see some preliminary results.
Saiga Antelope – A drastic population crash of the saiga antelope species has occurred in the past 15 years.  SCIF Asia research scientist Dr. Andrey Subbotin will present the primary causes of the population crash.  
Argali Sheep – SCIF has been investigating the differences in DNA and body size measurements to properly classify species of argali sheep to validate the extent and composition of surveyed sheep subpopulations.