January 18, 2008 "In The Crosshairs"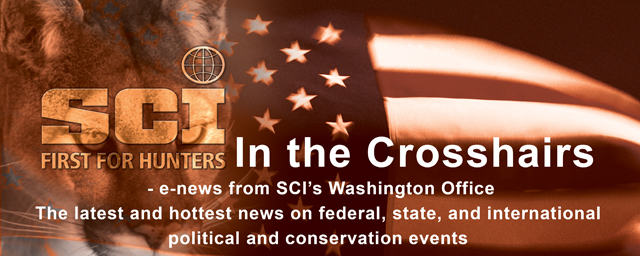 January 18, 2008


Argentina Changes Process for Travelling With Firearms


SCI has learned that effective 1-1-08, the consulate for Argentina now requires fingerprints before travelling to Argentina with a firearm. This means that if you are an American citizen and you are scheduled to hunt in Argentina, you will have to show up in person at one of the 7 consulates throughout the United States and submit your paperwork and fingerprints at that time. The consulates are in New York, Atlanta, Chicago, L.A., Houston, Miami and D.C. If you live too far away from one of these cities and cannot make it in to give fingerprints, your firearm will not be allowed. We will keep you posted.


HSUS Merges with Veterinarian Group


"The Humane Society of the United States (HSUS) and the Association of Veterinarians for Animal Rights (AVAR) announced that their respective boards of directors have approved a corporate combination agreement which will result in a powerful new veterinary advocacy organization, the Humane Society Veterinary Medical Association (HSVMA). HSVMA will give veterinarians, veterinary students and veterinary technicians an opportunity to participate in animal welfare programs, including disaster response; expanded hands-on animal care; spaying and neutering; and advocacy for legislative, corporate and veterinary medical school reforms." (Source: HSVMA)


Safari Club Boosts Hunting Heritage Funds by $250,000


"Safari Club International Foundation has announced that it will contribute $250,000 to the Hunting Heritage Partnership (HHP), a program of the National Shooting Sports Foundation (NSSF). The donation increases annual grant money available by 50 percent, from $500,000 to $750,000 to address critical issues affecting the future of hunting. HHP awards annual grants to individual states for effective, new projects aimed at the successful recruitment and retention of hunters. States and local grassroots partners provide funds and/or in-kind services to match the critically needed HHP funds. To date the HHP has awarded more than $2.1 million to state agencies, with positive and tangible results for hunters and conservation. To learn more about HHP and its impact, visit www.nssf.org/hhp." (Source: NSSF/SCIF)


Water in the Desert -- Learn more at SCI's Convention


Thanks in part to SCI, research on wildlife use of artificial and natural water sources is about to commence in the Mojave National Preserve. Researchers from the University of Nevada will be presenting the latest information about the project at SCI's annual convention. The Seminar --"Water in the Desert – California and Arizona," will take place on Friday, January 25th in Room A12, in the Reno-Sparks Convention Center, from 3:00 to 4:00 P.M. Wildlife biologists from Nevada, California and Arizona will offer Power Point presentations of the early stages of the project as well as similar projects being conducted in Arizona. Join us to learn what's being studied and how you can help.
Have A Great Time at the 36th Annual SCI Convention, the Ultimate Hunters' Market!
Reno, Nevada
January 23-26
www.showsci.com