June 21, 2011 "In The Crosshairs"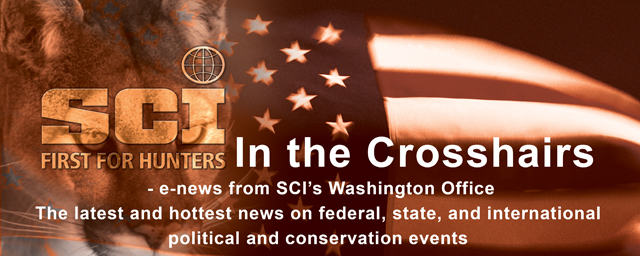 June 21, 2011


Carl Zeiss Sports Optics, Safari Club International Renew Partnership


Tucson, Arizona -- Carl Zeiss Sports Optics and Safari Club International have renewed their partnership to once again bring Carl Zeiss' exceptionally high-quality optics to the organization known to be First for Hunters. "We deeply value our relationship with SCI members throughout the world and fully support this great organization's mission to protect the freedom to hunt and promote wildlife conservation," said Erik Schumacher, president of Carl Zeiss Optical, Inc. "Our partnership with SCI has given us the opportunity to develop product lines with and for some of the most demanding hunters in the world, and we look forward to continuing this mutually beneficial relationship in 2011 and beyond." (SCI Press Release)


Support SCI's Political Action Committee


For years, SCI has fought for the sportsmen's community to put more pro-hunting legislators in office through the active work of SCI's Political Action Committee (SCI-PAC). The Annual SCI Hunters' Convention is an opportunity for individual SCI members to learn more about the achievements of SCI-PAC and to learn how you can join the fight to protect our hunting heritage. The SCI-PAC Annual Luncheon is on Jan. 26 in the Grand Ballroom at the Atlantis Hotel adjacent to the Reno-Sparks Convention Center from 12-3p.m. Michael Reagan will be the featured speaker at the SCI-PAC Annual Luncheon. Michael is the eldest child of former President Ronald Reagan and one of the most dynamic and sought after public speakers in the public arena today. If you are interested in purchasing a Patriot Sponsor's Table please click HERE.


Wolf Management Seminar at Convention


Thursday, Jan. 27 at the SCI Annual Hunters' Convention, the SCI Foundation will convene a panel of wildlife professionals who will review complications that have arisen in wildlife management and administration as a result of the Endangered Species Act (ESA) of 1973. Panelists will focus on the challenges in management of gray wolves, Mexican wolves, and other species in their respective states as a result of the ESA. The seminar will address regional issues in wildlife management that have developed as a result of federal oversight of endangered species. The Conservation Seminar will be located in room A6 of the Reno Sparks Convention Center.


Final Days To Register: Fourth Annual Continuing Legal Education Course At The SCI Annual Hunters' Convention


Don't miss your last chance to register for "Current Issues in Domestic and International Wildlife and Hunting Law" on Friday, Jan. 28, 2011 from 2:00 P.M. – 5:15 P.M. at the Atlantis Casino Resort Spa, 3800 S. Virginia Street, Reno, Nevada. Registration fee of $139.00 (same price as last year) includes seminar (3.0 hours of CLE credit – no Ethics), written materials, and single, same-day admission to the SCI Convention. Use State Bar of Nevada's on-line registration. Go to: http://www.legalspan.com/nvbar/catalog.asp?ItemID=20101118-166130-124419. If you have any questions about the CLE course, please contact Anna Seidman at 202-543-8733 or aseidman@safariclub.org.


Conservation, Sportsmen and Hunting Organizations Announce Initiative To Challenge Sunday Hunting Bans, Restrictions


"LAS VEGAS, Jan. 20, 2011 /PRNewswire-USNewswire/ -- Executives from America's leading conservation, sportsmen's and hunting organizations have announced the formation of a new multi-organization coalition to remove bans and restrictions on Sunday hunting. Currently 11 states (Connecticut, Delaware, Maine, Maryland, Massachusetts, New Jersey, North Carolina, Pennsylvania, South Carolina, Virginia and West Virginia) have such restrictions or prohibitions that date back to 'blue laws' enacted in the 1700s. The Sunday hunting coalition includes the National Shooting Sports Foundation, National Rifle Association, Congressional Sportsmen's Foundation, Archery Trade Association, Boone and Crockett Club, Cabela's, Delta Waterfowl, Mule Deer Foundation, National Assembly of Sportsmen's Caucuses, Pheasants Forever, Quail Forever, Rocky Mountain Elk Foundation, Safari Club International, U.S. Sportsmen's Alliance and the Wildlife Management Institute." Learn more about the coalition to end Sunday hunting restrictions at http://yhoo.it/e15KWo.


Support SCI Foundation Conservation Programs Through Conservation Tags


The SCI Foundation is hosting a conservation tag auction will happen on Friday, Jan. 28 at noon in the North Fork Pavilion of the Reno Sparks Convention Center. State wildlife agencies will receive 90% of the auction sale price to support their wildlife conservation programs. The auction is open to all members to bid on the following tags: a Pennsylvania Conservation Elk Tag, an Alaskan dall sheep tag, a Blackfeet Nation bighorn sheep tag, a Navajo bighorn sheep tag, a Navajo special mule deer tag, a White Mountain Apache Chairman's elk tag, and a Wyoming Governor's moose tag. Learn more about all the SCIF auctions at http://bit.ly/fFvj68.


SCI Foundation's Sensory Safari To Visit 2011 Hunters' Convention


Tucson, AZ - Safari Club International Foundation (SCIF) is bringing its Sensory Safari exhibit to students of the Washoe County School District, the Tahoe-Truckee School District, and other visitors in Reno Nevada throughout SCI's 2011 Annual Hunters' Convention. SCIF's Sensory Safari trailer - it's most interactive exhibition and one of its top education programs - is a hands-on mobile exhibition with specimens of the world's most incredible animals for visitors to enjoy. SCIF's Sensory Safari exhibit will be stationed at the Reno-Sparks Convention Center's north parking lot on Jan. 26-29, from 10am to 2pm, weather permitting. It will also be at the Sportsmen Against Hunger Feast on the evening of Jan. 25 at the Reno Events Center. All Tahoe-Truckee and Washoe County School District principals will be offered an invitation for teachers and students to view the spectacular specimens of wildlife on display. (SCI Press Release) http://bit.ly/eP9t4u.


Not All Sportsmen's Groups Created Equal


"While many advocacy groups and organizations claim to support protecting wildlife populations, improving habitat and preserving land access for the future in their publicity and fundraising campaigns – which all sound good to anyone who enjoys the outdoors -- they are not always showing their true colors. 'Many so-called sportsmen's groups are actually working against the interests of hunters and fishermen as well as landowners and managers,' said Bert Ancell, New Mexico Cattle Growers Association (NMCGA) President, Las Vegas. 'While some are out there actually doing good work that makes a positive difference on the ground, others are working behind the scenes to put policies and regulations in place that restrict multiple use, which includes hunting and fishing; threaten the second amendment; and negatively impact both wildlife and New Mexico's rural economies.'" (New Mexico Cattle Growers Association Press Release) http://bit.ly/iilLep.