January 29, 2009 "In The Crosshairs"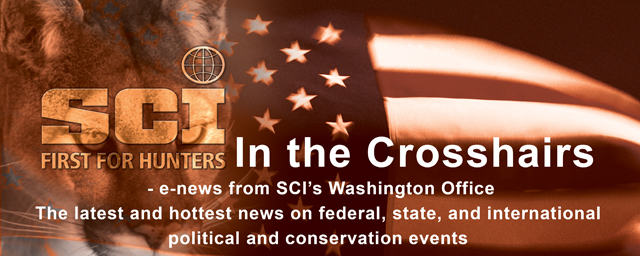 January 29, 2009


See All the Excitement of SCI's 37th Annual Hunters' Convention


Thank you to the over 20,000 attendees of the 37th Annual Hunters' Convention which took place last week in Reno, Nevada. Your participation in this year's convention made it one of the best SCI has ever enjoyed. Your attendance proves that hunters are not only passionate about their sport but are also dedicated to ensure that wildlife conservation, wildlife education, humanitarian programs and hunter advocacy continue to grow as a part of SCI's work. If you missed this year's Convention, please check www.outdoorchannel.com/sci.aspx to catch some Convention clips that the Outdoor Channel kindly put together for SCI. Thanks to the Outdoor Channel for providing our membership with this window into the 37th Annual Hunters' Convention. Hope to see you all in Reno January 20-23, 2010.


Safari Club International Announces 2009 Award Winners at 37th Annual Hunters' Convention

Safari Club International (SCI) is pleased to announce the list of award recipients at the 37th Annual Hunters' Convention in Reno, Nevada. Award winners include members and chapters who display a strong commitment to and have made great contributions to the sport of hunting, displayed a dedication to the conservation of wildlife, and have a history of service to the global hunting community and to SCI's goals and are committed to SCI's programs and mission statement. Please click here to view the full list of recipients. Individual press releases are available at www.safariclub.org.


NRA's Senior Curator Phil Schreier Covers SCI's 2009 Convention


Please visit www.NRABlog.com to view the daily posts that the NRA's National Firearms Museum Senior Curator, Phil Schreier, posted during SCI's Convention last week. Phil's main focus is obviously reporting on the impressive firearms collection that is assembled every year at convention. This year was certainly no different, especially with the inclusion of three priceless firearms that were on display, thanks to the NRA's National Firearms Museum. You can learn more and view photos of the only Parker Bros. Invincible Grade shotguns ever made by going to http://www.nrablog.com/post/2009/01/22/Historic-three-of-a-kind-Parker-Shotguns-on-exhibit-at-SCI.aspx.


SCI Hosts nearly 80 Delegates from U.S. and International Governments at 2009 Convention

SCI's Annual Hunters' Convention has become a major destination for U.S. and International government officials. For many years, the United States Fish and Wildlife Service (FWS) has for maintained a booth at SCI's convention to address questions from SCI members. Over the past few years an increasing number representatives from other countries have attended to learn more about the hunting industry, engage in dialogue with other countries, or to meet with Safari Club International Foundation or the FWS. This year, delegates from Canada, Mozambique, Mexico, Namibia, South Africa, Tanzania, Zambia, and Zimbabwe were in attendance. In addition to government officials, the SCIF Conservation Department hosted several educational seminars about ongoing research on Zambian lions, Michigan whitetails, and Newfoundland caribou. SCIF's success in U.S. and international wildlife conservation stems from healthy dialogue and meetings that are generated at each years' convention.


SCI Wildlife Law Event a Huge Success


Lawyers from 15 states and Canada attended SCI's second annual Wildlife Law Continuing Legal Education Course (CLE) and a special luncheon with avid hunter, U.S. Supreme Court Justice Antonin Scalia. The CLE course, co-sponsored by SCI and the State Bar of Nevada, provided 51 lawyers with presentations focused on critical issues such as climate change, international law, firearms treaties, water issues and other topics related to wildlife conservation, hunting and importation. Following the course, the attendees enjoyed a special lunch with Justice Scalia, who spoke to the group and answered their questions on a variety of topics. Justice Scalia was introduced by SCI Corporate Treasurer and Legal Task Force Chairman, Kevin Anderson. SCI President-Elect Larry Rudolph presented the Justice with a plaque on behalf of SCI and the SCI Legal Task Force.


Outdoor Industry Coverage of SCI's 37th Annual Convention


SCI's Press and Media room was host to over 200 visiting media, many of whom work for major outdoor and hunting publications such as Outdoor Life, Field & Stream, American Hunter, Sports Afield, Shooting Sportsman and many, many more. Check your favorite hunting or gun magazines to see stories featuring SCI's 2009 Convention. To see coverage provided by one hunter and blogger from this year's convention, please visit www.HuntingLife.com.


SCI Hosts Border Governor's Conference, Mexico Seminars, and Ibero-American Forum at 2009 Convention

During SCI's 37th Annual Hunters' Convention, the International Affairs Committee hosted a Border Governors Conference, two "Hunt Mexico" Seminars, and an Ibero-American Forum. For the first time, representatives from the Border Governor's Conference held their annual meeting at SCI's Convention. The Border Governor's Conference allowed wildlife officials from U.S and Mexican border states to share their past and current achievements with SCI members including initiatives to alleviate the impact of border enforcement activities on wildlife. The two Hunt Mexico seminars highlighted hunting opportunities in the lesser known areas of Mexico such as the state of Durango, and emphasized the wide range of species available for hunting, specifically, the white-tailed deer and bighorn sheep. Both the Border Governor's Conference and Mexico Seminars were attended by federal and state wildlife officials from Mexico. The Ibero-American Forum convened SCI chapter representatives from various Spanish-speaking countries to address the unique challenges each chapter faces when attempting to preserve the hunting tradition in their respective countries. The Border Governor's Conference, the Mexico Seminars, and the Ibero-American Forum reflect the internationally recognized strength of SCI's partnership with wildlife officials and chapter members in Latin America to promote wildlife conservation and promoting the freedom to hunt in this important region.
SCI would like to thank the Governor of the state of Durango, Mexico, the Honorable Ismael Hernandez Deras, and the Deputy Secretary of Tourism for Mexico, Alejandro Moreno, for their participation in these seminars as well as the other distinguished panelists who graciously shared their expertise. SCI recognizes and greatly appreciates their contributions in promoting hunting and wildlife conservation in the Americas.