January 29, 2010 "In The Crosshairs"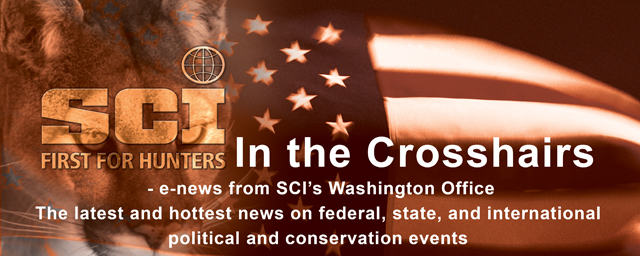 January 29, 2010


HunterSurvey.com Results Show International Destinations Are Popular With Hunters

FERNANDINA BEACH, Fla.—A new survey estimates nearly 700,000 sportsmen and women will hunt outside of the United States in the next two years, which is welcome news to the international community.  HunterSurvey.com, conducted by Southwick Associates, showed 2.6 percent of this country's 12 million hunters will hunt outside the U.S in the next year while 5.7 percent plan to do so in the next two years.  More than a half million people, or 4.5 percent of HunterSurvey.com respondents, hunted outside of the U.S during the last three years. The most popular destination was Canada, with 46.9 percent of respondents reporting they had visited that destination. Nearly 23 percent of respondents traveled to Africa during the last three years, making it the second most popular international destination. Other popular places to hunt outside the U.S. included Mexico (9 percent), South America (7.6 percent), Europe (5.5 percent) and Australia (5.5 percent). (Source: Southwick Associates Press Release) Read the full article here, http://bit.ly/buJFwK.


 Animal Rights Group Seeks Animal Protection Czar In White House


As a member of SCI, it should come as no surprise to you that the Humane Society of the United States will stop at NOTHING to attack our way of life as hunters.  Please click on this link… http://bit.ly/bCZvt8 to view their latest video.  The audacity of HSUS to continue their advocacy work should strengthen the resolve of SCI members to re-double their support to Protect Our Freedom to Hunt!


Changing Attitudes Toward Hunting – American Wilderness Leadership School


Each summer hundreds of educators sponsored by SCI Chapters and members attend the  American Wilderness Leadership School in Jackson, Wyoming to learn about science-based conservation and the positive role of hunting.  They learn about the economics of the dollars that hunters spend.  For most, this is the first time they learn about and shoot any kind of firearm.  Graduates describe AWLS as a life changing experience and one where they gain an understanding of hunting and where their attitude toward hunting was changed.  The result is more young people hearing a positive message about hunting from educators.  Educators receive curriculum with lesson plans they can use in teaching their own students.  In addition, each educator earns instructor certification in National Archery in the Schools Program.  You can sponsor an educator by paying the $900 in tuition for the 8-day program.  For applications, brochures and more information go to www.safariclubfoundation.org or send an email request to awlsscif@safariclub.org.


SCI, SCIF Comment On Proposed Changes To The 2009-2010 National Wildlife Refuge Hunting Regulations

On Thursday Jan. 28, SCI submitted comments on the U.S. Fish & Wildlife Service's proposed changes to the 2009-2010 Hunting Regulations for several National Wildlife Refuges ("NWR").  SCI and SCIF supported increased hunting on nine Refuges and newly-opened hunting on two refuges.  SCI also supported increased feral hog hunting on multiple refuges and increased youth hunting at Yazoo NWR in Mississippi.  SCI encouraged the FWS to increase opportunities for rifle and handgun hunters.


SCI & SCIF Sponsor National Youth Writing Contest


SCI & SCIF are the exclusive sponsor of the 2010 Outdoor Writers of America Norm Strung Youth Writing Contest.  The contest is an opportunity for students in grades 6-12 to share hunting, fishing and other outdoor experiences through poetry and prose.  The contest is a way to foster the next generation of outdoor communicators.  Writers must submit their entry by March 15, 2010.  Information about the contest and rules can be found at www.owaa.org/contests/youth-writing or call OWAA at 406-728-7434.   Winners receive monetary prizes and recognition at the OWAA conference where four-five hundred outdoor communicators attend.


SCI Litigation Team Hosts 3rd Annual CLE At SCI Convention


On Friday Jan. 22, SCI's litigation team hosted its 3rd Annual Continuing Legal Education course.  More than 40 attorneys attended the CLE.  The course covered a wide variety of practical topics relevant to attorneys who represent domestic and international hunters.  CLE panelists included experts on CITES, the Fish and Wildlife Service's permit application process, and the international transport of firearms.  The Nevada State Bar plans to make a videotaped version of the course available on their website for attorneys to attend for credit online.  A link to the course will be distributed in a future edition of "SCI In the Crosshairs" should you be interested in taking the online version of the course.