February 2, 2007 "In The Crosshairs"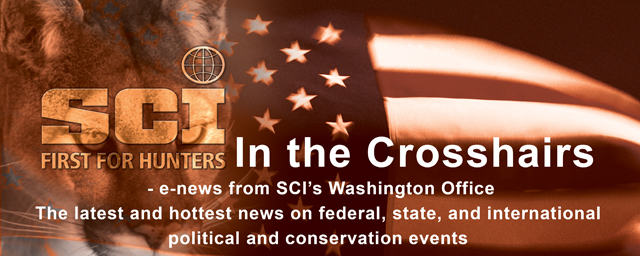 February 2, 2007


Wetlands Loan Act Reintroduced


Senator Norm Coleman from Minnesota has reintroduced the Wetlands Loan Act (S. 272) which would "reauthorize appropriations to promote the conservation of migratory waterfowl and to offset or prevent the serious loss of important wetland and other waterfowl habitat." Essentially, this program would obtain $400 million dollars to buy important waterfowl habitat at today's land prices and repay it over 10 years with a small increase in the Duck Stamp. It is intended to "help private landowners achieve long-term land use objectives in a manner that enhances the conservation of wetland and wildlife habitat." SCI has supported this bill in the past. (Source: Gallery Watch)


Administration Releases Proposed 2007 Farm Bill



The massive 2007 Farm Bill has been proposed by the White House via the Department of Agriculture. Over $19 billion dollars of conservation funding is funneled to land owners via such programs as the Conservation Reserve Program, the Wetlands Reserve Program, and more. SCI has been very active in supporting such funding and will continue to do so this upcoming session. For the complete proposal, please visit: http://www.usda.gov/wps/portal/usdafarmbill?navtype=SU&navid=FARM_BILL_FORUMS


Court Dismisses Lawsuit Challenging Minnesota Trapping Program


In a case in which SCI and the Minnesota Outdoor Heritage Alliance obtained amici (friend of the court) status, the U.S. District Court for Minnesota has dismissed the Humane Society of the United States' complaint at the request of the parties. HSUS and the State settled the case, with the State agreeing to apply to the U.S. Fish and Wildlife Service for an incidental take permit to authorize the State to allow trapping despite allegations that endangered Canada lynx are sometimes hurt or killed in the traps. The State is also paying HSUS $25,000, but HSUS will donate one-half back to the State for lynx conservation. The State's trapping program will remain in place while the State seeks the permit. The dismissal does not affect a second similar lawsuit brought by the Animal Protection Institute. That lawsuit alleges that trapping in Minnesota "takes" not only Canada lynx, but bald eagles and gray wolves. The delisting of the wolf in the Great Lakes area, when it becomes official in about a month, should eliminate the claim related to that species. Proposed delisting of the bald eagle, when official, will do the same for that species. SCI and MOHA are also amici in this case.


Groups Petition 7 Agencies to Step Up Response to Global Warming


"Environmental groups filed petitions...with seven federal agencies [EPA, Departments of Agriculture, Commerce, Defense, Energy, Interior and Transportation], seeking more coordinated planning and responses to global warming, including an assessment of how climate change will affect thousands of the world's species. The Center for Biological Diversity is the lead author of the petition, which asks the government to factor climate change into everything from habitat designations to road building and permit approval for new energy projects. In its request under the Administrative Procedure Act, 10 groups overall from Maine to Idaho insisted that climate change and natural habitat destruction threaten as much as one quarter of the world's species. The Arizona-based Center for Biological Diversity is responsible for a much publicized Bush administration decision to examine how melting sea ice has threatened the habitat of the polar bear.  Conservation groups gave the agencies 90 days to respond, and they have left open the prospect of a lawsuit in federal court if not satisfied. Global warming legislation introduced last month by Sens. Bernie Sanders and Barbara Boxer would mandate climate issues be included in all federal environmental impact statements." (Source: Greenwire)


Canada Gun Resolution Halted


In the January 11th edition of Crosshairs, we reported on Resolution 42 out of Canada that would have deemed "automatic and semi-automatic weapons [as] illegal for hunting" because they "do not support the hunting culture...of Canada." The Ontario Federation of Anglers and Hunters (O.F.A.H.) is reporting today that "the ill-fated, inflammatory and highly inaccurate Resolution #42 has been withdrawn." From Greg Farrant, O.F.A.H. Government Relations Manager: "Not only was the resolution completely unnecessary in the first place, worse still, it was based upon highly inaccurate information that contradicted their own firearms legislation passed when they were in power. At the very least, by withdrawing the resolution, the party has acknowledged its mistake and taken steps to correct this procedural gaff. However, this does not speak to the underlying reason for the resolution and the ongoing attempt by the national Liberal Party to demonize legal law-abiding firearms owners in Canada instead of supporting the current government's efforts to target criminals who use illegal firearms to commit crimes." (Source: OFAH)


Info on Sales of Hunting Licenses


"A new report shows 25 states performed better than the national rate in sales of hunting licenses, tags and stamps in 2005. Altogether, national sales, the main funding mechanism for state conservation agencies set a new record, topping $723 million. The 2005 figures, just released by the U.S. Fish and Wildlife Service, show total sales rose 2.8 percent from the previous year, while the number of customers slipped 1.4 percent, from 14.7 million to 14.5 million. The total number of U.S. hunters, including both licensed and non-licensed, is estimated much higher than the 14.5 million acknowledged in the federal report. The National Sporting Goods Association calculates 20.6 million active hunters. The Outdoor Industry Association's latest estimate surpasses 26 million. And in a new survey commissioned by the National Shooting Sports Foundation and conducted by independent firm Responsive Management, 19 percent of Americans, more than 50 million people, said they've hunted in the past two years. In 2005, 14,575,484 hunters purchased 35,609,605 different licenses, tags and stamps at an average cost of $20.32 each. Total sales reached $723,712,681." (Source: NSSF/Outdoor Wire)