February 6, 2009 "In The Crosshairs"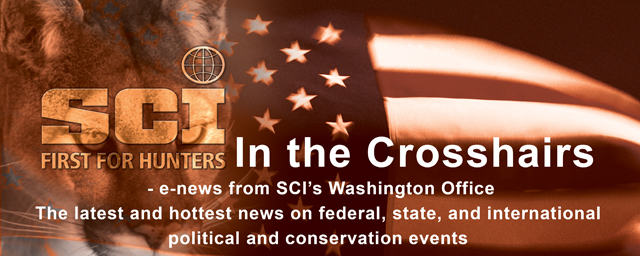 February 6, 2009


CSF Reception Welcomes Caucus Members To 111th Congress


"February 4, 2009 (Washington, DC) - The Congressional Sportsmen's Foundation celebrated the return of sportsman legislators to Washington for the 111th Congress Tuesday night with a "Welcome To Congress" reception at the Rayburn Building. Over thirty members of the United States Congress joined together for this yearly gathering of hunting, fishing, and conservation leaders, policy makers, and industry representatives." Read more of the CSF press release by going to http://www.sportsmenslink.org/media_room.html. (Source: Congressional Sportsmen's Foundation)


Congressional Sportsmen's Caucus Leadership Announced


The Congressional Sportsmen's Caucus (CSC) has formally announced its leadership for the 111th Congress. Hunter's message and issues concerning sportsmen and women around the country are assured to be top priorities for the 111th's leadership. Senate Leadership is led by two former SCI Federal Legislators of the Year recipients, Senators. Ben Nelson (D-NE) and Mike Crapo (R-ID). Senate Sportsmen's Caucus also selected Senators John Thune (R-SD) and Jon Tester (D-MT) to serve as Caucus Vice-Chairs. The House of Representatives will be led by Caucus Co-Chairmen Rep. Paul Ryan (R-WI) and Dan Boren (D-OK), both of whom are SCI members. Working alongside Co-Chairs Boren and Ryan are Rep. Mike Ross (D-AR) and Rep. Jeff Miller (R-FL) as House Caucus Vice-Chairs. Learn more about the Congressional Sportsmen's Caucus and the Congressional Sportsmen's Foundation by going to www.sportsmenslink.org. (Source: Congressional Sportsmen's Foundation)


Five States have Ammunition/Bullet Serialization Legislation Introduced


Many SCI members have contacted the Washington, D.C. Office to express their concerns about legislation that has been introduced that would require either Ammunition or Bullet Serialization to be manufactured products. The intent of this legislation is to make police investigations "simpler." In a "perfect-case-scenario" a serialized bullet would hopefully lead police investigations right to the door of the criminal…however effectiveness of the products suggested to serialize or I.D. a shell/bullet casing simply wouldn't produce this perfect crime solving scenario. What would happen is an extreme increase in the cost of ammunition and an increased cost in the production of firearms which would be "equipped" with this new technology. All of these factors would increase the cost and frustration of sport shooters and hunters who are being unfairly targeted, not the criminals whom this "technology" is supposed to help stop. SCI is working with like-minded groups such as the National Rifle Association, National Shooting Sports Foundation, and the National Assembly of Sportsmen's Caucuses to help stop such legislation. You may view this legislation by going to www.nssf.org.


TSA Clarifies Rules on Big Bore Ammunition


Over the past few years, some SCI members have had difficulty transporting .50 caliber or larger ammunition on commercial airlines. This problem was caused by the Department of Transportation's (DOT) misinterpretation of FAA regulations that allows the transport of ammunition up to 19mm. The Transportation Security Administration has now clarified these rules and DOT's website now contains the corrected rules. They can be seen at http://safetravel.dot.gov/index_ammunition.html.
In December 2008 SCI submitted a Freedom of Information Act request to obtain TSA documents that may have caused this initial problem. Even though the problem has been rectified, we will continue with our request for documentation. The information obtained will help protect the ability of hunters to travel with their arms and ammunition. SCI encourages individuals who are flying with large caliber ammunition to print out the page by going to http://safetravel.dot.gov/index_ammunition.html, to ensure clarification if you are questioned when checking in for a flight.


Obama FWS Rejects Massive ESA Listing Petition


In early January 2009, the Bush administration rejected a petition by WildEarth Guardians to list hundreds of species as endangered under the ESA. A month later, the Obama administration has similarly rejected another petition to list over 200 plants and animals in the Southwest brought by the same group. The FWS found that the petition did not provide sufficient information to justify further review (i.e., an one year status review) of 167 of the 206 species on the petition. The FWS said it would rule on the other 39 species at a later time, but that the delay did not indicate in any way that the FWS was inclined to grant that petition (i.e., conduct an one year status review). Source: Federal Register, 2/5/09, E&E News Daily, 2/4/09.


Wood Bison Undergoing Status Review


On Monday, the U.S. Fish and Wildlife Service announced its 90-day finding on a petition to reclassify wood bison from endangered to threatened status throughout its range under the Endangered Species Act. The FWS found that the petition presented substantial scientific and commercial information indicating that the reclassification may be warranted and is therefore initiating a review of the listing status of the species. The full release on the 90-day finding is available at http://edocket.access.gpo.gov/2009/E9-2084.htm.
Wood bison, formerly native to Alaska, disappeared from the state approximately 200 years ago. SCI and the SCI Foundation have been working to restore wood bison to its historic range in Alaska, and have been key partners in efforts to conserve the species. The SCI Foundation, SCI Alaska Chapter and the SCI Alaska Kenai Peninsula Chapter funded the construction of a wood bison squeeze chute, hay barn, and interpretive signs at an Alaska Wildlife Conservation Facility, purchased a trailer to haul bison and hay, and assisted with the relocation of 53 wood bison from Canada to the conservation facility last year.


Ruffed Grouse Society Successful Battle for Responsible Habitat Management
The Ruffed Grouse Society (RGS) recently won an important victory for habitat management in the Lake Superior and the Boundary Waters Canoe Area Wilderness. The Forest Service management plan included comprehensive understandings of early succession growth which is vital for not only grouse and woodcock habitat, but also provide much needed forage for all species in the area. Hopefully future rulings on land management plans will take into consideration the science that is used when the Forest Service and other Federal agencies make their plans. Please read the full RGS press release by going to http://www.theoutdoorwire.com/tow_release.php?ID=140872. Source: The Outdoor Wire.