Febuary 7, 2008 "In The Crosshairs"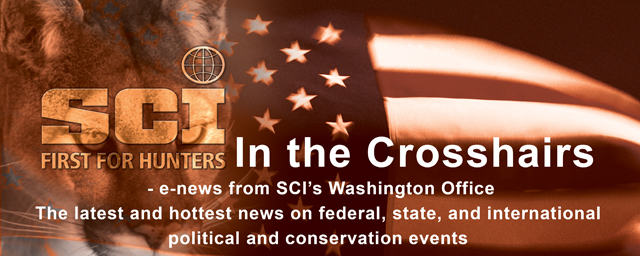 February 7, 2008


Argentina Firearms Update


It appears that the In the Crosshairs item from January 18th about new gun regulations for entering Argentina created quite a stir. After speaking directly with the consulate, SCI originally reported that Argentina now requires that hunters get fingerprinted before travelling to Argentina with a firearm. That means that if you are an American citizen and you are scheduled to hunt in Argentina, and you go through the consulate to do your paperwork, you will have to show up in person at one of the 7 consulates throughout the United States and submit your paperwork and fingerprints at that time. After receiving many questions about the accuracy of the In the Crosshairs report, SCI personnel confirmed this information with the Argentine consulate in Washington, D.C.
There does, however, appear to be some disparity. SCI's consultation with numerous outfitters and RENAR (Argentine Registry of Weapons) revealed that the majority of hunters heading to Argentina with their firearms are checked in locally at airports such as Buenos Aires or Cordoba with the help of their local outfitters. According to the RENAR website:
"If the tourist arrived at Argentina without the "temporary authorization and temporary possess permit", drawn up by the Argentine Consulate, the Police authority that takes part will give the applicable temporary authorization and temporary possess permit during the stay in the country, ad-referendum of the National Registry of Firearms."
From the Argentine Foreign Visitors Bureau (translated): "Individuals who wish to go into the country with one or more firearms and their ammunition, with the proposal to perform hunting activity, sporting shooting or other legitimate purpose, will have to submit application at the origin country Argentine Consulate. If the tourist arrived at Argentina without the [permit], the Police authority that takes part will give the applicable temporary authorization and temporary possession permit during the stay in the country. The temporary authorization permit will enable the tourist to possess transport and use the firearms and ammunition for the legitimate activity and during the authorized period of time."
You can view the full Visitors Bureau document at www.safariclub.org under International. In the Crosshairs would advise that you contact your outfitter in Argentina for the most up to date information on this issue if you are scheduled to hunt there in the near future.


Antis File Lawsuit to Stop Wolf Management


Defenders of Wildlife, HSUS, Center for Biodiversity and other anti-hunting groups, have filed suit in Federal Court in Montana to invalidate a rule designed to give the states of Idaho, Montana and Wyoming greater management authority over "endangered" wolves that are having an "unacceptable impact" on wild ungulate populations. The rule, that is set to go into effect on February 27, 2008, also deals with the lethal take of wolves that attack livestock, pets and hunting dogs. Last year, SCI filed comments in support of the proposed rule to give the three states the management tools necessary to control the predator species and to reduce the detrimental impact wolves are having on elk and other prey species. The final rule was published in the Federal Register on January 28, 2008. At this time, SCI is considering whether to ask the court to allow SCI to participate to help defend the FWS's decision. We will keep you posted.


Moritz Promoted to Director of Conservation


Dr. William Moritz has been promoted to Director of Wildlife Conservation for Safari Club International Foundation in the Washington, D.C. office. Moritz joined SCIF in September of 2007, and is responsible for directing all domestic and international conservation programs, especially in Africa, Asia and North America. His team includes Deputy Conservation Program Manager Matt Eckert and Conservation Assistant Shalane Brower. Moritz holds a bachelor's and master's degree in Wildlife Biology and earned his Ph.D. in Zoology. Prior to joining SCIF, Moritz was with the Michigan Department of Natural Resources, and served in several capacities including Chief of the Wildlife Division. In addition, he has served as Adjunct Professor at Michigan State University critiquing and advising doctoral candidates on their research work. Since joining SCIF, Moritz's experience and expertise has already helped advance our conservation programs around the world, including his participation at the African Wildlife Consultative Forum sponsored by SCIF in Mozambique last November.


Safari Club Makes Big Splash at 30th SHOT Show


SCI Executive Director John Eichinger and members of the SCI Executive Committee were on hand to present a check for $250,000 to the National Shooting Sports Foundation in support of their Hunting Heritage Partnership at the 30th annual SHOT Show in Las Vegas. This program allows NSSF to give grants to states for effective projects aimed at increasing the recruitment and retention of hunters. This successful program has donated 2.1 million dollars to state agencies so far. Look for more updates as the Partnership goes forward.


Check Out SCI's New and Improved Website


New videos and informative content have been added to SCI's homepage. Highlighting the latest changes is an interactive map, where anyone can view free reports on the economic impact of hunting for all 50 states. More changes are coming, so make sure you visit www.safariclub.org frequently.