February 8, 2007 "In The Crosshairs"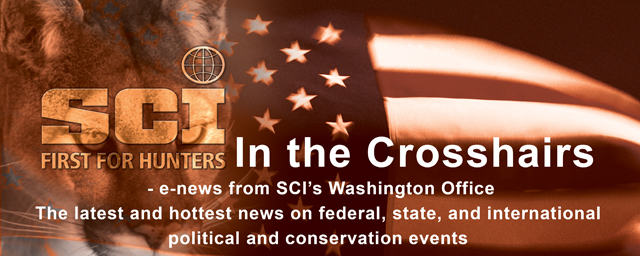 February 8, 2007


Proposed Lead Ban in California


In a move that has been discussedfor quite a while, "the [California] state Fish and Game Commission decided Friday [February 2nd] to consider banning or limiting lead bullets for big game hunting [and possibly hunting of some other non-game species such as coyote] in California when it meets March 2. The commission, meeting in Monterey, unanimously voted in favor of serving notice of its intent to amend hunting regulations for 2007-2010 with an aim to eliminating lead bullets in the California condor range. Department of Fish and Game officials offered the commission three alternatives related to regulating leaded bullets: ban the ammunition in specific deer-hunting areas, ban it statewide, or offer hunters incentives to voluntarily use nonleaded ammunition while hunting deer, elk, wild pigs and other large animals. The specific hunting areas include most of those west of the Sierra Nevada -- areas A, D9, D10 and D11 on Fish and Game maps.&rdquo SCI has been heavily involved with this issue and will continue to inform its members. (Source: Los Angeles Herald)


SCIFHosts Zambia and Mozambique Delegations in Reno and D.C.


As part its overall strategy to link wildlife conservation with international hunting opportunities, SCIF hosted delegations from Zambia and Mozambique at the recently completed Annual Hunter's Convention in Reno and in Washington, DC. The Zambia delegation was headed by the Honorable Kapinga J. Pande, Minister of Tourism, Environment and Natural Resources. The Mozambique delegation was headed by the Honorable Fernando Sumbane, Minister of Tourism. These Ministers hold similar government rankings to the U.S. Secretary of the Interior in their respective countries. SCIF facilitated the meetings between each country and officials from the USFWS and the Department of the Interior. The major topic of discussion was the steps needed for each country to take in order for the USFWS to allow elephant trophies taken within their borders to be imported into the U.S. Elephant hunting is allowed in each country, but the trophies taken are not currently allowed into the US. SCIF has been working for several years to correct this situation. This is the first time in many years that face-to-face discussions on this topic were held. All parties to the discussions viewed the meetings as a major step forward in improving elephant management in these countries. SCIF will continue to assist each country in developing action plans to meet the requirements of the USFWS, as well facilitating future discussions.


New Deputy Director at Fish & Wildlife


"Secretary of the Interior Dirk Kempthorne and U.S. Fish and Wildlife Service Director Dale Hall announced the appointment of Randall Luthi as deputy director of the U.S. Fish and Wildlife Service. Luthi, a former speaker of the Wyoming State House of Representatives, is a rancher and attorney in private practice from Freedom, Wyo. He previously served in the Department of the Interior and at the National Oceanic and Atmospheric Administration (NOAA). As deputy director, Luthi will work with Hall to lead Interior's Fish and Wildlife Service, the nation's principal federal agency dedicated to the conservation of fish and wildlife and its habitat. With more than 9,000 employees and hundreds of national wildlife refuges, national fish hatcheries and other field stations located across the nation, the Service works with state and local governments, organizations and individuals to ensure the future of America's wildlife resources." (Source: USFWS)


PETA Trial Ends


"PETA employees Adria Hinkle and Andrew Cook were found innocent of the majority of charges brought against them for animal cruelty and obtaining property by false pretenses. Rather than facing criminal charges for picking up animals from an animal shelter and veterinarian's office and killing them, rather than taking them for possible adoptions, Judge Cy Grant reorganized the charges prior to sending them to the jury, dropping most of the felony charges and consolidating several charges into a single one. If convicted of the criminal charges, the PETA employees, who had admitted picking up animals and killing them only moments after having told veterinarian office employees they were going to find them new homes, could have faced jail time. Instead, they have been found guilty of littering, receiving suspended 10-day jail sentences, 12 months' probation, 50 hours of community service, $1,000 fines and nearly $3,000 of restitution." The defense argued that the animals had "no intrinsic value" so most of the charges were dropped or changed. If anything, this case exposes PETA's real business practices and gives them lots of unwanted negative press.(Source: Outdoor Wire)

New
Hunting Heritage Legislation Introduced



"U.S. Sen. Saxby Chambliss, (R-Georgia) has introduced the Hunting Heritage Protection Act (SB 408). The bill contains a stipulation for "no net loss" of hunting on federal land, i.e., the government is directed to maintain, within the confines of state and federal law, current levels of federal hunting lands. It requires the opening of compensatory huntable land if an area is closed to the sport." (Source: Outdoor Wire)


Wolf Meetings Scheduled


As expected, the government has released its Final Rule delisting wolves in the Great Lakes and a Proposed Rule to de-list wolves in the Rocky Mountain regions. You can find the full proposals here (Scroll down to the Fish & Wildlifesection). Six open house meetings are scheduled on the proposed delisting of Rocky Mountain Wolves at the times and locations listed below. SCI is currently looking through the proposal and will provide more information at that time. Six public hearings, from 6 p.m. to 8 p.m., will be held on:

February 27, 2007, Tuesday at Holiday Inn Cheyenne, 204 West Fox Farm Road , Cheyenne, WY.
February 28, 2007, Wednesday at Plaza Hotel, 122 West South Temple , Salt Lake City , UT.
March 1, 2007, Thursday at Jorgenson's Inn & Suites, 1714 11th Avenue, Helena, MT.
March 6, 2007, Tuesday at Boise Convention Center on the Grove, 850 Front Street , Boise , ID.
March 7, 2007, Wednesday at Pendleton Red Lion Inn, 304 S.E. Nye Street , Pendleton , OR.
March 8, 2007, Thursday at Oxford Inns & Suites, 15015 East Indiana Avenue , Spokane Valley , WA.
"Anyone wishing to make an oral statement for the record is encouraged to provide a written copy of their statement and present it to us at the hearing. In the event there is a large attendance, the time allotted for oral statements may be limited. Speakers can only sign up at the open houses and hearing. Oral and written statements receive equal consideration. There are no limits on the length of written comments submitted to us. If you have any questions concerning the public hearings, please contact Sharon Rose 303-236-4580. Persons needing reasonable accommodations in order to attend and participate in the public hearings in Boise, ID; Pendleton, OR; or Spokane, WA, should contact Joan Jewett 503-231-6211 and for hearings in Cheyenne, WY; Salt Lake City, UT; or Helena, MT, please contact Sharon Rose at 303/236-4580 as soon as possible in order to allow sufficient time to process requests. Please call no later than one week before the hearing date. Information regarding the proposal is available in alternative formats upon request."