February 16, 2007 "In The Crosshairs"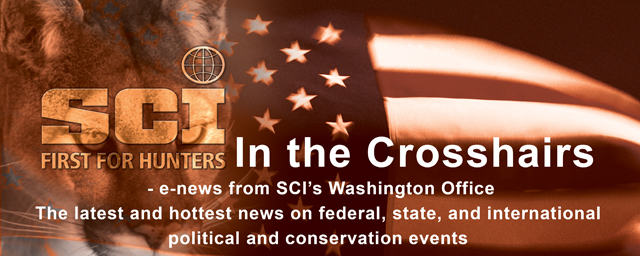 February 16, 2007


Antis Intend to Sue to Stop Wolf Delisting


Four well known anti-hunting groups have combined forces and submitted a 60-day 'intent-to-sue' letter to the U.S. Fish & Wildlife Service and Interior Secretary Dirk Kempthorne to challenge the delisting of wolves in the Great Lakes region, consisting mainly of Michigan, Wisconsin and Minnesota. The parties named in the letter are HSUS, The Animal Protection Institute, Help Our Wolves Live (HOWL), and the Minnesota Wolf Alliance. SCI has supported the USFWS' plan to delist wolves in the Great Lakes region and the Western states and will likely join this lawsuit on the government's behalf. We will keep you posted.


Gun Conference thru U.N.


The government of Ghana has just finished hosting the first International Consultative Conference on the Implementation of the ECOWAS [Economic Community Of West African States] Small Arms Programme (ECOSAP). This conference is designed to produce two outputs: "standard operational procedures to govern the implementation of ECOSAP and geographical clusters as well as a harmonized strategic regional action plan for small arms control for next year [emphasis added]. The conference aims to increase knowledge about international policy and legal instruments meant to tackle small arms and light weapons...their ammunitions and related materials. The overall goal...is to reduce the incidence of increase of [small arms].&rdquo SCI is involved with the World Forum on the Future of Shooting Sport Activities (WFSA) via the U.N. and will keep our members apprised of this continuing situation. For more information, click here.


SCI Files Final Brief to Protect Florida Black Bear Hunting


In an effort to protect the hunting of Florida black bear in Georgia and preserve the possibility of reinstating hunting of the bear in Florida, SCI recently filed its final brief in litigation aimed at forcing the listing of the species under the Federal Endangered Species Act. Such a listing would end hunting of the species. SCI, along with other sporting groups, is helping defend the U.S. Fish and Wildlife Service's decision not to list the species. The Court now may hold a hearing and will issue a decision, probably later this year. SCI will keep you posted.


California Legislators Introduce Gun / Ammo Measures


"Four state gun control bills introduced by area lawmakers were endorsed Thursday by local officials who said they would help deter gang violence, while a pro-gun group called the measures ineffective. The proposed legislation [is] dubbed the "Shooting Victims Bill of Rights." The four bills in question are "a bill that would require all new semiautomatic handguns to be equipped with microstamping technology by the start of 2010. The technology marks a gun's make, model and series number on spent shell casings; a bill that would require retailers to have a license to sell ammunition; a bill that would require firearm owners to notify law enforcement within five working days of discovering that a gun has been stolen or irretrievably lost; and a bill that would allow California's law enforcement agencies to use and compare forensic and ballistic information kept on a national database." Many bills like these failed last year in Sacramento and SCI will keep you posted. (Source: NBC4.tv)


Legislation Introduced to Ban Assault Weapons


"Earlier this week, New York Representative Carolyn McCarthy (D-NY) introduced a bill that would permanently restore the Assault Weapons Ban (AWB), removing the sunset loophole that had allowed the Republican-controlled Congress to allow the last ban to expire in 2004. The proposed reauthorization also expands the definition of 'assault weapon' to include 'copy-cat weapons'. Those are part of what McCarthy calls a 'dangerous loophole' where kits 'modify legal weapons into assault weapons.' In other words, no more skeletonized stocks, forward handgrips, or other nefarious add-ons that enable you to turn your single-shot .22 caliber rifle into a maddening tool of mass destruction. The 63-year old McCarthy was direct in her reasoning for introducing H.R. 1022. After all, she says, all assault-types weapon are 'dangerous weapons, which are intended to hit multiple targets in a short period of time, were allowed back on our streets when the federal ban on assault weapons expired in 2004. The deaths in Philadelphia could have been prevented if Congress had done its job of protecting the homeland and renewed the assault weapons ban.'" (Source: The Shooting Wire)