February 16, 2011 "In The Crosshairs"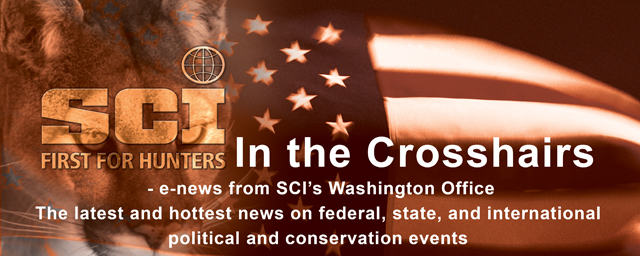 February 16, 2011


SCI 39th Annual Hunters' Convention In Reno, NV: A Huge Success


Safari Club International announced that its 39th Annual Hunters' Convention in Reno, Nevada was a huge success. Concluded on Jan. 29, the 2011 Convention ranks as the second highest revenue generating Convention ever with over 18,000 attendees. SCI members generously contributed over $12 million to support SCI's advocacy to protect our hunting freedoms, to promote international wildlife conservation and to increase wildlife management education. (Source: www.safariclub.org) http://bit.ly/eAGDDq.


Announcing The Online Safari Times


Thank you for helping Safari Club International save money in printing and postage by receiving the Safari Times newspaper online beginning with the March, 2011 issue. SCI and SCIF can use those savings to fund mission programs that are critical to all of us now, and to help assure the very future of hunting. This new form of delivery can save SCI hundreds of thousands of dollars a year in printing and postage. All SCI members are encouraged to try Safari Times online for at least three months. View the February 2011 Safari Times today: http://bit.ly/hpKALA.


SCI Foundation Announces College Scholarship Application Deadlines


April 15 is the application deadline for both the upper level two-year scholarship for students entering their junior and senior year of college and the four-year scholarship for students entering their freshman year of college.  Each year, SCI Foundation awards college scholarships to students studying in a conservation related field.  These are future conservation leaders committed to continuing our outdoor heritage.  To learn more about SCIF Education Scholarships, contact Sue Hankner, Director of Education, at shankner@safaraiclub.org or at 520-620-1220, ext. 294.  To obtain application materials, contact Karen Crehan at 520-620-1220, ext. 231 or kcrehan@safariclub.org.


SCI Foundation & Missouri Black Bear Conservation Program


"Bears had nearly vanished from Missouri by 1940 but began to re-colonize during the 1960s following reintroductions in Arkansas. During the last 50 years, the bear population has increased and so has interest in the species. In an effort to proactively address bear issues, resource personnel from the Missouri Department of Conservation, Missouri Department of Natural Resources, United States Forest Service, and the National Park Service have identified key information needs to minimize conflicts with human while encouraging population expansion into suitable habitats." (Missouri State University Website) For more information on the Black Bear Program, please go to http://bit.ly/hxcJIP.


SCI Intervenes To Defend Hunting In Mojave National Preserve


On Feb. 9, 2011, a D.C. federal district court granted Safari Club International leave to intervene to defend varmint/predator hunting in the Mojave National Preserve.   The case in which SCI has intervened was filed by Public Employees for Environmental Responsibility (PEER).  PEER claims that desert tortoises in the preserve are harmed by ongoing hunting activities.  PEER filed suit to challenge the National Park Service's denial of a petition seeking federal regulations that would ban varmint hunting and would limit other types of preserve hunting.  SCI will be joined by the NRA to defend the NPS's decision not to restrict hunting.


Fish and Wildlife Service Issues New Report On Hunting, Fishing Trends


"The U.S. Fish and Wildlife Service has released a new report, 'Trends in Fishing and Hunting 1991-2006: A Focus on Fishing and Hunting by Species,' that provides a species-based, detailed look at fishing and hunting and offers a wealth of information on national and state fishing and hunting expenditures, participation rates, and demographic trends." (Source: Ammoland.com) Read more at http://bit.ly/gXATIp.


Wyoming Senate OKs Hunting Rights Amendment


"The Wyoming Senate approved a proposed state constitutional amendment to grant residents perpetual rights to hunt, fish and trap in Wyoming. Senate Joint Resolution 1 now goes to the Wyoming House. If it becomes law it will be on the November 2012 general election ballot. The bill passed the Senate 23-7." (Source: Trib.com) Learn more at http://bit.ly/fmVsH4


Recipients Praise Hunters For Venison


"Central Missouri deer hunters donated almost 14 tons of venison to area charities during the recent 2010-11 deer season, including more than a ton to the SERVE, Inc. food bank in Fulton.  The donation program was made possible by the Share the Harvest Program sponsored by the Central Missouri Chapter of Safari Club International, which is based in Fulton." (Source: FultonSun.com) Read more at http://bit.ly/i3jLmX.


HumaneWatch.org:  Four-Fifths of One Percent


"One of the first things we did when HumaneWatch was launched last February was figure out what the Humane Society of the United States was doing with the nine-figure collection plate it passes every year. We were surprised to learn that according to HSUS's publicly available tax return for 2008 (the most recent year for which data was available at the time), HSUS devoted less than one-half of one percent of its budget to directly funding hands-on pet shelters." (Source: HumaneWatch.org) http://bit.ly/eQ9pNA.