February 20, 2009 "In The Crosshairs"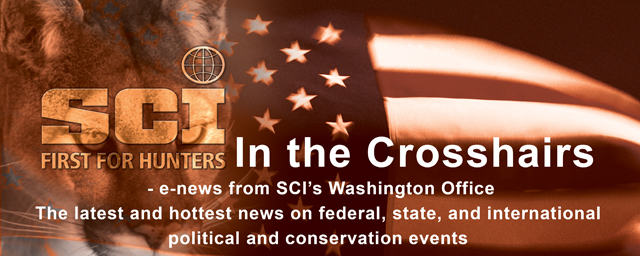 February 20, 2009


SCIF's Works on Lion Management in Southern and Eastern Africa


SCIF's Conservation Committee would like to give a brief update to African lion management projects that have been conducted in southern and eastern Africa. Two recent articles in The Hunting Report have raised questions about the work that is being conducted for lion research in Africa. To that end, SCIF would like to share the full letter that was sent to The Hunting Report outlining the vital work that has been conducted so far to ensure lion hunting is not threatened at the next CITES meeting in January 2010.
Below is an excerpt from SCIF's Letter to the Editor. Everyone is encouraged to take a moment to read the full letter to learn more about the lion specific management work that SCIF has been promoting in southern and eastern Africa. Please go to www.safariclub.org or click here.
"The SCIF has an extensive history and commitment in wildlife conservation in southern Africa and considers the development and implementation of the national lion management plans in all range states a top priority. Although some countries have management plans that include lions, such as Botswana, several countries do not. Since the conclusion of the regional workshops, SCIF has sponsored meetings in Zimbabwe and Namibia for the production of national-level lion management plans, and Zambia recently held their own workshop. SCIF has secured funding to assist Mozambique, Tanzania, and Malawi in holding workshops to develop their national plans. In addition, SCIF has funded a lion survey in Mozambique this year. SCIF has supported Dr. Paula White in her efforts to provide the necessary scientific research about the physical characteristics of lions in Zambia (nose color, mane development, etc) related to age to refine the sustainable use of this species. Finally, the past November SCIF co-hosted our 7thAfrican Wildlife Consultative Forum in Namibia, a meeting where lion conservation and human-lion conflict were the two dominant topics."


Responses from Wildlife Professionals to Recent Newsweek Article


Many SCI members have called in complaining about a recent Newsweek article that derided hunting as a reason for decreased horn mass in a population of mountain sheep in Alberta, Canada. Please take a minute to view some responses that wildlife professionals provided by going clicking here or by visiting http://mainehuntingtoday.com/bbb/2009/01/14/does-trophy-hunting-spoil-the-gene-pool/.


SCI Fights for Party Status in Rocky Mountain Elk Cull Case


When SCI asked a U.S. District Court in Colorado to allow it to be a party defendant in a legal challenge to the elk management plan for Rocky Mountain National Park (RMNP) in Colorado—a plan that includes the use of skilled volunteers from the hunting community to help with the elk cull—the Judge said no. SCI has taken the issue to the Tenth Circuit Court of Appeals (while still participating in the District Court as an amicus curiae). SCI recently filed a brief with the Court of Appeals explaining that SCI represents those members of the hunting community who would participate in the culling program and those sportsmen and women who hunt outside the Park and are affected by the elk plan. Gaining party status is particularly important if the court sets aside the elk plan and the Park Service decides not to appeal.
On a related note, RMNP has commenced its elk cull with the help of 22 qualified volunteers from the hunting community. After soliciting applicants through a notice on its website, RMNP received approximately 100 applications. The NPS selected 27 individuals to receive training, of which the final 22 were selected to participate. The culling commenced during early February.


California Begins to Consider State-wide Ban on Lead Ammunition


During deliberations in California on a lead ban in Condor range, SCI feared that the state, supported by anti-hunting groups, would next propose a state-wide ban on lead ammunition for hunting. That fear has begun to materialize. On February 5, 2009, the California Fish and Game Commission began to look into whether to institute a state-wide ban on lead ammunition. Citing concerns about alleged impacts to other wildlife and to humans, the Commission took testimony and discussed the issue. The California Department of Fish and Game is preparing a report for presentation to the Commission in June. SCI will continue to monitor this situation and take any appropriate action. The Commission's next meeting is scheduled for March 4-5, 2009 at a yet to be determined location in California.


SCI Files Brief in support of Right-To-Carry Rule in National Parks and Wildlife Refuges.

SCI has filed an amicus curiae (friend of the court) brief in support of new rules that allow people to carry concealed and loaded firearms on hundreds of millions of acres of National Park Service and Wildlife Refuge lands in accordance with the relevant state law. The rule change went into effect on January 9, 2009. Previously, firearms carried in these Federal lands had to be unloaded, inoperable, and inaccessible (with some exceptions, e.g., while legally hunting).
The Brady Campaign to Prevent Handgun Violence and other groups filed suit to overturn the new rules. They also asked for a preliminary injunction that would suspend the rules pending the outcome of the litigation. SCI quickly entered the case as Amicus Curiae. SCI's brief explained to the court the interests that hunters have in this rule and challenged the plaintiff's standing to sue. Briefing on the preliminary injunction should be completed in the next few weeks and a decision should come within a month after briefing is complete.


Wyoming's State Legislature Rejects Bill to Modify State's Wolf Management Strategies

Wyoming's House of Representatives soundly defeated a bill that would have strengthened the state's gray wolf management and conservation strategies. Wyoming's wolf management plan was at least in part responsible for a Montana federal judge's decision to invalidate the delisting of the Northern Rocky Mountain wolves. In early January, the U.S. Fish and Wildlife Service announced its intention to once again delist Montana and Idaho's wolves. Due to ongoing questions about the adequacy of Wyoming's rules to manage and conserve wolves, the FWS decided to leave Wyoming's wolves on the "endangered" species list. Shortly after taking office, the Obama administration froze all new and unpublished regulations, placing the imminent delisting on hold. At least until the Department of the Interior reviews the rule to delist Montana and Idaho's wolves, all Northern Rocky Mountain wolves will remain on the "endangered" species list.