February 22, 2007 "In The Crosshairs"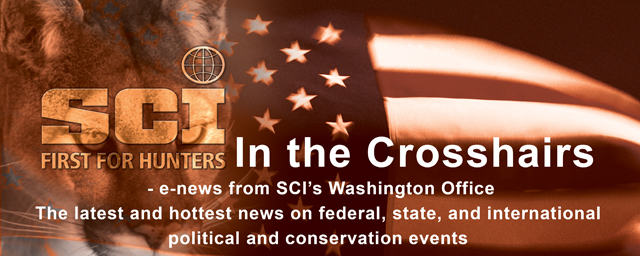 February 22, 2007


Canned Lion Hunting Canned


South Africa will release its new industry-wide regulations tomorrow on hunting and has offered up some last minute surprises. South African Environment Minister Marthinus Van Schalkwyk is reported in the press to have banned the hunting of captive bred large predators within two years of their release on a property for the purpose of hunting. The original proposal set the release time at 6 months. The regulations apparently will prohibit "hunting large predators and rhino that are 'put and take' animals – in other words, a captive-bred animal that is released on a property for the purpose of hunting within 24 months."
It was also reported that the new regulations will prohibit the bow hunting of animals with "thick skins," and large predators, as well as hunting from vehicles. They will also introduce a uniform national system for the registration of breeding operations, game farms and more. The regulations will go into effect June 1.
SCI will review the final regulations as soon as they are released. SCI filed comments on the proposed rules. Those comments can be found at our website, www.safariclub.org under Government / International. We will continue to keep you posted. (Source: SAPA & The Hunting Report)


SCI 35th Annual Convention Biggest Success Yet


In every possible way, the 2007 SCI Hunters' Convention was a total success. Over 21,000 attendees from 47 countries came to Reno, Nev. for the four-day event, making the SCI Convention the biggest event the city hosts all year and ranking it in the top 200 conventions in the entire nation. "It's the busiest I've ever seen," said Dennis Anderson, SCI's President-Elect. "Exhibitors had very little time for socializing and called the 2007 Convention 'the best ever.' Our attendance numbers raised the bar and revenues from record auction sales add additional resources to support SCI's mission."
The record-breaking $4.3 million in revenues brought in by the day and evening auctions contributed to the $12.5 million total that will go to help SCI continue their fight for hunter's freedoms, education and wildlife conservation around the world. A total of 1,100 exhibitors covered the convention floor offering one-of-a-kind hunts, guns, art, mounts, jewelry and clothing to the visitors making this the event every hunter wants to be a part of. Almost 3,000 people used the opportunity to make the commitment to SCI and SCI's mission over the weekend by becoming members.


Top Brands and Preferences for Hunters and Shooters in 2006


Southwick Associates announced the results of preferred products and activities by hunters in 2006. They compiled the list by surveying 15,424 hunters and target shooter surveys in 2006. In 2006, the top activities included:
Top game species: deer (62.4% of all hunters)
Top shotgun sport: trap and skeet (40.2% more participation than sporting clays)
Over 65 hunting and shooting product categories are tracked along with hunting and shooting activities engaged. For more information, contact Rob Southwick at Rob@southwickassociates.com.