Febuary 22, 2008 "In The Crosshairs"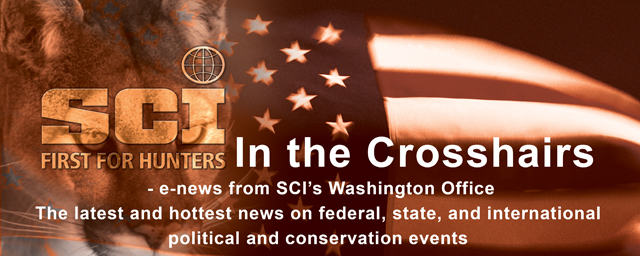 February 22, 2008


Polar Bear Update


At press time, SCI has yet to receive any new information from the U.S. Fish and Wildlife Service on the potential listing of polar bears. As soon as we receive something, we will send a note out via Crosshairs to our membership. Thank you.


USAID Update


It has long been said that victory has many fathers, while defeat is always an orphan. Now, last year's lobbying effort to neuter an anti-hunting restriction on funding assistance from the US Agency for International Development (USAID) has met with a late, long-distance paternity claim. The limitation was inserted in a government spending bill not as statute language, but "report language" accompanying the bill. At the end of the year, a revised version of the language was incorporated, again as report language, in the "omnibus" spending bill to fund government operations. Report language differs from statute language in that it does not become law, but rather a form of non-binding guidance from Congress.
You may have seen a recent press release from a sportsmen's group, in which the group essentially claims to have single-handedly organized the opposition to this limit on USAID funding. This came as interesting news to the leadership at SCI, NRA, and the Congressional Sportsmen's Foundation (CSF), all of whom led the lobbying effort -- in real time on the ground -- to defuse the proposed restriction. Further, the release portrays the revised report language as no longer a threat. In truth, report language can be interpreted subjectively, and is often twisted to support the pet agendas of the appropriators in Congress. We, again, are working with our allies to closely monitor any implementation of the report language. This language remains an active threat until the spending bill expires. That's just part of the territory when the some of the reins of federal spending are held in the hands of anti-hunting Members of Congress.
The truth is that victory for hunters in Washington, even when partial, always does have many fathers. SCI is proud that we have forged close, day-to-day working relationships with the other major pro-hunting advocacy groups who ply the halls daily on Capitol Hill. All groups bring their own strengths to the effort, and through close coordination, deploy those assets where they are needed most. And we certainly welcome the efforts of smaller groups who contact their own local Congressmen to make their voice heard. All parts of the equation are necessary to victory.


New River Gorge to Remain Open to Hunting


Legislation introduced by Rep. Rahall (D-West Virginia) would ensure that the New River Gorge National River in West Virginia remains open to hunting. Language contained in H.R. 5137 would amend the statute authorizing hunting in NRGNR by striking "may" and inserting "shall." Although the National Park Service currently allows hunting, this legislation would mandate that it continue into the future. The American Wildlife Conservation Partners, of which SCI is a founding member, sent a letter supporting and thanking Rep. Rahall for finding a "simple solution that will benefit generations of hunters to come." In December, SCI filed comments with the Park Service in support of continued and enhanced hunting in NRGNR.


Rocky Mountain Wolves Finally Delisted


Safari Club International congratulates the U.S. Fish and Wildlife Service on its February 21, 2008 announcement of the delisting of the northern Rocky Mountain population of wolves. The delisting marks the recovery of the wolf population living primarily in Idaho, Montana and Wyoming. The rule to delist will be published in the Federal Register on February 27th and will take effect 30 days later. Wolves in the northern Rocky Mountains have long exceeded the FWS's recovery criteria and now number in excess of 1500. Upon delisting, states will assume management responsibility for this predator species. Safari Club International has long supported the FWS's efforts to recognize the recovery of gray wolves and is currently participating in litigation to defend the FWS's decision to delist the wolves of the Western Great Lakes. SCI is also seeking to participate in litigation recently filed in Montana that challenges rules giving Montana, Idaho and Wyoming enhanced management authority to lethally remove wolves that are causing harm to elk, moose and deer populations.


SCI Active in Political Arena


SCI's Executive Director John Eichinger and GAC Chairman Merle Shepard were joined by other wildlife conservation organizations last week to deliver a strong message on behalf of sportsmen and habitat: protect and expand habitat conservation and opportunities for sportsmen. SCI and others met with Senate Majority Leader Harry Reid (Nev.), Senators Debbie Stabenow (Mich.), Tom Harkin (Iowa), Blanche Lincoln (Ark.), Russ Feingold (Wis.) and 11 other Senators to discuss issues relating to hunters and anglers. A big topic of discussion centered around the Farm Bill, which is currently in conference between the House and Senate before it heads to President Bush. The President has asked for certain spending caps and SCI and others are fighting to make sure conservation dollars stay where they are.


New Funding for States


"Secretary of the Interior Dirk Kempthorne announced…the distribution of more than $700 million to 56 state and territorial fish and wildlife agencies to fund fish and wildlife conservation efforts, boat access, shooting ranges and hunter education. Kempthorne made the announcement at the Bassmasters Classic professional fishing tournament in Greenville, South Carolina. The funding is made available to states and territories through the Pittman-Robertson Wildlife Restoration and Dingell-Johnson Sport Fish Restoration programs, which are administered by the U.S. Fish and Wildlife Service. Funds are generated by federal excise taxes on purchases of firearms, ammunition, archery and angling equipment, and boat motor fuels. (Source: U.S. FWS News Release)


USFWS to Increase Fees


"The U.S. Fish and Wildlife Service will…increase inspection fees and update license and fee requirements for importing and exporting wildlife, in order to recover more of the costs of inspecting shipments from those who use these services. The Service is also proposing to add new fees for certain types of shipments and eliminate some exemptions from import/export license and inspection fee requirements. Most imports and exports of wildlife and wildlife products must be declared and cleared by Service wildlife inspectors. Individuals or companies engaged in commercial wildlife trade must be licensed by the Service and pay inspection fees for their shipments. Under the fee schedule outlined by the Service, these commercial importers and exporters will see fees rise gradually over the next five years, but they will be able to plan ahead for increased costs through 2012. The flat rate "base" inspection fee for a commercial shipment inspected at a designated port (including ports that function as "designated" for particular types of shipments) during normal business hours will increase from $55 to $85 in 2008. This fee will rise incrementally each year thereafter until it reaches $93 in 2012. The 2008 base inspection fee for all shipments imported or exported at other ports will be $133. This fee will also increase by small amounts each year, rising to $145 in 2012. All importers and exporters using ports where Service inspectors are not stationed will also pay travel, transportation, and per diem costs associated with inspection of their shipments. The Service is also proposing to charge special "premium" fees for shipments consisting of live wildlife or protected species. Businesses dealing in such wildlife will pay the new premium fees in addition to the appropriate base inspection fee. Details of the Service's proposal will publish in [the] Federal Register at http://www.fws.gov/le/." (Source: USFWS)


Court Applies Stricter Scrutiny to Bird Corridors


"The government must require cell phone towers to be equipped with protection for migratory birds, a federal court ruled. The split decision by the U.S. Circuit Court of Appeals for the District of Columbia says that the Federal Communications Commission illegally licensed 6,000 towers along the Gulf Coast. The court says the agency must reassess those permits to make sure the communications towers comply with the Endangered Species Act and National Environmental Policy Act. The decision addresses FCC's ruling on towers in the Gulf of Mexico, but lawyers who argued for environmentalists on the case said it could have broader reach for all of the agency's permits on new communications towers. Aviation lights on communications towers can attract and confuse birds, especially in foggy conditions, environmentalists say. Groups say birds could be saved if FCC would change its requirements for lighting on the towers, placing white strobe lights over the constant red lights, to alert the birds. Some industry groups say the lighting schemes would be expensive and have questionable benefits." (Source: E&E News)


Congrats – Lowell Baier


Congratulations to Lowell Baier, this year's winner of the Budweiser Conservation of the Year award. Thanks in part to the votes from SCI members, Baier will receive $50,000 from Budweiser and the National Fish and Wildlife Foundation and will apply his prize toward habitat restoration and interpretive projects at Theodore Roosevelt's historic 23,550-acre Elkhorn Ranch in North Dakota. The $50,000 prize can be matched, which could increase the award to as much as $200,000. Baier was also a founding member of the SCI National Capital Chapter. SCI has provided funds to the Park in the past to help preserve the home where Teddy Roosevelt formed his famous conservation ethic.
Fictitious braggadocio, on the other hand, fosters only divisiveness among hunters. The fanatical anti-hunting groups put plenty of effort into dividing hunters as it is, in the time honored strategy of divide-and-conquer. It serves the interest of no hunter to help them.