February 26, 2007 "In The Crosshairs"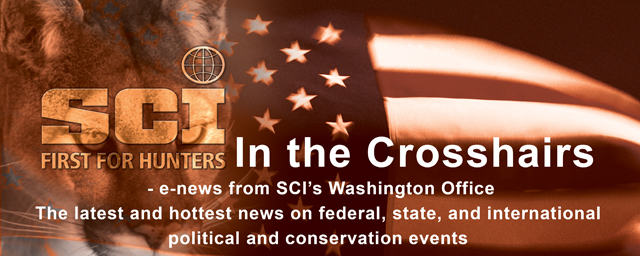 February 26, 2007


South Africa Rules Summary Available On-Line


SCI has analyzed the new regulations set to govern the hunting industry in South Africa beginning June 1, 2007 (see In the Crosshairs 2-22-07). You can view our summary at www.safariclub.org under Government / International. We will continue to provide updates on these new regulations. Stay tuned to In the Crosshairs for more information.


Nationwide Gun Ban Legislation Proposed


"On Feb. 14, 2007, Representative Carolyn McCarthy (D-N.Y.) introduced H.R. 1022, a bill with the stated purpose, 'to reauthorize the assault weapons ban, and for other purposes.'" The assault weapons ban is the Clinton Gun Ban of 1994. "H.R. 1022 would ban every gun banned by the Clinton ban, plus millions more guns, including: guns exempted by the Clinton ban. (Ruger Mini-14s and -30s and Ranch Rifles; .30 cal. carbines; and fixed-magazine, semi-automatic, center-fire rifles that hold more than 10 rounds.); all semi-automatic shotguns. (e.g., Remington, Winchester , Beretta and Benelli, used for hunting, sport shooting, and self-defense; all detachable-magazine semi-automatic rifles-including, for example, the ubiquitous Ruger 10/22 .22 rimfire; target shooting rifles. (E.g., the three centerfire rifles most popular for marksmanship competitions: the Colt AR-15, the Springfield M1A and the M1 "Garand."); 65 named guns ; semi-auto fixed-magazine pistols of over 10 rounds capacity; and frames, receivers and parts used to repair or refurbish guns. H.R. 1022 would also ban the importation of magazines exempted by the Clinton ban, ban the sale of a legally-owned "assault weapon" with a magazine of over 10 rounds capacity, and begin backdoor registration of guns, by requiring private sales of banned guns, frames, receivers and parts to be conducted through licensed dealers. Finally, whereas the Clinton Gun Ban was imposed for a 10-year trial period, H.R. 1022 would be a permanent ban." SCI will keep you posted. (Source: NRA)


Lead Takes Center Stage in California


California Assemblyman Pedro Nava (D-Santa Barbara) has introduced legislation to ban all lead ammunition from the condor range. Assembly Bill 821, the Ridley-Tree Condor Preservation Act would "require the use of nonlead centerfire rifle and pistol ammunition when taking big game and coyote within specified areas" and would go into effect by January 1, 2008. The act does call for the Fish and Game Commission "to provide hunters in these areas with nonlead ammunition at no or reduced charge through a coupon program. Under the act, a person who violates those requirements would be guilty of an infraction punishable by a $500 fine for the first offense." Independent of the proposed legislation, the California Fish & Game Commission is set to meet on March 2nd in Arcata, CA to discuss again a regulatory ban on lead ammunition for big game and nongame hunting in the condor range, among other items. The deer zones in which the ban would apply under the proposal the Commission is considering are less extensive than the zones included in the proposed legislation. SCI will keep you posted.


SCI to Defend Trapping in Maine


Safari Club International will be able to help defend against a lawsuit that challenges Maine 's trapping program and threatens hunting everywhere. The lawsuit, recently filed in Federal District Court in Maine, challenges trapping in Canada lynx, bald eagle, and grey wolf range. The court has just approved SCI's request to participate as "amici curiae" (friend of the court). This will enable SCI to file legal briefs and present oral arguments. SCI will seek to convince the court that the state's trapping program does not illegally "take" (i.e., hurt or kill) the three federally protected species, for example in traps or snares set for other animals. The Plaintiffs have brought this suit in the hopes of persuading the court to end or alter the trapping program in areas where the lynx or bald eagle exist (the grey wolf is not known to exist in Maine ).