February 26, 2009 "In The Crosshairs"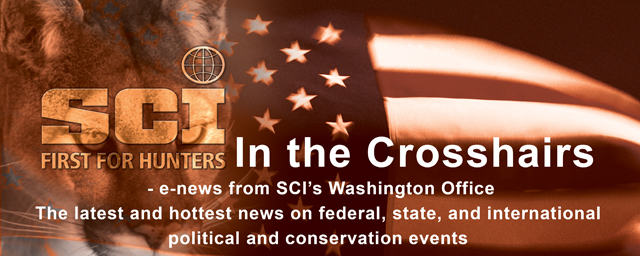 February 26, 2009


Another Successful Year for SCI's Reno Convention


Safari Club International (SCI) this week is thanking exhibitors, donors and members for making its 2009 Annual Hunters' Convention successful in the face of a tough economy. The Reno convention raised millions of dollars for SCI's mission of hunter advocacy, conservation, education and humanitarian services in North America and worldwide.
With approximately 20,000 attendees, nearly four miles of aisles and 1,100 vendors and exhibitors, SCI attendees had more hunts, guns, gear, mounts, jewelry and art to see at the 2009 Convention than at any other hunting show around the country. This year's show also boasted numerous seminars, led by outdoor celebrities such as Craig Boddington, Jim Shockey and Mark Watts on hunting abroad and how individuals can pursue their hunting dreams. Click Here to read the full release.


Michigan Begins Whitetail Fawn Survival Study with Help from SCIF


"The Department of Natural Resources today announced the start of a new research project in the Upper Peninsula. The project will investigate the role of predators, winter weather and habitat on white-tailed deer fawn survival. The study is being conducted in portions of Menominee and Delta counties…This study is a cooperative effort between the DNR and Mississippi State University. Funding is being provided by the Michigan Involvement Committee of Safari Club International, Safari Club International Foundation, and Pittman-Robertson Wildlife Restoration funds. Additional support will be sought from local wildlife organizations." Please see more information about the Whitetail study by clicking here.


Obama to Seek New Assault Weapons Ban


"The Obama administration will seek to reinstate the assault weapons ban that expired in 2004 during the Bush administration, Attorney General Eric Holder said today. 'As President Obama indicated during the campaign, there are just a few gun-related changes that we would like to make, and among them would be to reinstitute the ban on the sale of assault weapons,' Holder told reporters. Holder said that putting the ban back in place would not only be a positive move by the United States, it would help cut down on the flow of guns going across the border into Mexico, which is struggling with heavy violence among drug cartels along the border." (Source: ABC News Online) Read the full article at http://abcnews.go.com/Politics/story?id=6960824&page=1.


SCI Works to Ease International Firearm Transport


SCI was recently invited by the United Nations Office on Drugs and Crime (UNODC) to offer comments and suggestions for easing the procedural burdens on the temporary import of firearms for sporting purposes. The UNODC is putting together a set of draft policies for countries who have signed on to the UN Firearms Protocol with the purposes of easing the transport of sporting arms. SCI's comments outlined the impact that such regulations have on hunters and gave specific examples of aspects of the proposal that would benefit from improvement. SCI's Litigation Department and Hunter Advocacy teams will continue to stay involved in this important issue and will update members as changes occur.


SCI Advocates for Skilled Volunteers to Help Needed Deer Cull at Valley Forge Park

As it has done in numerous U.S. Park Service units across the country, SCI again filed comments advocating for the use of skilled volunteers from the hunting community to help with culling of overabundant wildlife populations. SCI commented on a draft plan for managing overabundant deer at the Valley Forge National Historical Park in Pennsylvania. The Park Service has determined that it needs to cull the herd to protect vegetation and other Park resources, but it failed to consider the use of skilled volunteers in the culling activities. In its comments, SCI explained that other federal and state wildlife managers have successfully used skilled volunteers in such efforts and disputed the Park Service's conclusions about the cost and effectiveness of such a program. The Park Service will consider these and other public comments before issuing a final plan.


SCI Comments on Listing of Canada Lynx in New Mexico


SCI filed comments opposing the listing of the Canada lynx in New Mexico under the federal Endangered Species Act. The lynx does not appear to be a species native to New Mexico, but a small number of lynx have wandered into the state from Colorado, where lynx were reintroduced several years ago. The lynx currently is listed in Colorado. In the comments submitted to the U.S. Fish and Wildlife Service, SCI disputed that lynx are currently hunted in New Mexico, raised questions about listing a species in a state that contains no historical range, questioned whether the lynx are a permanent resident of the state, and expressed concern about the effects of lynx on snowshoe hare populations in the state. The FWS will decide whether to propose the listing sometime next year.


Encourage Other SCI Members to Sign-Up for Crosshairs


"In the Crosshairs" is one of SCI's most effective communication tools to inform members of issues of concern from around the world that effect hunting, hunters and wildlife conservation. If you know of Safari Club members or chapter members who do not currently receive "In the Crosshairs", please encourage them to sign up. Members should send their email to Nelson Freeman at crosshairs@safariclub.org.