March 9, 2007 "In The Crosshairs"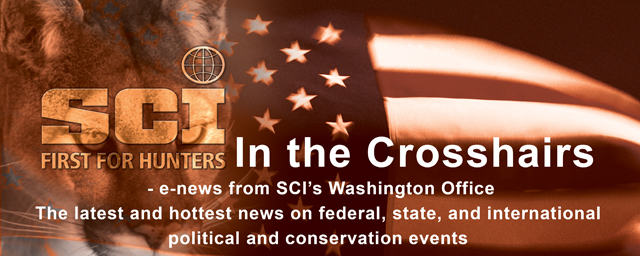 March 9, 2007


SCI DC Meets With CITES Secretariat General


The staff of SCI's Washington D.C. office were recently visited by Willem Wijnstekers, the Secretary General of CITES, the Convention on International Trade in Endangered Species of Wild Fauna and Flora. Wijnstekers and Programme Officer Marcel Van Nijnatten were in Washington for meetings with government agencies and came to SCI to discuss several issues. There will be a meeting of the CITES Conference of the Parties in The Hague, Netherlands, so Wijnstekers' trip was timely. Topics of discussion included trophy issues, wildlife trafficking, budgetary constraints, and future action plans. Additionally, there was discussion on the controversial proposals scheduled to be heard in The Hague, such as Kenya's proposal to ban all sales of ivory throughout southern Africa. SCI has been involved with CITES since its inception. CITES is an international agreement between governments that aims to ensure that international trade in specimens of wild animals and plants does not threaten their survival. You can find more information on CITES and the upcoming COP at www.cites.org.


SCI To Appear on Canadian Radio Show to Discuss Polar Bears


SCI has been interviewed once again on the polar bear issue – this time by a station in Whitehorse, Canada. If you would like, you can listen to Doug Burdin, Litigation Counsel for SCI, tonight, March 9, on the station's newscast at 6:30, 7:30 and 8:30 p.m. (Pacific time) on Northern Native Broadcasting Yukon Chan FM 98.1. This station broadcasts in the Yukon and in parts of the Northwest Territories and  British Columbia. You can also listen at www.nnby.net. There is a "Listen Live" button on the left side of the screen.


SCI Comments on Wood Bison Facility


SCI has sent comments to the USDA Forest Service in support of expanding the existing wood bison pasture at the Alaska Wildlife Conservation Center (AWCC) in Portage, AK. Approximately 27 acres of the Chugach National Forest have been proposed to temporarily house wood bison stock prior to their reintroduction into the wild. Currently, there are no wild populations of wood bison in Alaska and only 22 wood bison exist at the AWCC. Any restoration efforts will rely on additional wood bison stock imported from disease-free populations in Canada. These animals will be quarantined on the expanded pasture at the AWCC. SCI's Alaska Chapters and SCIF have helped develop the AWCC facilities for this purpose and continue to assist the Alaska Department of Fish and Game in a long-term effort to restore wood bison to its historic range.


New Jersey Courts Put a Tight Rein on Agency's Bear Management Policy Efforts

A New Jersey Appellate Court gave the State's Department of Environmental Protection until August 10 to develop a new black bear management policy. In November of 2006, the agency abruptly revoked the state's existing black bear management policy in an attempt to delete hunting from the state's arsenal of management tools. Safari Club International, together with the New Jersey State Federation of Sportsmen's Clubs Inc. and U. S. Sportsmen's Alliance, sued the agency and has been battling in the state courts since then in an attempt to restore the illegally repealed policy and the annual bear hunt. The State, instead of answering the SCI's legal challenges, asked the Court to give it time to develop a new black bear management policy. SCI opposed an open-ended delay and the Court gave the agency five months only to try to develop these new strategies. Under the Court's tight schedule, the agency will not be able to delay until the last minute determinations about whether the State will hold a 2007 black bear season. SCI will continue to pressure the agency to comply with the Court's schedule and to include harvests as part of the state's comprehensive management scheme.


You've Got eMail?


If you're reading this edition of "In the Crosshairs" then we have your latest email and all is well. However, there are roughly 14,000 SCI members that we are not reaching and we need your help!! Does Tucson have all the emails for your chapter members? If you're not in a Chapter, do you have a friend in SCI that hasn't sent in his or her email? Please help us get "In the Crosshairs" to more SCI members than ever before. Ask your chapter and others to please send your email updates to Marj Barter in Membership Services in Tucson at mbarter@safariclub.org or call the toll free number 888-486-8724. Please note SCI would never sell your information to a 3rd party. Adding your email address also will enable you to enjoy the Member's Only section of the SCI Website. New emails should begin receiving "In the Crosshairs" within 2-4 weeks. Thank you.