March 12, 2009 "In The Crosshairs"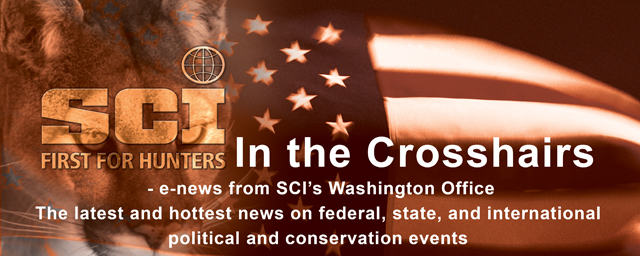 March 12, 2009


SCI Leadership for Conservation and Governmental Affairs Convene in Washington

This past weekend, SCI Foundation's Conservation Committee and SCI's Governmental Affairs Committee met in Washington, D.C. to discuss conservation projects, conservation research, and policy goals for the upcoming year. The Conservation Committee, chaired by SCI Vice President Joseph Hosmer, developed specific conservation goals that will address southern African lion conservation and Predator/Prey research in North America. In October of 2008, SCIF's conservation staff met with nine southern African nations to give reports about two successful lion management and population assessment projects that had recently been completed. The Conservation Committee agreed to continue funding for two additional lion management projects for 2009 and 2010. This research will represent the most current and essential documentation supporting sustainable hunting practices in southern Africa. SCI's Governmental Affairs Committee, chaired by SCI Secretary Sven Lindquist, also met to discuss the new administration, federal and state legislation, and strategies to help promote pro-hunting and firearms legislation with our key organizational partners such as the NRA and the Congressional Sportsmen's Foundation.


SCI Commends Interior Decision Affirming Wolf Delisting


Washington, DC – Safari Club International (SCI) today commended the decision by Interior Secretary Ken Salazar to affirm the delisting of the gray wolf from the Endangered Species Act (ESA). Salazar's announcement affirmed a previous decision reached by the U.S. Fish and Wildlife Service, based on an extensive review of the best available science, to remove gray wolves from the list of threatened and endangered species in the western Great Lakes and the northern Rocky Mountain states of Idaho and Montana and parts of Washington, Oregon and Utah. SCI President Merle Shepard hailed the announcement, saying "This decision is the right one and we commend Secretary Salazar for reaching it so quickly. Delisting the gray wolf came about as a result of years of effort involving the states, tribes, landowners, academic researchers, sportsmen and other conservation groups, the Canadian government and many other partners. All of these stakeholders can breathe a sigh of relief today that our years of effort have not gone down the drain." (Source: www.safariclub.org) Read the full announcement on the Department of the Interior's decision to delist by going to http://www.scifirstforhunters.org/article/index.cfm?action=view&ArticleID=3145.


University of Minnesota Announces SCIF Cancer Research Chair


"We are proud to announce that Safari Club International Foundation (SCIF), based in Tucson, Arizona, has established a fund at the Minnesota Medical Foundation (MMF) to create the Safari Club International Foundation Genetic Bioengineering Chair in Cancer Research. The endowed chair – to be activated once $2,000,000 in donations has been raised – will support genetic engineering cancer research at the University of Minnesota Medical School under the leadership of Drs. Arnold S. Leonard and Daniel A. Saltzman. Individual Safari Club International members and friends can support this effort with a contribution of cash or securities or by making a pledge to be paid within a period of five years." Please read all the information on SCIF's contribution to the research project by click here.


Sportsmen's Groups Continue to Support FAET Legislation


"March 9, 2009 (Washington, DC) - The House leadership of the Congressional Sportsmen's Caucus sent a letter to colleagues today requesting co-sponsors for H.R 510, which would change the collection schedule of the firearms and ammunition excise tax (FAET). The bill sponsored by former CSC Co-Chair Rep. Ron Kind would allow the firearms and ammunition industry to pay the firearms excise tax (FAET) on a quarterly basis, the same payment schedule as every other industry supporting conservation. The legislation has been referred to the House Ways and Means Committee…A broad coalition of sportsmen and conservation groups, including the Congressional Sportsmen's Foundation, National Shooting Sports Foundation, National Rifle Association, and Safari Club International have made passing this bill to reform the federal excise tax a legislative priority in the 111th Congress." (Source: Congressional Sportsmen's Foundation Press Release) View the full release by visiting http://www.sportsmenslink.org/.


SCI and Swarovski Optik Announce Renewal of Long-Time Partnership

Safari Club International and Swarovski Optik announce a three-year corporate partnership to help protect the freedom to hunt and promote conservation worldwide. Swarovski Optik has identified SCI's leadership role in the U.S. and internationally and has committed resources to support SCI's efforts on behalf of all hunters. "SCI will continue to increase its hunter advocacy, conservation and education success, thanks to the on-going support of corporate sponsors like Swarovski Optik," said SCI President Merle Shepard. According to Albert Wannenmacher, CEO of Swarovski Optik NA, "We are excited to renew our partnership with SCI. We truly appreciate supporting SCI and the values that the organization and its members stand for. This partnership has been one of our cornerstones for many years to provide avid hunters with the finest optics while supporting the freedom to hunt and the conservation of wildlife." (Source: www.safariclub.org) Read the full release by going here.


Hunters, Target Shooters and Industry Provide $336 Million for Wildlife and Education

When SCI members in the United States and others buy ammunition or new guns, wildlife in America benefits, according to SCI President Merle Shepard. It's not only these most avid hunters who contribute to a system that has been responsible for supporting healthy wildlife populations of both game and non-game species for the last 70 years. All hunters contribute in the form of excise taxes paid on sporting firearms, ammunition and archery equipment that benefit every state. These taxes have generated approximately $5.6 billion for wildlife conservation since 1939. The contribution for 2009 is a record -- nearly $336 million, according to the U.S. Fish & Wildlife Service, which recently announced the apportionment of these critical Wildlife Restoration funds. "We want all Americans to know about and value the support that hunters, recreational shooters and the firearms and ammunition industry make to wildlife conservation," said Steve Sanetti, president of the National Shooting Sports Foundation, trade association for the firearms and shooting sports industry. "With wildlife populations professionally managed and thriving, we can safely say that this is one investment guaranteed to not lose value." Species such as the white-tailed deer, Rocky Mountain elk, pronghorn antelope, wild turkey and black bear have made significant population gains due to research and improved habitat funded by the Wildlife Restoration program. It's a story that SCI has been sharing with teachers and students for years through its Education Department. (Source: www.safariclub.org) Read the full release by going to www.safariclub.org.


Chapter Trade Section Now Available Online


SCI is pleased to announce that we now have an online Chapter Trade section for our chapters. The section is designed to help chapters communicate with one another about items they have but for which they no longer have a use, such as auction items, fundraising items, or even storage cleaning items. Chapters can post the items online to let other chapters know what they have available. The Chapter Trade section can also help chapters that need items for fundraisers and auctions. Chapters in need can post a request for an item online and other chapters with such an item in their inventory can offer it in donation or trade to their fellow chapter. Please try out this new chapter service by logging on to the Member Home area on www.safariclub.org. After logging on, look for Chapter Trade under the Quick Links section. If you have any questions please contact your Field Coordinator and they will be happy to help you get started today.