March 12, 2010 "In The Crosshairs"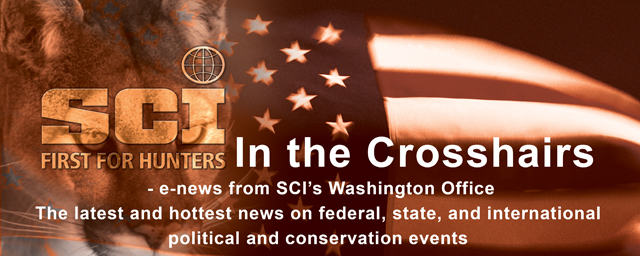 March 12, 2010


Convention on International Trade of Endangered Species of Wild Fauna & Flora (CITES)

Representatives of Safari Club International and Safari Club International Foundation will travel to Doha, Qatar, to participate in a major international wildlife trade policy meeting. About every three years, this "Meeting of the Conference of the Parties" to CITES decides whether trade is non-detrimental to the survival of listed species and sets guidelines for countries to follow that are in the best interest of wildlife conservation.  Among the many issues that will be discussed this year, trade in elephants and elephant ivory are again a hot topic on the agenda.  Also, a proposal suggests listing polar bears on Appendix I of CITES, which could ban all international movement of polar bear hunting trophies. There are also many technical issues, such as permitting issues for trade that will be discussed in detail.  SCI and SCIF delegates play the most significant role in advocating for hunters and sustainable use conservation on the international stage.  
 
Follow SCI and SCIF CITES Delegation via the blog on www.safariclub.org. SCI will be giving members real-time updates on meetings and hallway conversations that affect international hunting.


Alaska Wood Bison Recovery Project


SCI Foundation has supported restoration of the wood bison to Alaska. For the past 14 years, with the help of key partners like the American Bison Society, Ted Turner Foundation, the Alaska Wildlife Conservation Center and the Alaska Department of Fish and Game, SCIF has worked to reintroduce the species to its historic Alaska home range.  As a result, a small herd of wood bison is now thriving in captivity at the Alaska Wildlife Conservation Center near Anchorage.  The U.S. Fish and Wildlife Service has announced a proposal to relocate this herd into the wild as a non-essential experimental population.  The Service is also considering changing the federal listing status of this endangered species, with an eye on downlisting or possibly even delisting the species entirely. The wood bison is an excellent example of how SCIF has successfully built partnerships with governmental agencies and NGOs to benefit wildlife conservation.  For a vivid description of ongoing wood bison conservation efforts, read the Alaska Department of Fish and Game's article found at http://bit.ly/9cE0YS.


New Jersey Reopens The Door To Bear Hunting


SCI first went to court to defend New Jersey bear hunting in 2003, and seven years later SCI is fighting that same battle.  New Jersey opened hunting in 2003 and 2005, which SCI successfully defended. Then-Governor Jon Corzine and his administration shut down the bear season from 2006-2009.  Now, the New Jersey Fish and Game Council has approved a policy calling for the state's first bear hunt in five years as they attempt to address an exploding black bear population and a corresponding increase in complaints.  The policy is subject to public review and final approval by the Department of Environmental Protection Commissioner.  If the policy is approved, the hunt will be held during six days in December.  The bear management policy also proposes continuing non-lethal efforts to manage bears.  Governor Chris Christie, who with the encouragement of SCI and local groups in New Jersey vowed to end his predecessor's ban on bear hunts, supports the hunt.  The proposed hunt is expected to be met by the same zealous opposition in the courts and the field that surfaced during the last hunts in 2003 and 2005.  SCI and the New Jersey State Federation of Sportsmen's Clubs have a lawsuit pending to force the agencies to adopt a black bear management policy.  SCI will remain active in this fight for hunters and science-based wildlife management against the anti-hunting organizations.  http://bit.ly/9yObCH


Sportsmen's Caucus Members Return To Washington


Recently the Congressional Sportsmen's Caucus and the Congressional Sportsmen's Foundation hosted the annual Welcome Back Reception in the Rayburn House Office Building.  Building the relationships between the hunting community and legislators ensures hunting and wildlife conservation are key factors during legislative battles.  Both legislators who addressed the nearly 120 attendees, Reps. Dan Boren (D-OK) and Don Young (R-AK), are SCI Life members. With SCI's boots on the ground capabilities and Congressmen who are Life members, it can truly be said that SCI is First for Hunters. http://bit.ly/aAtCNz


"PAC" Lion Hunts In Zimbabwe Questioned As "Bogus"


Over the past few months PAC (Problem Animal Control) lion hunts in Zimbabwe have been offered to American hunters, even though according to Zimbabwe National Parks there are no such hunts currently available.  A strongly worded warning released by the Safari Operators Association of Zimbabwe (SOAZ) jointly with the Zimbabwe Professional Hunters and Guides Association states, "After discussion with National Parks it is our understanding that these hunts are bogus. The only licenses for lion hunts in the Matabeleland North areas are for Trophy Lion Hunts."  (Source: SOAZ Press Release - http://bit.ly/a0DhUt)


Greater Sage Grouse An ESA Candidate Species; Lawsuit Filed


The U.S. Fish and Wildlife Service announced last week that it will not list the Greater Sage Grouse as a threatened or endangered species under the Endangered Species Act.  Instead, the Service determined that "the greater sage-grouse warrants the protection of the Endangered Species Act but that listing the species at this time is precluded by the need to address higher priority species first."  This means that it is a "candidate species."  The ESA does not protect candidate species, but does encourage conservation efforts.  The candidate species status will not directly affect hunting of the species where allowed by state law.  The Service's press release can be found at http://bit.ly/aaLPUm.  The Western Watersheds Project immediately filed a lawsuit in District Court in Idaho challenging the placement of the Greater Sage Grouse on the candidate list.  SCI attorneys will monitor the case to ensure sustainable wildlife conservation is not impacted by future developments.


A Follow-Up On Last Edition's Monument Story: White House Land Grab


Sen. Jim DeMint (R-SC) penned the following op-ed that ran this week in the Washington Times. "You'd think the Obama administration is busy enough controlling the banks, insurance companies and automakers, but thanks to whistleblowers at the Department of the Interior, we now learn they're planning to increase their control over energy-rich land in the West.  A secret administration memo has surfaced revealing plans for the federal government to seize more than 10 million acres from Montana to New Mexico, halting job- creating activities like ranching, forestry, mining and energy development. Worse, this land grab would dry up tax revenue that's essential for funding schools, firehouses and community centers…" http://bit.ly/ch26KH 


More On Feld's RICO Lawsuit Against HSUS, Others


Turning the tables on some of the most litigious animal rights groups, Feld Entertainment has sued HSUS/Fund for Animals, the Animal Protection Institute, the Animal Welfare Institute, the American Society for the Prevention of Cruelty to Animals, the Wildlife Advocacy Project and several attorneys who have represented these groups.  Feld owns and runs the Ringling Bros. and Barnum and Bailey Circus.  For nine years Feld Entertainment was the target of an Endangered Species Act suit brought by HSUS and others over Feld's handling of circus elephants.  Last month, a federal district court in the District of Columbia dismissed the suit, finding that the key plaintiff/witness, a former Feld employee, lacked standing, had been paid to testify, and provided testimony that completely lacked credibility.  Feld recently filed a Racketeering Influenced and Corrupt Organization Act (RICO) lawsuit against all of the involved groups and individuals, asserting bribery and other illegal conduct.   RICO applies when an individual who is a member of an enterprise (i.e., group of co-conspirators) commits any two of 35 different crimes (such as bribery, fraud or money laundering) within a 10-year period.  RICO permits a private individual harmed by the enterprise's actions to file a civil lawsuit.  If the suit is successful, the plaintiff can collect treble damages.