March 16, 2007 "In The Crosshairs"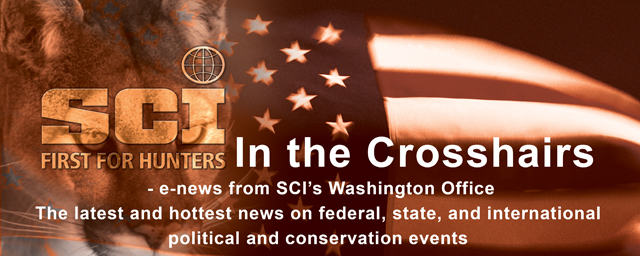 March 16, 2007


Predator / Prey Meeting Sponsored by SCI/SCIF


On Tuesday, March 20th, SCI/SCIF will be co-hosting an all day workshop entitled Predators and Prey: Integrating Management to Achieve Conservation Objectives at the 72nd North American Wildlife and Natural Resources Conference. Key sessions will include Integrating Mountain Lion and Ungulate Management; Integrating Wolf and Big Game Management: Case Studies; and Predator Management Implications for Waterfowl and Upland Birds. Each session will cover societal, scientific and policy issues. This all day event will take place at the Hilton Hotel in Portland, Oregon. The workshop is primarily intended for wildlife managers but anyone is invited to attend. The Wildlife Management Institute, the sponsor of the conference, is also co-hosting the event. You will need to register for the conference. Additional information can be found at http://www.fishwildlife.org/nawnrc.html.
SCI will also be hosting a breakfast at the meeting. We will give a litigation overview and then introduce Arlen Lancaster, the new Chief of the Natural Resources Conservation Service who oversees the conservation title of the Farm Bill.


D.C. Gun Ban Overturned


"Late last week, a federal appeals court overturned the District of Columbia 's longstanding handgun ban, issuing a decision that will allow the city's residents to keep handguns in their homes. In the ruling, the U.S. Court of Appeals for the District of Columbia rejected arguments from city officials who claimed the Second Amendment right to bear arms applied only to state militias. However, in a 2-1 decision, the judges held that the firearms rights protected by the Second Amendment 'are not limited to militia service, nor is an individual's enjoyment of the right contingent upon his or her continued intermittent enrollment in the militia.' Immediately after the ruling, District of Columbia Mayor Adrian Fenty issued a statement saying the District will appeal the court's decision." (Source: NAHC)


Decision on Lead Ammo Ban in Condor Range in California Delayed


Regarding an issue that SCI has been following from its inception, the California Fish and Game Commission recently delayed a decision on whether to ban lead ammunition in Condor range. The Commission decided that the lead ammunition ban issue is too complex, controversial and time consuming to be considered as part of its normal process for adopting Mammal Hunting Regulations, which must be completed by April 25, 2007. The Commission will, however, continue to take testimony from the public at its April 13, 2007 meeting. One reason for the delay is that the Commission directed the Department of Fish and Game to further review the existing research and literature on the subject and to report to the Commission at a later date. In a related development, the Department has recalled its draft environmental report on this issue and will work on it further before re-releasing it for public comment. Finally, the State legislature again has introduced a bill that would ban lead ammunition in Condor range. SCI will continue to monitor this situation.


Alternative Farm Bill Introduced


"Reps. Ron Kind (D-Wis.) and Jim Gerlach (R-Pa.) and Sen. Robert Menendez (D-N.J.) introduced their alternative to the farm bill, entitled the 'Healthy Farms Food and Fuels Act of 2007.' The bill would favor conservation programs, renewable energy and specialty crops over some of the traditional price supports for commodities, according to hill aides. Environmentalists following the legislation said it would "dramatically increase" support for conservation programs. The bill also includes a climate change program with incentives to reduce greenhouse gas emissions, a Kind aide said. The proposal is unlikely to see any play in committee, since the leaders of the House and Senate Agriculture panels will take up their own farm bill rewrites. But it could set the stage for the sort of debate and amendments the farm bill can expect to see on the House and Senate floor." SCI will keep you posted. (Source: E&E Daily)


Wind Turbines Wildlife Committee Announced


"Interior Secretary Dirk Kempthorne announced the formation of a Wind Turbine Guidelines Advisory Committee. The Secretary is currently seeking nominations for the group which will advise him on effective measures to avoid or minimize impacts to wildlife [primarily birds and bats] and their habitats related to land-based wind energy facilities. Members of the Committee will be expected to effectively represent the varied interests associated with wind energy development and the management of wildlife species and their habitats. They will represent stakeholders, Federal and State agencies, and Tribes; be senior representatives of their respective constituent groups; and have knowledge of wind energy facility location, design, operation, transmission requirements, wildlife species potentially affected, wildlife survey techniques, applicable laws and regulations, and wind/wildlife interactions. The Committee may also include independent experts in wind energy/wildlife interactions, appointed as special government employees, to provide technical advice. Interested parties should send resumes and explanations of interest by April 12, 2007, to Susan L. Goodwin, Office of Collaborative Action and Dispute Resolution, U.S. Department of the Interior, 1801 Pennsylvania Avenue, Suite 500, Washington DC 20006; by e-mail to susan_goodwin@ios.doi.gov; or by fax to 202/327-5390." (Source: USFWS)


SCI Announces Virtual Record Book


SCI Trophy Records Committee has launched an exciting new tool for SCI members and hunters. The SCI Record Book of Trophy Animals is now live through a web based subscription. Hunters can log in and get the most current information on the more than 133,000 entries world wide. You may search species by species name, the location you are considering hunting, search by guide and outfitter to see who SCI members depend on the most. Hunters have to ability to manipulate the information and study the score sheet of each species entered. Every night the SCI Record Book of Trophy Animals ranks the record book updating any changes made during that day. This is real data in real time, watch the SCI record Book grow and change. The annual subscription for the SCI Virtual to SCI members is $69.95 compared to $149.85 plus shipping and handling for a complete set of soft cover record books. Click on this link to see a free demo of the Virtual Record Book http://www.scirecordbook.org/demo.