March 23, 2007 "In The Crosshairs"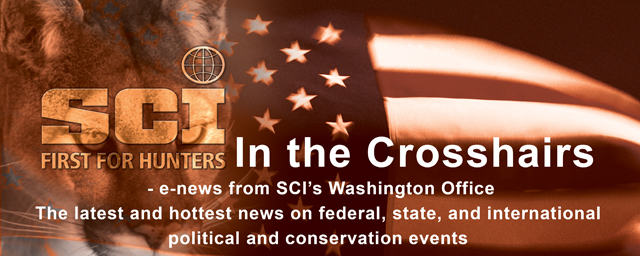 March 23, 2007


Northwest Airlines Targets International Hunters with Exorbitant Luggage Fees

Northwest Airlines has implemented a new policy that effectively levies a surcharge of $300 on hunters traveling overseas with long guns. Northwest (and its partner airline KLM) have eliminated the "free allowance" for overseas travel with firearms, and are now charging "oversize" fees for all gun cases that exceed 62" linear inches (length plus height plus width) which effectively includes all long gun cases.
Luggage policies are up to individual airlines – there is no federal regulation that governs fees for luggage. But the new policy seems to be aimed precisely at international hunters. Northwest charges no additional fee for the transport of golf clubs, skis, or hockey sticks. The new policy is detailed here. Many SCI members that have heard about this have sent letters of protest to NWA. If you wish to do that, you can visit http://www.nwa.com/talk/ttu.html, and check "Luggage Services" and then "Firearms" in step two of the web form, or call Northwest at 612-726-2111, and press 0 to speak with an operator. SCI may consider further action against NWA.


USFWS to Delist Yellowstone Grizzlies


"The U.S. Fish and Wildlife Service is removing the Yellowstone population of grizzly bears from its status as "threatened" on the U.S. list of threatened and endangered species. Grizzly numbers in the Yellowstone ecosystem have increased from an estimated population of 136 to 312 when they were listed as threatened in 1975, to more than 500 bears today. Yellowstone grizzlies will now be managed under a comprehensive conservation strategy developed by state and federal scientists and managers that includes intensive monitoring of Yellowstone bears, their food, and their habitat. The conservation strategy incorporates the best available science and allows state and federal agencies to adjust management in response to new scientific information or environmental and bear population changes. Notification of the delisting of the Yellowstone population of grizzly bears will be published in the Federal Register in the near future. More information about the announcement can be found at http://mountain-prairie.fws.gov/species/mammals/grizzly/yellowstone.htm"(Source: USFWS)


Hunting in China May Be Moving in Right Direction


Communications out of China indicate that the re-opening of hunting is favorably viewed at several levels of government. Hunting was closed without warning late last year. The Chinese Ministry of Forestry is said to be ready to take some action in the latter part of April. There is speculation that the emphasis will be on technical surveys and research projects. SCI is likely to send a letter of support as well. That is all we know for now and SCI will keep you posted as always.


Major Namibian Speech at CITES


Willem Konjore, the Minister of Environment and Tourism for Namibia, addressed members of the European Parliament last week, stressing the importance of hunting to the conservation of wildlife and the development of livelihoods in his country. The visit was facilitated by SCIF and FACE (The Federation of Associations for Hunting and Conservation of the EU). Minister Konjore spoke to a joint session of two Intergroups Sustainable Hunting, Biodiversity & Countryside Activities and Sustainable Development in Strasbourg, France. An intergroup is the equivalent of a caucus in the U.S. Congress. Minister Konjore's speech highlighted the significance of promoting conservation through sustainable hunting and called for a comprehensive approach to wildlife management. His remarks emphasized the economic benefits to local communities as a result of hunting tourism which produces jobs and revenue. The Minister's speech can be read in its entirety on SCI's website at www.safariclub.org under Government / International.


Outdoor Recreation – A Huge Part of the U.S. Economy


"The Outdoor Industry Association (OIA) has released a report detailing the enormous economic contributions from outdoor recreation. Produced by the Outdoor Industry Foundation, Southwick Associates and Harris Interactive, this report provides details regarding the $289 billion spent on gear and travel, and the $730 billion impact on the economy, including 6.5 million jobs (1 in 20 U.S. jobs) and $88 billion in federal and state tax revenue. This outdoor recreation economy is fueled by the more than three-quarters of Americans who participate in bicycling, camping, fishing, hunting, paddling, hiking, snow sports, and wildlife viewing activities. A copy of the report can be downloaded at www.southwickassociates.com or by visiting www.outdoorindustry.org research and resources pages." (Source: Southwick & Assoc.)


Thousands of New Hunters Go Afield Safely


"New hunters went afield by the thousands in 2006 and did so safely.  The National Wild Turkey Federation has led the charge to remove youth hunting barriers, along with the National Shooting Sports Foundation and the U.S. Sportsmen's Alliance. At the North American Wildlife and Natural Resources Conference in Portland, Ore., the partners announced that half of the 12 states that have approved Families Afield legislation and regulations have already measured the program's performance and report a significant climb in new hunters. Data available from Florida, Illinois, Michigan, Minnesota, Mississippi and Ohio reveals that apprentice hunting license programs brought nearly 34,000 new hunters to the field without a single hunting-related shooting incident. Meanwhile, lawmakers in California, Nebraska, Maine, Wisconsin and Oregon are considering legislation to enact apprentice license programs and lower hunting age restrictions. The 12 states that have changed laws and regulations to create additional hunting opportunities for youth and novice hunters are: Florida, Illinois, Kansas, Kentucky, Louisiana, Michigan, Minnesota, Mississippi, Ohio, Pennsylvania, Tennessee and Utah." (Source: NWTF)


Contribute to 'Hunting in Harmony' Study


An SCI life member is carrying out a research study on how people use the art of hunting to reconnect with nature – see attached document. She is completing a Bachelor's degree in Ecotourism Management from Tshwane University of Technology in South Africa. The study involves completion of a questionnaire that should take about ten to twenty minutes. The results will remain confidential. All answers must be in by June 1st. Final results will eventually be published in a scientific journal. If you are interested in participating in the study you may contact Brittany Hosmer, BTech Student of Ecotourism Management at BritAfrica@yahoo.com or Cell: +27 82 498 7061.